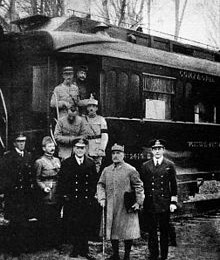 The Armistice was the result of a hurried and desperate process. The German delegation headed by Matthias Erzberger crossed the front line in five cars and was escorted for ten hours across the devastated war zone of Northern France, arriving on the morning of 8 November. They were then taken to the secret destination aboard Ferdinand Foch's private train parked in a railway siding in the forest of Compiègne.

Foch appeared only twice in the three days of negotiations: on the first day, to ask the German delegation what they wanted, and on the last day, to see to the signatures. The Germans were handed the list of Allied demands and given 72 hours to agree. The German delegation discussed the Allied terms not with Foch, but with other French and Allied officers. The Armistice amounted to complete German demilitarization (see list below), with few promises made by the Allies in return. The naval blockade of Germany was not completely lifted until complete peace terms could be agreed upon.

There was no question of negotiation. The Germans were able to correct a few impossible demands (for example, the decommissioning of more submarines than their fleet possessed), extended the schedule for the withdrawal and registered their formal protest at the harshness of Allied terms. But they were in no position to refuse to sign. On Sunday 10 November, they were shown newspapers from Paris to inform them that the Kaiser had abdicated. That same day, Ebert instructed Erzberger to sign. The cabinet had earlier received a message from Hindenburg, requesting that the armistice be signed even if the Allied conditions could not be improved on.

The Armistice was agreed upon at 5:00 a.m. on 11 November, to come into effect at 11:00 a.m. Paris time (noon German time),[12] for which reason the occasion is sometimes referred to as "the eleventh hour of the eleventh day of the eleventh month". Signatures were made between 5:12 a.m. and 5:20 a.m., Paris time.