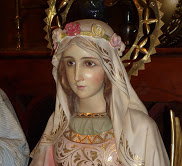 Saint Lucia
Santa Lucia sung by Beniamino Gigli
I have travelled to Venice several times over the past few years on business and always took a day off to wander around Venice. I would usually take a train early Saturday morning and got off at the main station in Venice and walk down the steps, over the Rialto Bridge and through the narrow streets to Mark's Square. I became very familiar with this area of Venice, In September 2009 I organised a Mediterreann Cruise with my colleagues leaving Venice for the Cruise on the Saturday. I took this opportunity to see the lovely City of Venice once again so arranged we arrive on the Thursday prior to the cruise, leaving us two days to wander around Venice.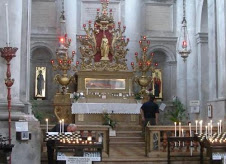 My wife's brother-in-Law had serious cancer surgery some months earlier and was wheelchair bound, but not to spoil his first Cruise I agreed I would look after him and pushing him in the wheelchair was no problem. Acting as the guide to our group we arrived at the Rialto Bridge in Venice which you would normally cross over to get to Marks Square, It would have been a little difficult getting the wheelchair over the high and long Rialto Bridge so with my little knowledge of Venice I suggested we would walk further on this side of the canal and cross another bridge, as all bridges would eventually lead to Marks Square. Off we went walking along this side of the canal until it eventually opened out into a small very old area with old high-rise houses typical of what was visible through the narrow Venetian Streets. What did catch my eye was an old church in the corner of the square. At first glance you would have assumed this old Church was closed. On a closer inspection we found it was open. So while I remained with my Brother-in-Law in his wheelchair the rest went in to look around I probably would not have bothered going in but something struck me to go in and have look around for myself.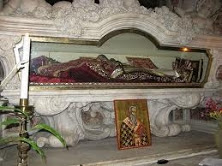 As soon as my sister-in-law came back to look after Sean. I too went into the Church with camera in hand as most tourists would. The church was completely empty but I did notice one old man cleaning the alter. There was many lovely old large paintings hanging on the walls as I moved around heading to the main alter. I noticed a skeleton incased in a glass case on the high alter and on closer look saw the inscription "Santa Lucia" I was wondering was this anything to do with the song "Santa Lucia" so I hummed a little of the tune to the guy cleaning the alter and I pointed to the glass case with the remains, although he spoke no English he obviously understood what I was humming as I pointed to the glass case with the remains. He acknowledged immediately that it was in fact the remains of Saint Lucia of which the famous song "Santa Lucia" was about. So my curiosity got the better of me as I strolled further around the alter and noticed a small door partly opened and leading into a small room. On closer inspection I saw no one was there. It was a little bookshop with photo's and relics of Saint Lucia. I bought two or three little pictures one containing a relic of Saint Lucia depositing the money in the Box provided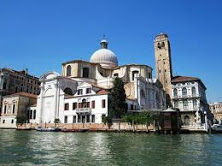 That evening I read the story of this young 18-year-old girl put to death because she was a Christian and was betrayed by her suitor, when she refused his hand in marriage. She was born far away in southern Italy in the third century A.D. It is said that she became a Christian after she prayed for her mother to be healed of a serious eye problem. After she witnessed her mother being healed, she made a vow never to marry and to give the money that would have been her dowry to the poor. She refused to marry the pagan man her family had chosen for her. Some say he denounced her for her faith to the magistrate Paschasius, who ordered she be put to death. Lucia was excuted and her eyes were gouged out with a fork during her excution. Lucia died a martyr's death in 303 A.D. and was declared a saint.
Very early the next morning I was listening to a bedside radio while at sea on the Cruise Ship and happen to tune to an Italian Station broadcasting maybe a Mass or Novena but they continually recited something which kept ending with the words Santa Lucia. For many days after this, Saint Lucia was on my mind. I mentioned this to a very good friend of mine who had a young son waiting on tests results and was worried about the outcome of these tests. She would have cancelled the Cruise but was advised that, not going on the Cruise already booked would make no difference to the outcome. She asked me for the picture of Saint Lucia, so I gave her the picture which also held a relic. Some days after she prayed regularly to Saint Lucia and was delighted that her son got the all clear on her visit to the Hospital a week later after returning home. Since then my friend prays regularly to saint Lucia. I could tell you many things that have happened to me in the time since this event and many times I have asked favours of Saint Lucia. Many of the results are scary so much so, I feel embarrassed I ask so many things so often and Saint Lucia so far has never let me down. Believe me when I tell you I am not a religious person, but, there are many strange things that happen in life and accidentally finding this small Church in that little corner of Venice with the remains of Saint Lucia has had some very extraordinary consequences since my return from Venice.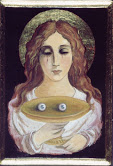 I received a telphone call from the wife of a colleague in Cork who unfortunately lost his sight some years ago. His wife was enquiring how and where to get to the Eye and Ear Hospital in Dublin. Then after the call it occured to me to do the decent thing and ring back and offer to collect them off the train and drive them to the Hospital. When they arrived at the station and getting into my car his wife whispered to me would I say a little prayer for her Husband that the test he was to undergo was to see if he was suitable for a new breakthrough that could help restore some of his eyesight. As they were entering the Hospital his wife again said not to forget to say a prayer. I answered back that I would pray to Saint Lucia. When I got home I decided to print out the sheet on Saint Lucia and send it to my colleagues wife. I was astonished when I realised that Saint Lucia is the patron saint of the Blind. She is Santa Lucia to the Italians, Santa Lucia to the Swedes, and St. Lucia, or St. Lucy, to all English Speakers. Saint Lucia's portraits show her holding her two eyes on a plate and she is known for helping people with eye problems. I would like to share this story with anyone who might need a little prayer during difficult times. So often you will hear some one say, "Say a Prayer for me that it turn out ok". Here is a Saint I think will listen to your request. I dedicate this little true story to my Brother-in Law Sean who died peacefully six months after the Cruise. Had it not been for Sean's illness and his determination to see Venice and go on the Cruise, I would never have known of Saint Lucia


Another amazing thing that you might like to know is that if you lose something and cannot find it, ask Saint Lucia to find it for you and do not be surprised when it turns up where you least expected to find it.
Remember Saint Lucia's Feast Day is December 13th>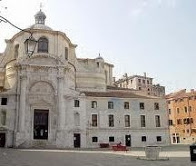 Church of San Geremia and the grave of Santa Lucia Inside the district of Cannaregio, just few minutes walk from the Santa Lucia train station, you can find the beautiful church of San Geremia. On the inside you can admire the wonderful works of art but most important, this church is a well known pilgrimage point because of the grave of Santa Lucia di Siracusa, who is celebrated on December 13th and is known by the pilgrims to be the "eye protector". The outside of the church is featured by the façade overlooking the Gran Canal, on which you can easily see the following inscription: "Lucia Vergine di Siracusa rests in peace in this temple. You inspire a bright future and peace to Italy and the entire World". The city of Siracusa, hometown of the Saint in Siciliy, is still claiming for the mortal remains to be taken back where she was born, even though they have been steadily here in Venice for many centuries. The chapel in which the open air grave stands has been made in 1863, using the same material of the church of Santa Lucia. This church, built in Palladian style, was demolished in 1861 due to the construction of the Venice train station, which have been built where the church was formerly standing and got the name out of it. There are many stories around the Saint's grave, but the most important happened in 1981: some criminals entered the church suddenly forcing the main doors, stole the Saint's grave and asked for a money ransom. The big matter came to a successful conclusion when the local police retrieved the Saint's mortal remains the very same day of her celebration, on December 13th. Every year, always more and more pilgrims and visitors in general come over to the church in Venice either to simply light a candle or to address a prayer to the Saint Lucia.