The End Of A Long Search
In 2006 the Irish Naval Association travelled to the Towns of Ginchy and Guillemont in France in response to the Mayors invitation for our Association to participate in the ceremonies marking the 90th anniversary of the capture of these two Towns by the 16th Irish Division on the 9th September 1916.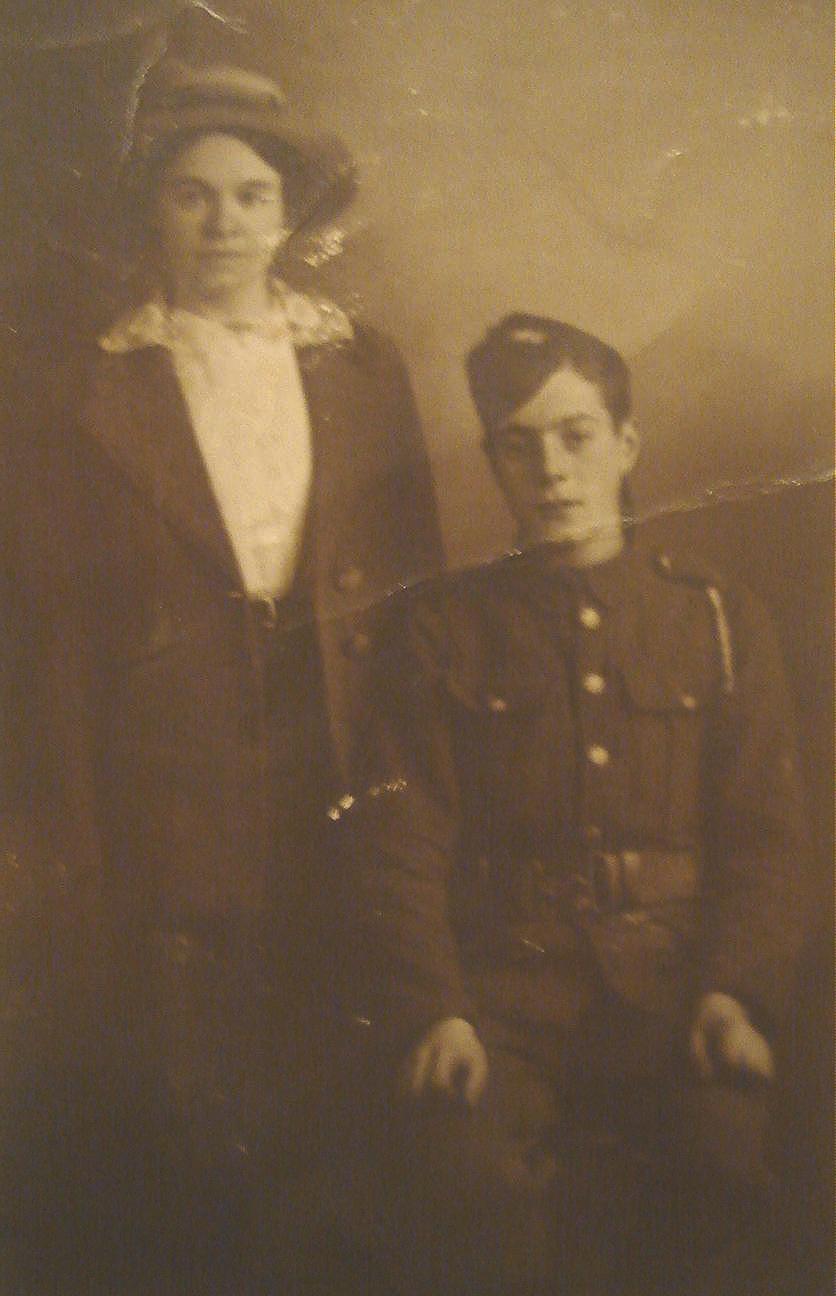 Something a little different happened during the trip that adds to the occasion of our visit to the Battle Sites in both Belgium and France. We had a retired RAF gentleman Roy Skinner (83 years) travelling with us, who now lives in Waterford (Ireland). Roy joined the Naval Association as an Associate member. He travelled with us on this trip despite not in prime health. on the Tuesday night 13th September while having a quiet beer in the bar, one of our Petty Officer's asked me to look at an envelope containing papers which Roy Skinner had with him. The background to these papers hold a wonderful story. 35 years earlier Roy and his wife Stella were touring in a Camper Van and stopped somewhere in Skye at a campsite that was not one of the best. While he and his wife were walking through the countryside he came to a burnt out ruin of an old cottage. Roy rambled through the ruined rooms of the old cottage and noticed a biscuit tin that caught his attention scattered amongst glass and general rubbish on the floor. In the biscuit tin were papers and photographs. One photo was of a young man in Scottish Army Uniform with his Mother standing beside him, obviously very proud of her young son. Another document notified the Mother the sad news that her son had been killed in Belgium on the 12th February 1916. Another document was a letter from young Macaskill's commanding officer telling his mother the personal items and pay book were being returned to her. Roy was very moved with these documents and knew these documents would mean something to the soldiers family if he could find any. He has searched in vain for 35 years. However, recently he wrote to the Commonwealth War Graves to ask if they could help in his search. He was delighted when they answered his letter telling him that the boy was 21 years old Private A Macaskill 5477, 9th Div. Coy Army Cyclist Corp who died on the 12th February 1916.
He was son of Mr. W. and Mrs. A Macaskill, Ardelve, Kyle, Ross-Shire. He was buried in the Gunners Farm Military Cemetery, Comines-Warneton, Hainaut, Belgium. Row K grave 6.