National Day of Commemoration Sunday 14/7/2019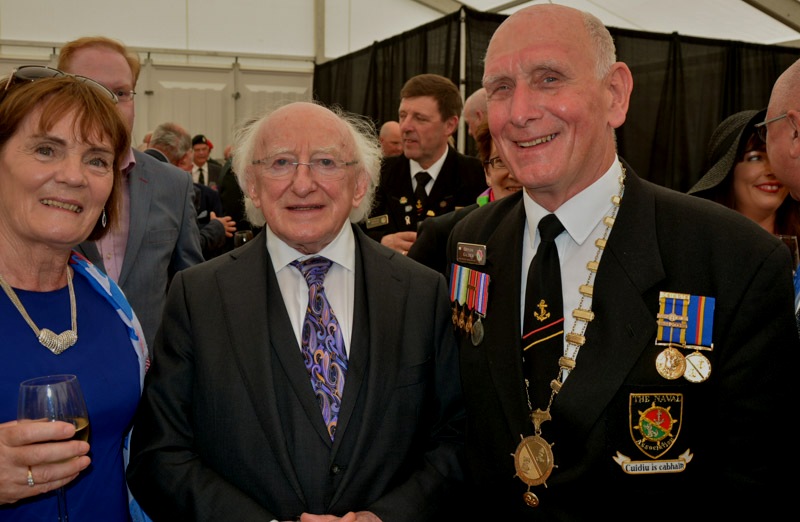 We had a very large turn out from the Irish Naval Association (INA) including the Vice President from Cork,some of our members traveled up from Limerick and of course Dublin had large group Approx 20 in total.
The Ceremony is held Annually to Honour all those Irishmen and Irishwomen who died in past wars or on service with the United Nations. The Ceremony is held in Collins Barracks in Dublin which was an army base for some 290 years before being renovated for use as a museum.The officiating representatives were from all the main religions ten in total.Music was provided by Soloist Ms Mairead Buicke and the Band of ! Brigade Conducted by Captain Brian Prendergast. After the prayers the Taoiseach invites the President of Ireland to lay a wreath in honour of all Irishmen and Irishwomen who died in past wars. Following the minutes silence, the Cadet Guard of honour renders honours and the Trumpeters and Drummers sound the Last Post The National Flag then was hoisted to full mast accompanied by a roll of drums, followed immediately by the National Anthem. Humanist Reflection As the poet Maya Angelou reminded us History, despite its wrenching Pain,Cannot be unlived, but if faced with courage,need not be lived again.

After the Ceremony there was some refreshments provide in a marquee close by which included Tea, Coffee, Wine and Beer. The photographer that took some of the photos on the day was Kevin Devlin past member of #2 Coy Slua Muiri.I would like to congratulate all our members for making the effort on the day as the weather was stunning and it would have been very easy to be someplace else.