HMS C33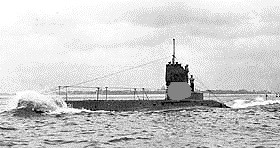 C33M
Laid Down. 29/03/1909
Launched. 10/05/1910
Completed. 13/08/1910
Builder. Vickers
Build Group. C
Length. 142 ft.
Diving Depth. 100 ft.
Speed. 13 Knots
Complement. 16
Fate. Mined 1915



C33 was built by Chatham Dockyard, Chatham for the Royal Navy. She was laid down on 29 March 1909 and was commissioned on 13 August 1910. In common with her C Class sisters, she represented the last British evolution of the original Holland design. Her low reserve bouyancy meant that she handled poorly on the surface, but her spindled, almost teardrop shape meant that she had good handling characteristics when submerged. The C Class were the last British submarines to have petrol engines, but the first to feature forward hydroplanes. On completion, she displaced 290 tons surfaced and 320 tons dived. She was armed with 2 18″ torpedo tubes and carried a crew of 16 men who lived aboard in primitive conditions, lacking even a proper toilet.At the outbreak of the Great War, she was based in Dover as part of the 4th Submarine Flotilla with HMS Arrogant as Depot Ship. By January 1915, she had moved to Harwich and was employed using the U-Boat Trap tactic. In this, a submarine would be towed submerged behind a bait vessel. When challenged by the U-Boat, the bait vessel would transmit instructions to the submarine, which would slip its tow and attempt to torpedo the German U-Boat. The tactic did meet with some successes (believe it or not).On 4th August 1915, C33 had completed a 'U-Boat Trap' patrol with the armed trawler Malta. The two vessels parted company at 20:15 that day and the last contact with the submarine was made by wireless at 21:50. No further contact was made with C33 and despite a search, no wreckage or survivors were found. The Admiralty assumed that C33 was lost to a mine with all hands, as the Germans made no claims regarding her loss.