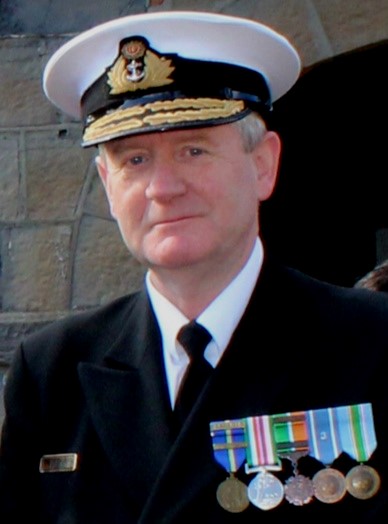 I was invited to attend as President of the Irish Naval Association the Standown Parade for Commodore Hugh Tully Flag Officer Commanding Irish Naval Service. The ceremony took place at the Naval Base in Haulbowline, Cobh, Co.Cork on Friday the 15/12/17.
I drove down on the morning of the Parade arriving in plenty of time to have a coffee and a chat in the NCOs Mess before the start of the Ceremony. The Parade was held on the square in beautiful sunshine. There were approx two hundred Naval Personnel on Parade made up of Officers, NCOs and Men. The Flag Officer inspected the Parade after which there was a very nice few words from Vice Admiral Mark Mellett (DSM) Chief of Staff of the Irish Defence Forces to which the Flag responded.
When the speeches ended there was a March Past where the Flag took the Salute.
Also in attendance were the Lord Mayor of Cork, the British Military Attache, American Military Attache, Fr D Campion and Army Officers representing the Army The ONE were represented with Presidents from Cork and Cobh. After the Parade we were escorted over to the Mens Mess for a five course lunch.It was also the Annual Dinner for Serving and Retired officers of which there were many familiar faces of Group and SOSM.

Commodore Hugh Tully
I would like to take this opportunity to congratulate Cdr Grace Fanning on her recent promotion Grace was at our table and she took good care of us.
I also got the opportunity to Congratulate the new Commodore Michael Malone on behalf of the INA.
i had a very interesting conversation with Cdr Willie Roberts who informed me that over 800,000 euro had been spent on STY Creidne which has been brought up to date regarding safety and communications.The Rigging has also been improved with a larger Mast and Boom with new Sails and Spinnakers. I am looking forward to seeing her sail as I was one of the Skippers when Creidne was used by An Slua Muiri ( Naval Reserve). This concludes my reports for this year.
I would like to wish all our seafarers at home or abroad a Very Happy Peaceful Christmas and a Healthy New Year.
Bryan Gildea.
President of the Irish Naval Association.