Additional Information:
Son of Cornelius and Catherine Donovan, of Shanon St., Bandon;
husband of Ellie Donovan, of Higgins Lane, Watergate, Bandon, Co. Cork.

Grandfather of Paddy and Con Donovan, their Father was 3 Years old when their Grandfather was killed. Sad to recall Con and Paddt Donovan was also only three and 4 years of age respectifully when their Father died a young age

Con and Paddy lay a wreath at their Grandfathers Grave

Youtube Video of Paddy and Cons first visit to their Grandfathers Grave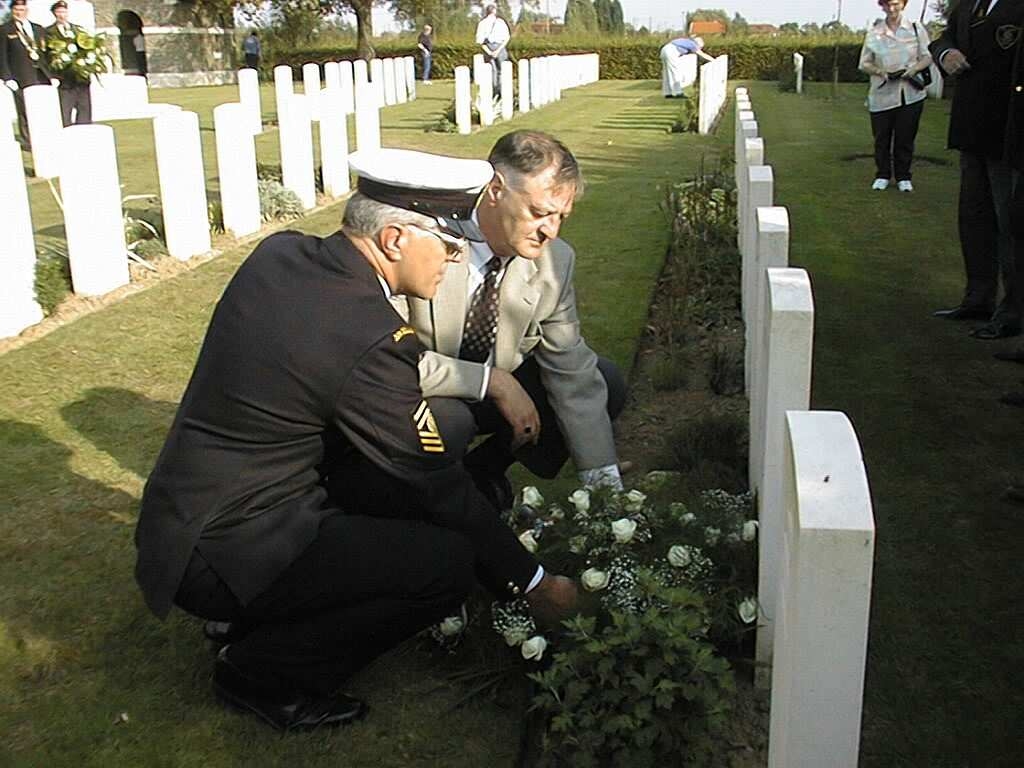 Commemorative Information
Cemetery:
LAVENTIE MILITARY CEMETERY, LA GORGUE, Nord, France
Grave Reference/ Panel Number: III. F. 16.

Location:
Laventie and La Gorgue are adjoining towns. Laventie Military Cemetery is on the north-east outskirts of Laventie. From Laventie, head north out of the town on the D166. Approximately 1 kilometre along this road turn right at the first junction and follow the small road for 400 metres. The Cemetery is on the left hand side.

Historical Information:


The towns of Laventie and La Gorgue fell into German hands in the Battles of the Lys in April, 1918, and they were retaken by British troops early in the following September.Laventie Military Cemetery was begun (in Plot II) in the latter half of June, 1916, by the 61st (South Midland) Division (whose graves are associated particularly with the Attack at Fromelles, 19th July, 1916), and carried on by other Divisions holding this front; in June, 1917-April, 1918, the Portuguese Corps buried in it. It was used again in September, 1918; and after the Armistice British, Indian and Chinese graves were brought in from other cemeteries and from the neighbouring battlefields, as well as a number of Portuguese. All the 176 Portuguese graves have, however, been removed to Richebourg-l'Avoue Portuguese National Cemetery.There are now nearly 550, 1914-18 war casualties commemorate in this site. Of these, a small number are unidentified and special memorials are erected to four British officers of the Indian Army, killed at Neuve Chapelle, whose graves were believed to be in Lestrem Communal Cemetery but were not found on concentration.The cemetery covers an area of 3,120 square metres.Of the burial grounds from which graves were removed to Laventie Military Cemetery:-ENGLOS CHURCHYARD contained a United Kingdom grave of October, 1918.HAUBOURDIN COMMUNAL CEMETERY contained 11 United Kingdom graves of 1914.LAVENTIE (RUE DU PATRONNAGE) GERMAN CEMETERY contained the graves of a number of Portuguese soldiers buried by the enemy in 1918.LESTREM COMMUNAL CEMETERY contained the graves of four British officers of the Indian Army and two United Kingdom soldiers.ROUBAIX COMMUNAL CEMETERY (Place Chaptal) contained 13 United Kingdom graves and one Australian, nine of which were originally in ROUBAIX (RUE JOFFROY) GERMAN CEMETERY, between Roubaix and Lannoy.TRESSIN CHURCHYARD contained one Australian Flying Corps grave of October, 1918, and one United Kingdom grave of November, 1918.