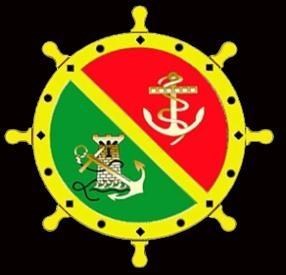 Following Germany signing the Surrender in 1918 it was agreed that at exactly 1100hrs on the 11th day of the 11th Month the Guns would fall silent ending WW1 exactly 100 Years ago this November. Over 200,000 Irish participated in the War and 30,300 is recorded by the Commonwealth War Commission but it is estimated that over 47,000 Irish Died others serving in others Allied Armies, Australian, Canadian and USA
We have many members in our Association who lost relatives during the Great War "The War to end all Wars" and as you can see from below we have honoured our relatives who died in WW1
A special ceremony at exactly the Hour WW1 ended was held at the excellent Memorial Garden at Fort Camden where many Irish marched off to War. This was organised by the Irish Naval Association to honour all who died in WW1.
The Fort Camden Committee had agreed and supported our efforts
Everyone in attendance who lost relatives in the War had an opportunity to place a cross in the memorial Garden to honour the relative, and his name and a short detail of his death was read while the cross was placed in the Garden. Congratulations to Gerry Conroy who was responsible of having these excellent Memorial Gardens set in place, and a WW1 room with lots of items and photos dealing with WW1. The Fort Camden committe of Noel Condon, Eileen O'Riordan and Marion Murphy, had Fort Camden beautifully set up for the ceremony,The Billet was setup for the Mass celebrated by the Local PP Fr Pat and our Naval Chaplain Fr Des Campion. After Mass the Camden committee had prepared the tea room and provided Tea/ Coffee and an abundance of Cakes and Biscuits
To end the Day the Naval Association hosted a Black Tie Dinner in the Excellent Carrigaline Court Hotel, and Music was provided courtesy of the Carrigaline Court Hotel. Thanks to Martin Kiely of our Limerick Branch who provided all the photos below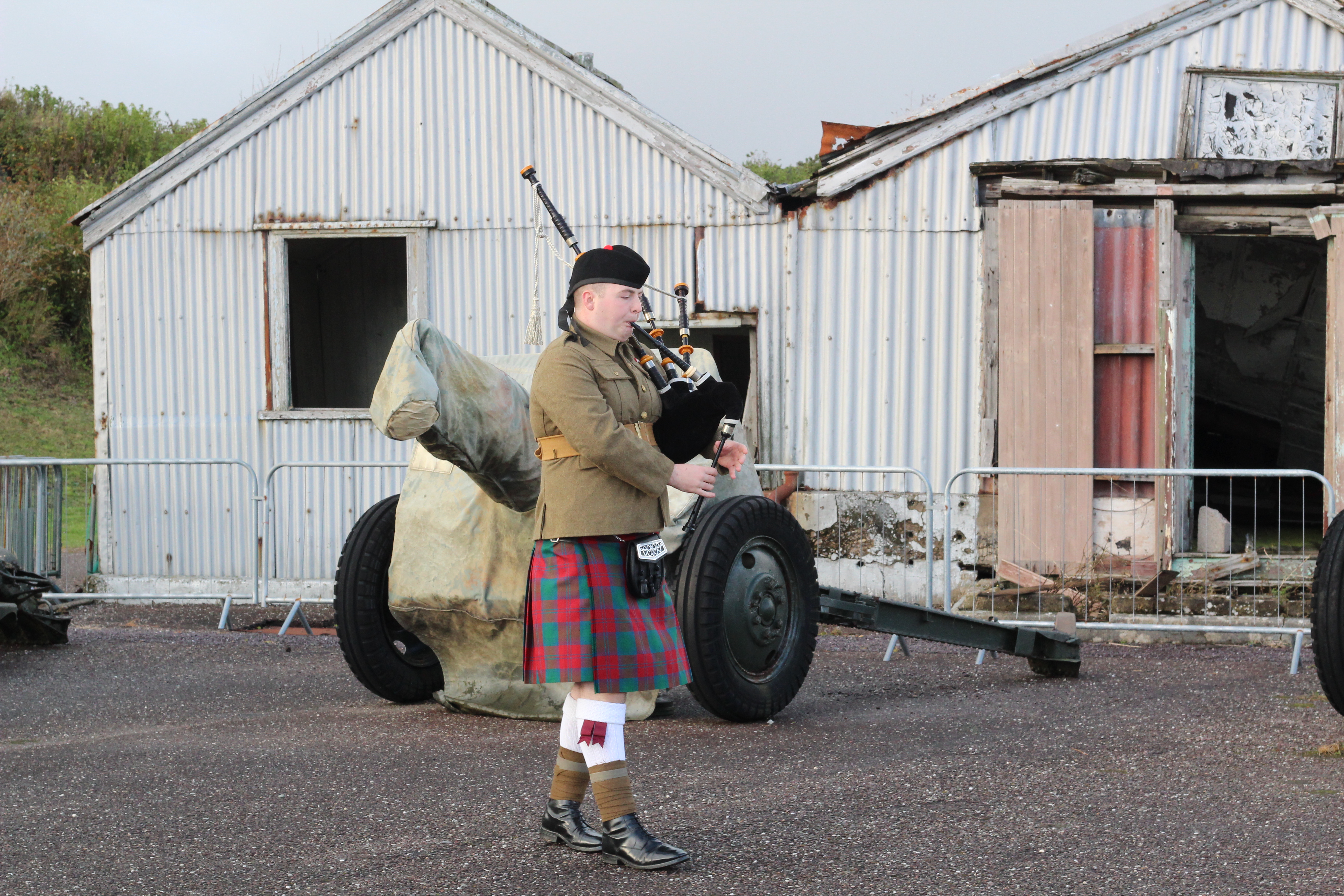 1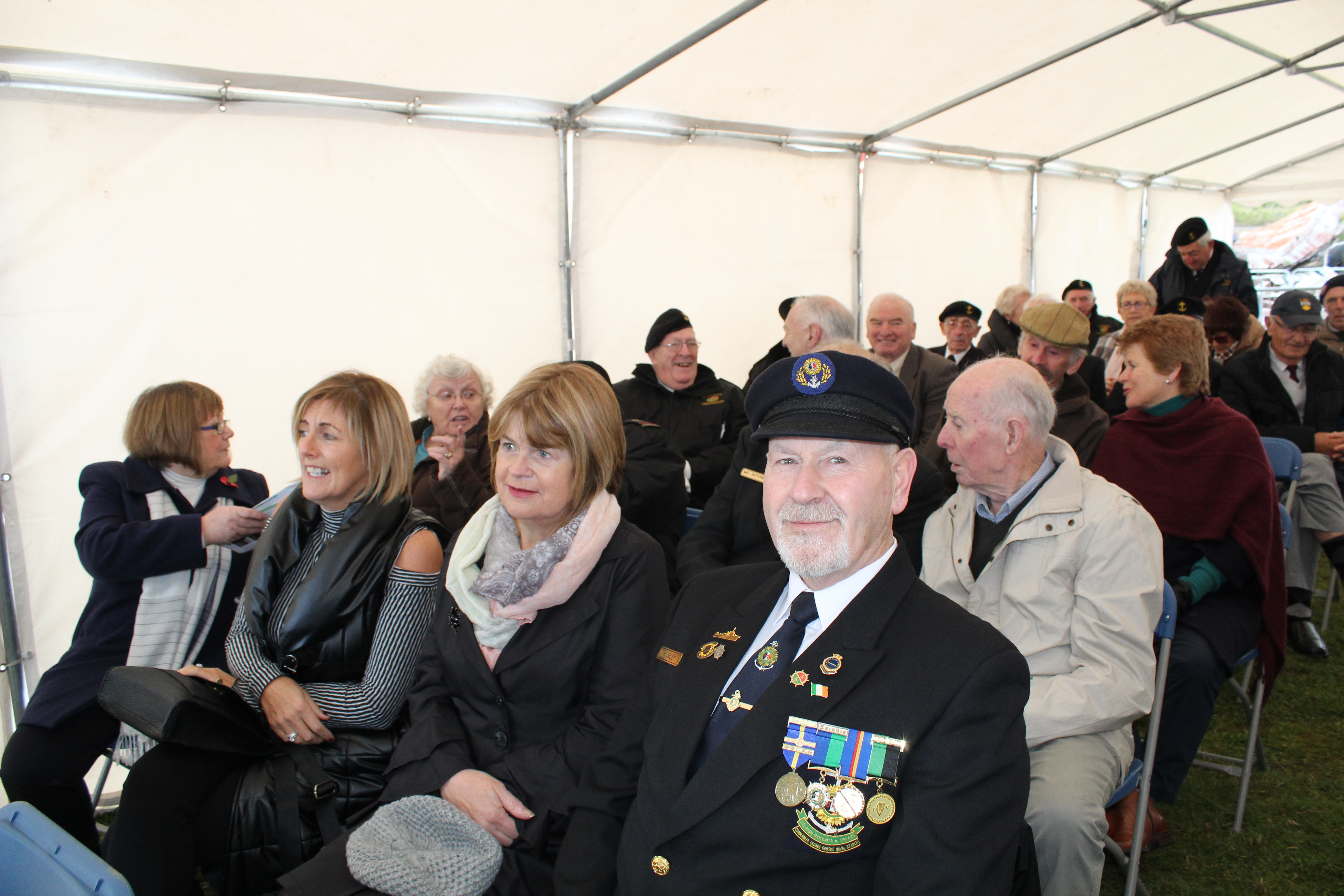 2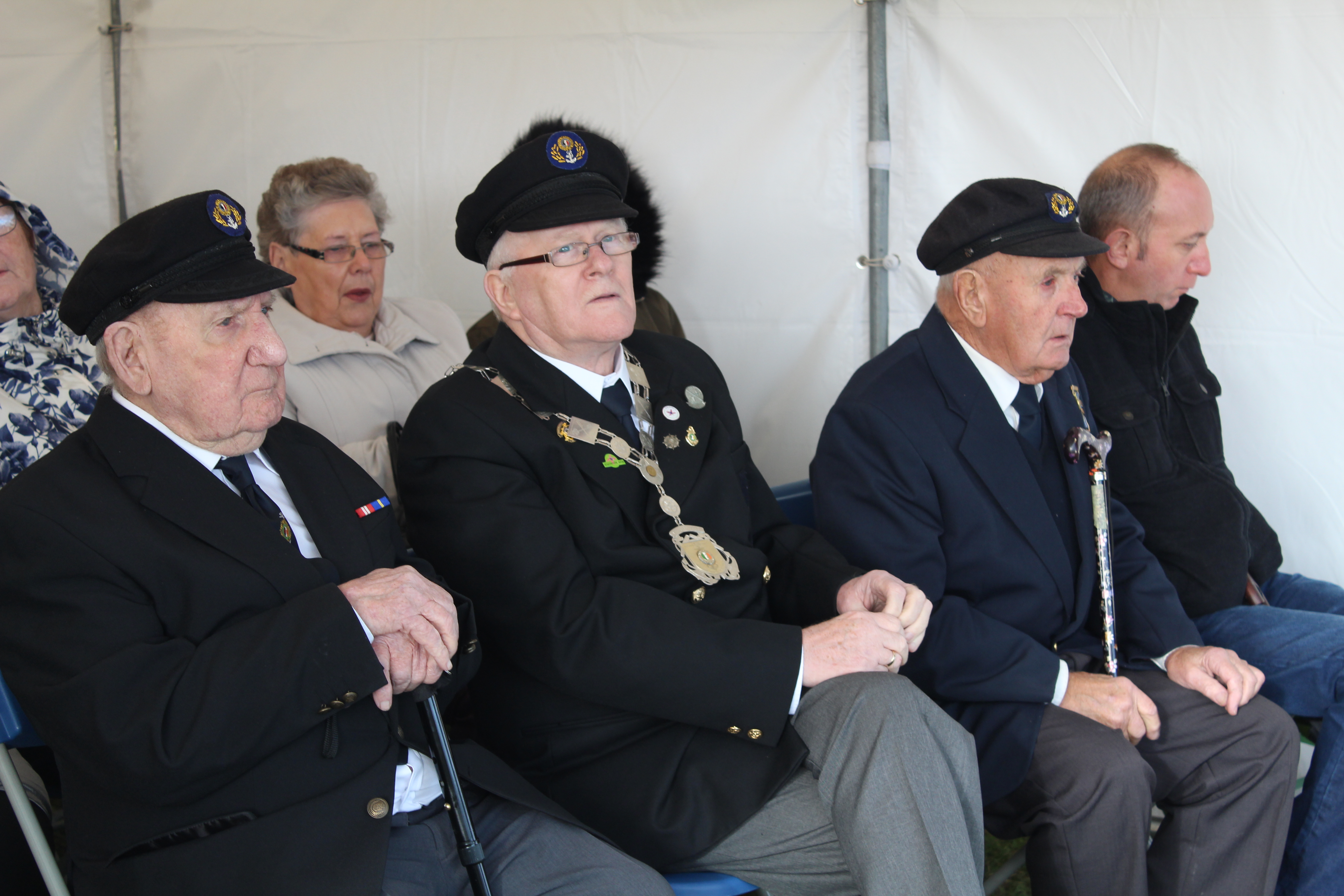 3
(Center) Peter Matthews President of the Cdr.George Crosbie Navy Branch of ONET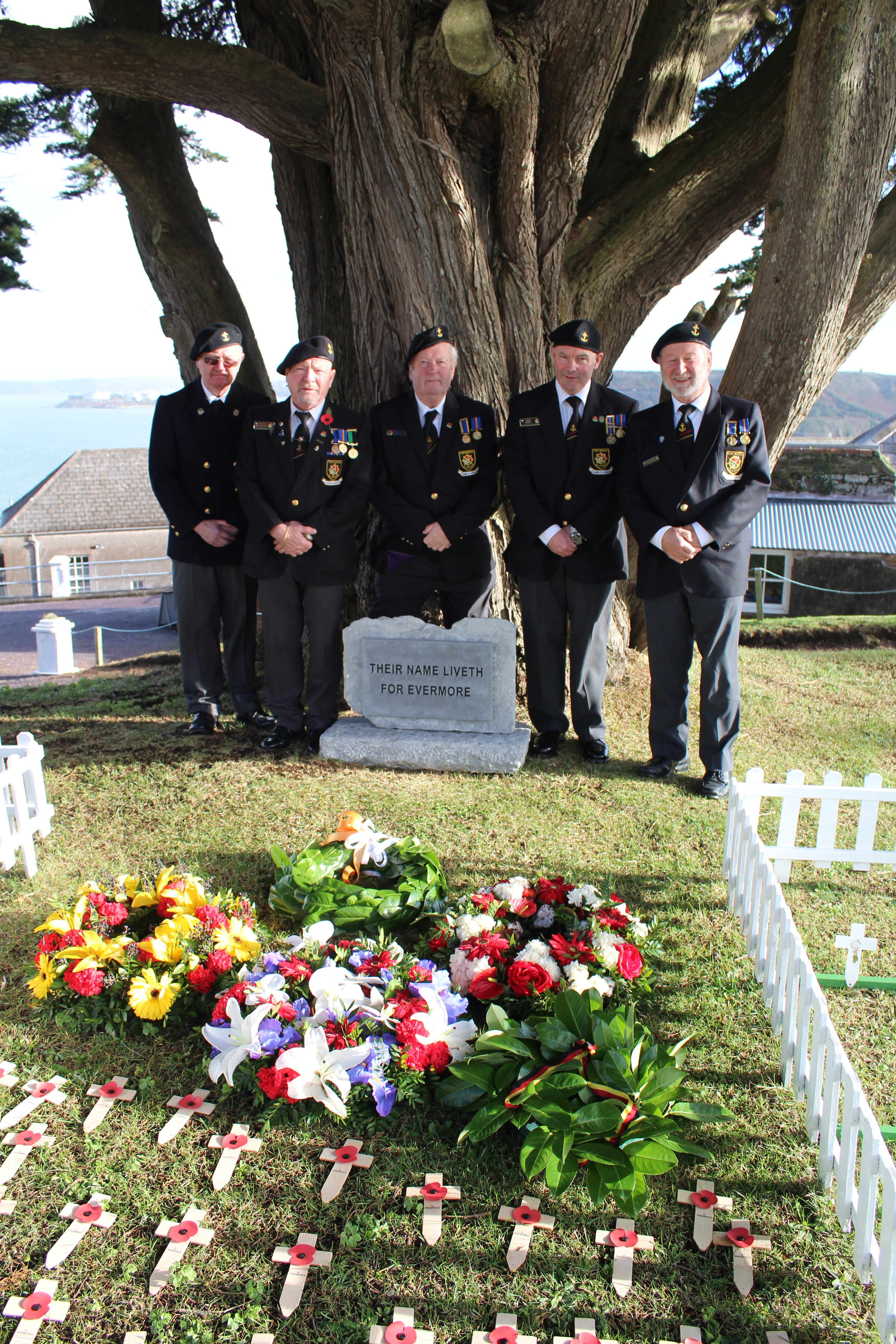 10
Members of our Limerick Branch travelled down from early morning to participate in the ceremony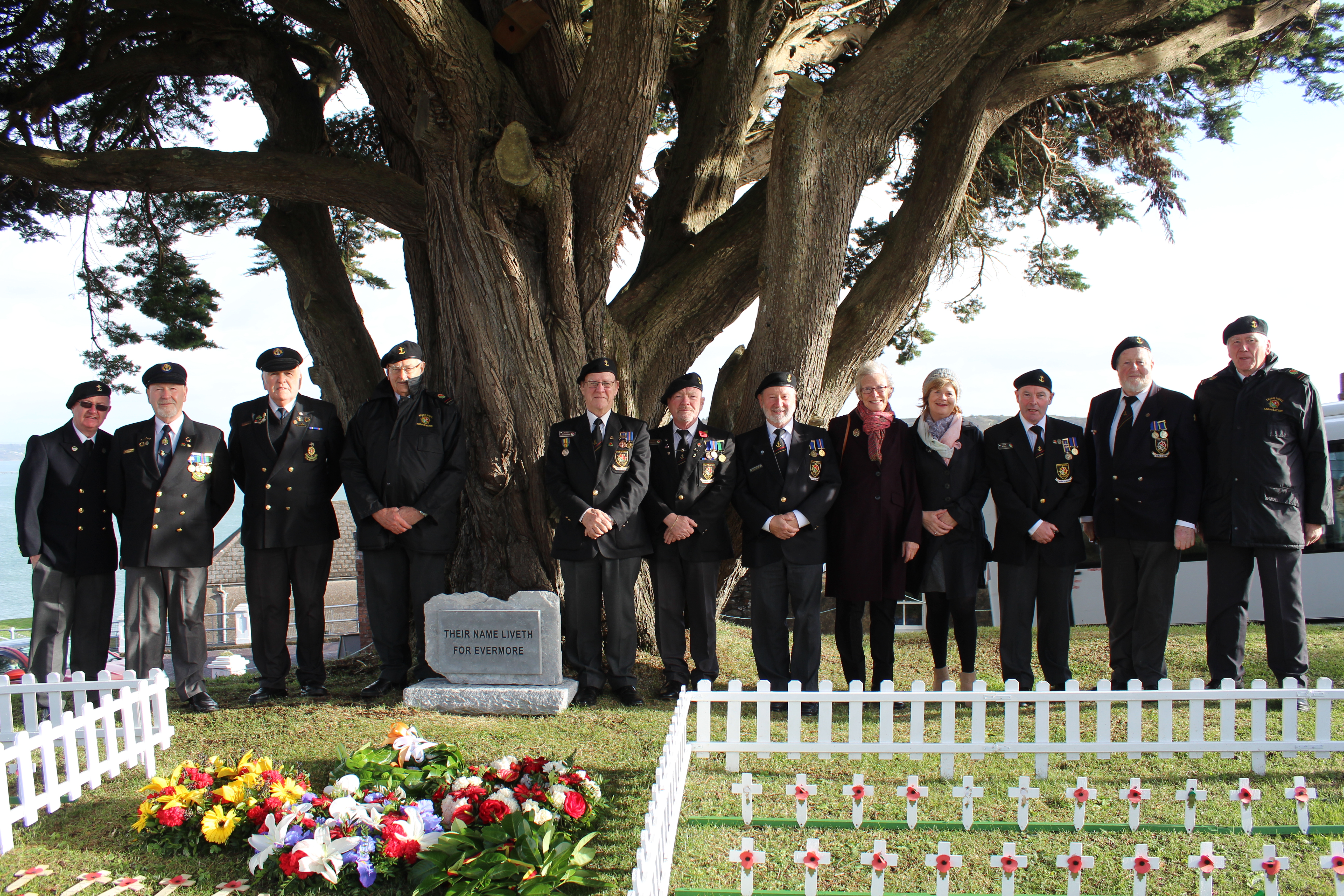 12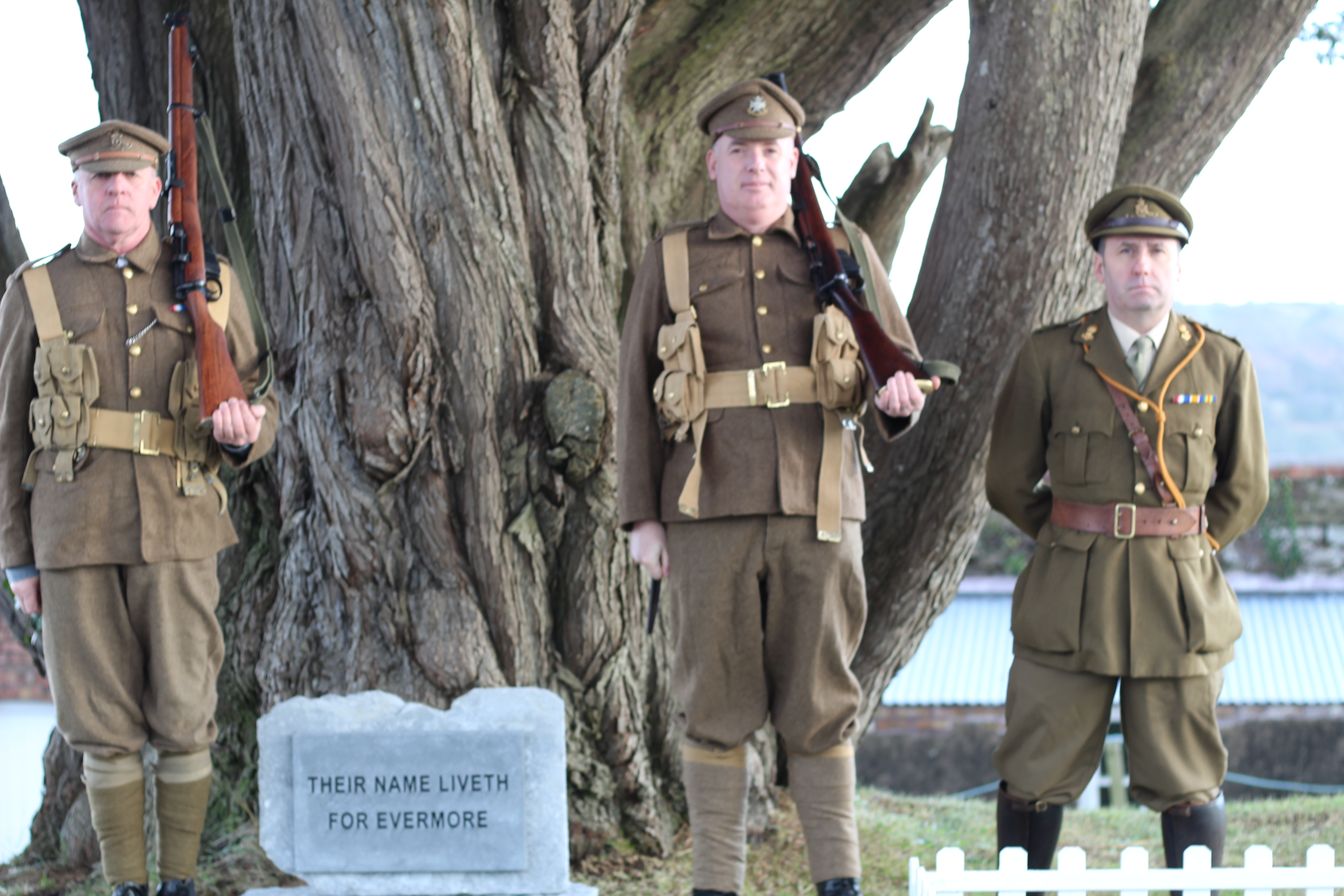 13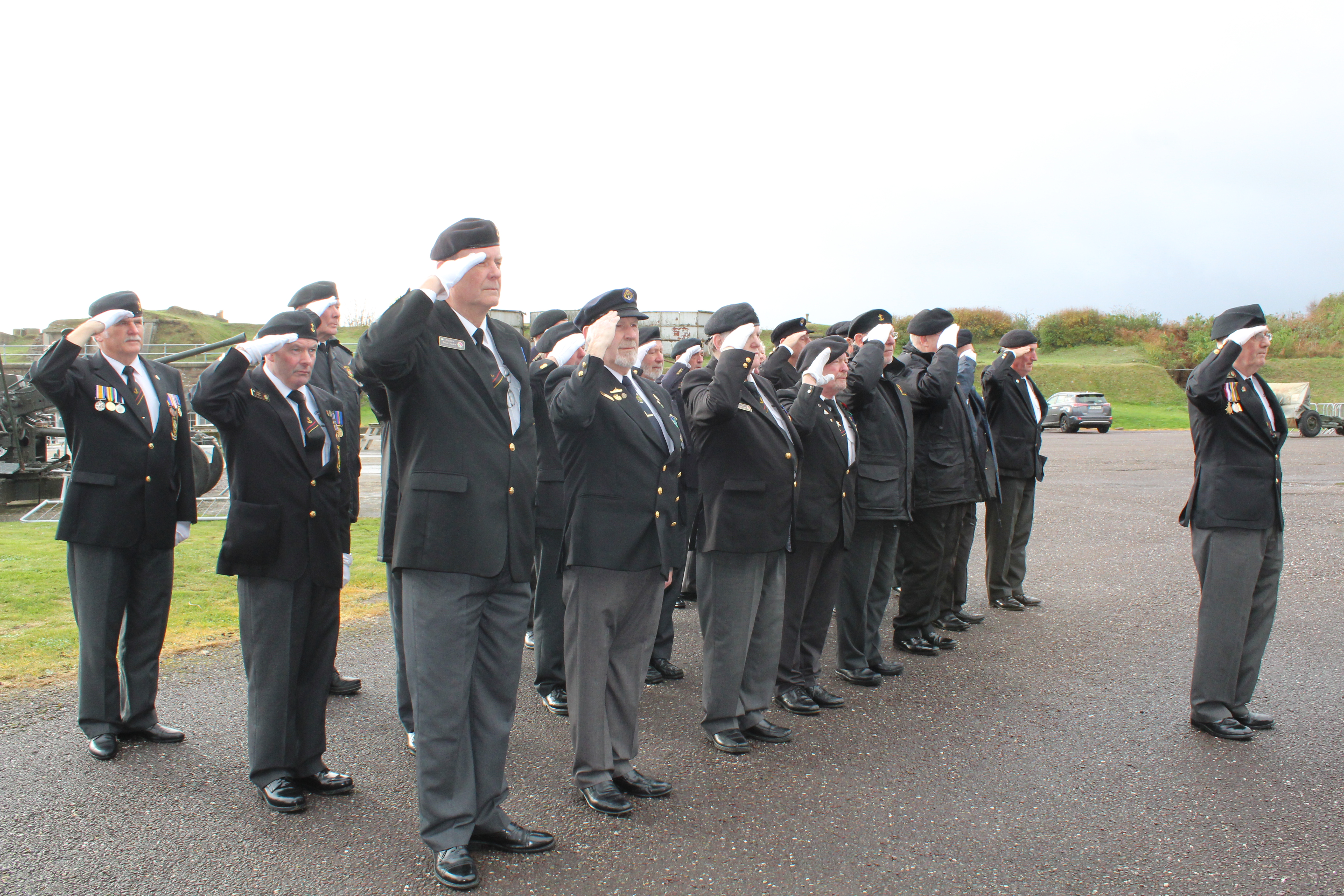 14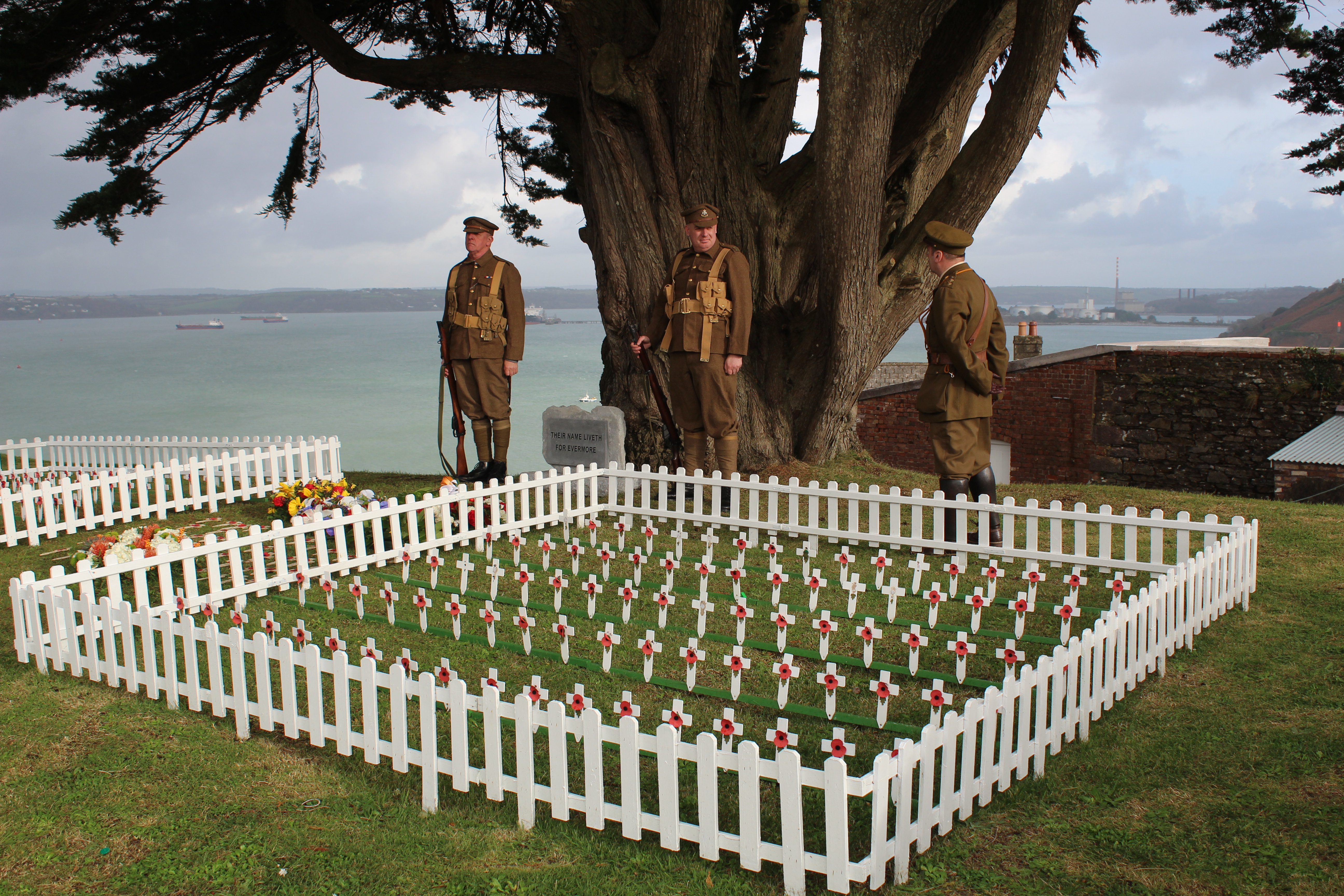 15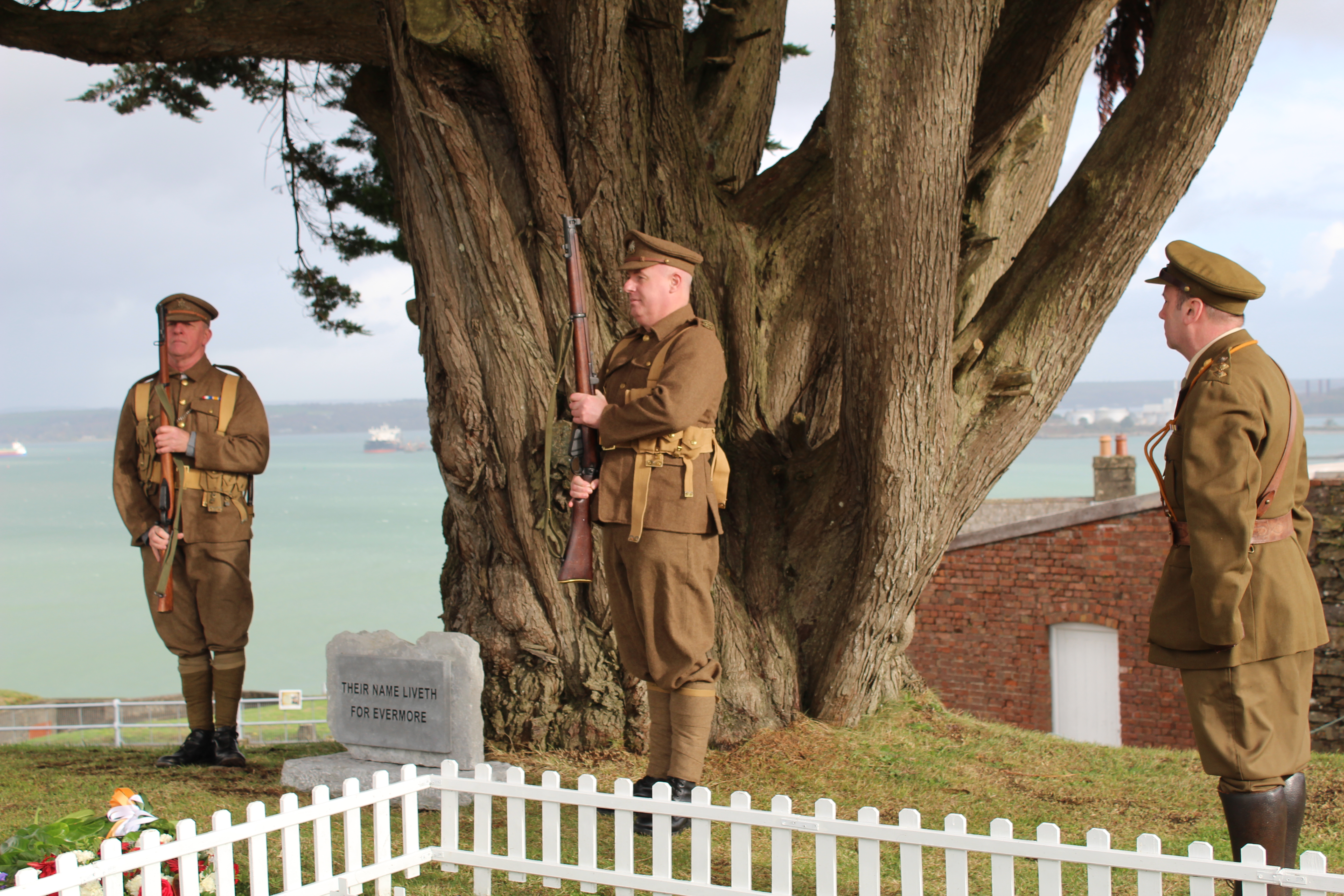 16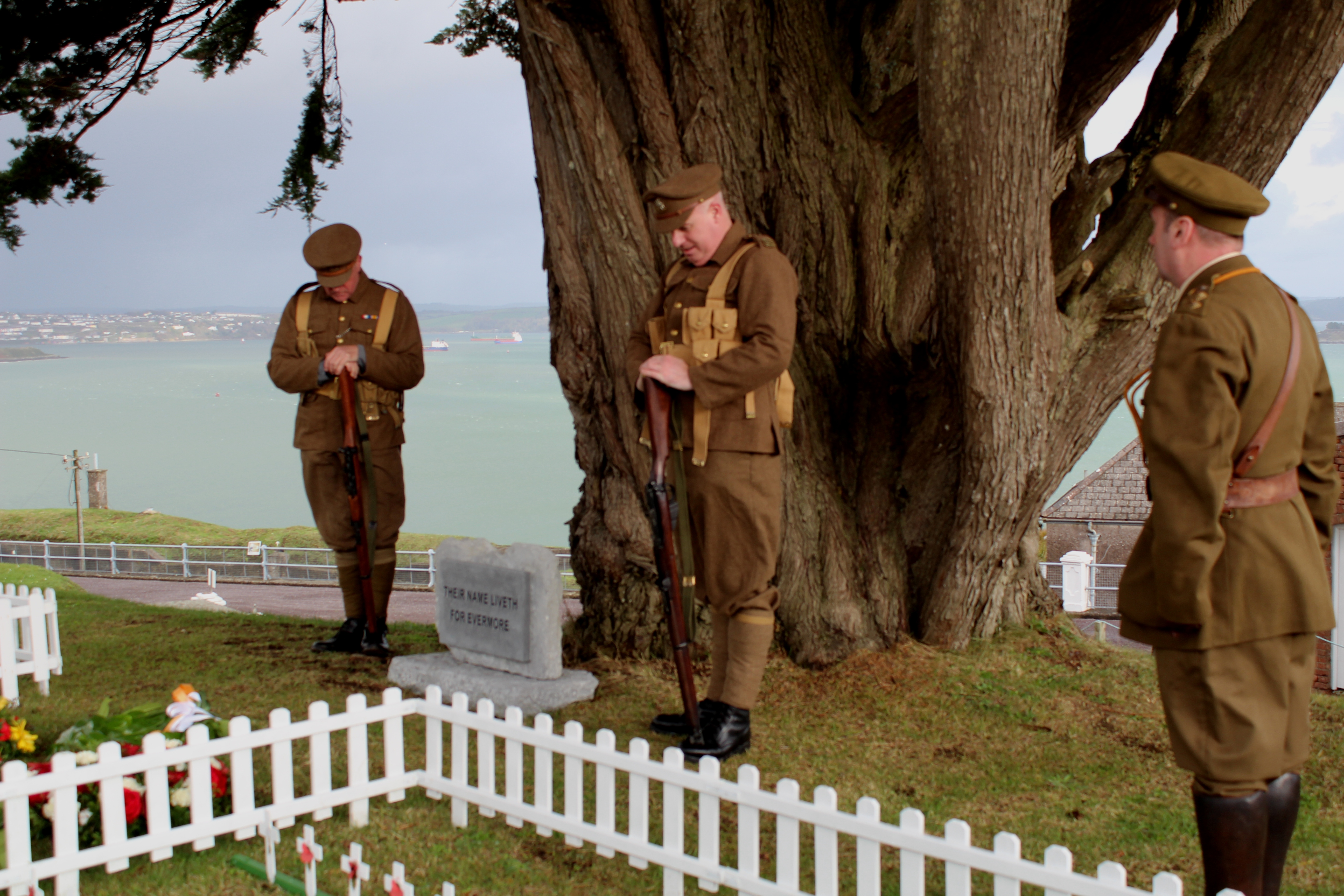 9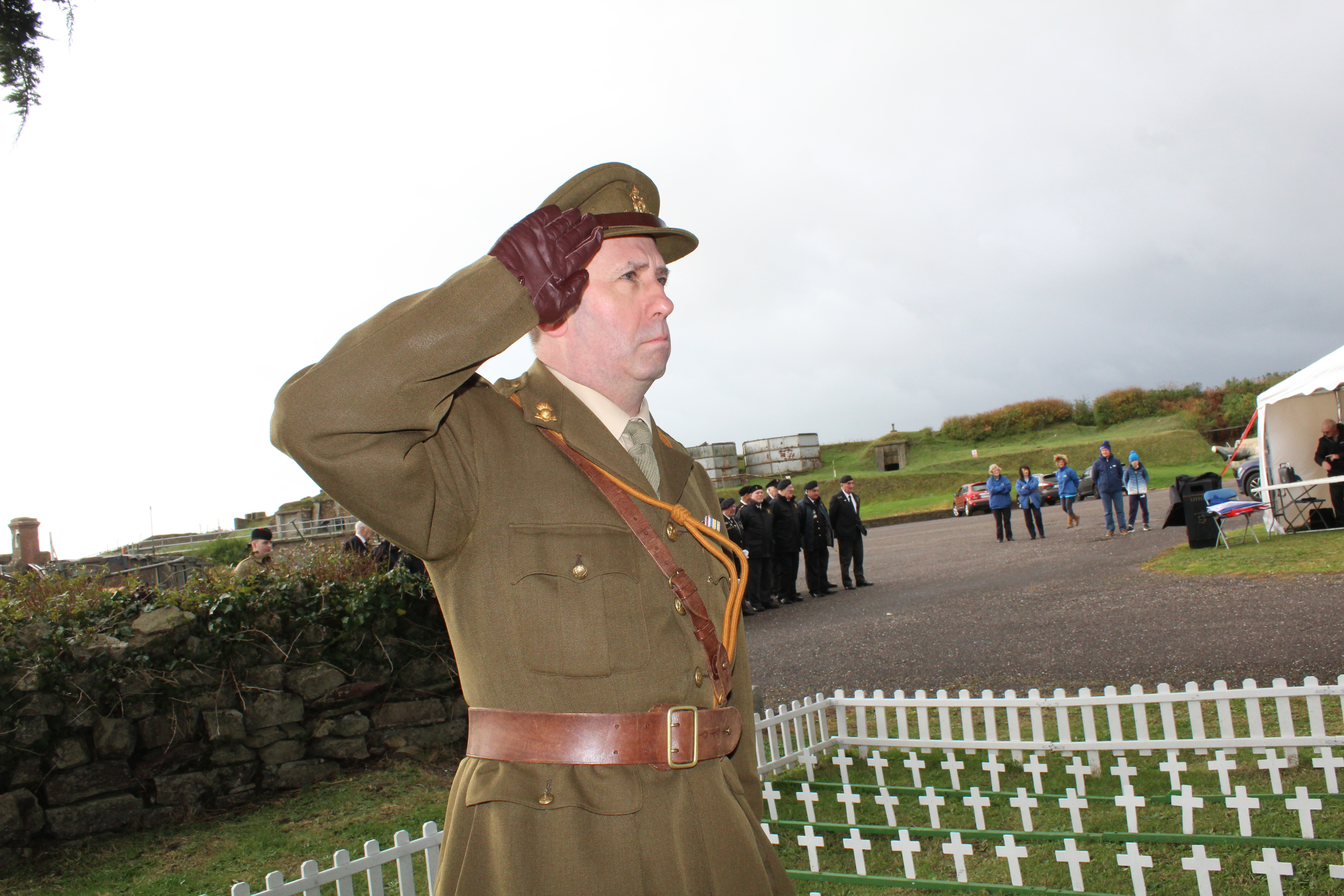 17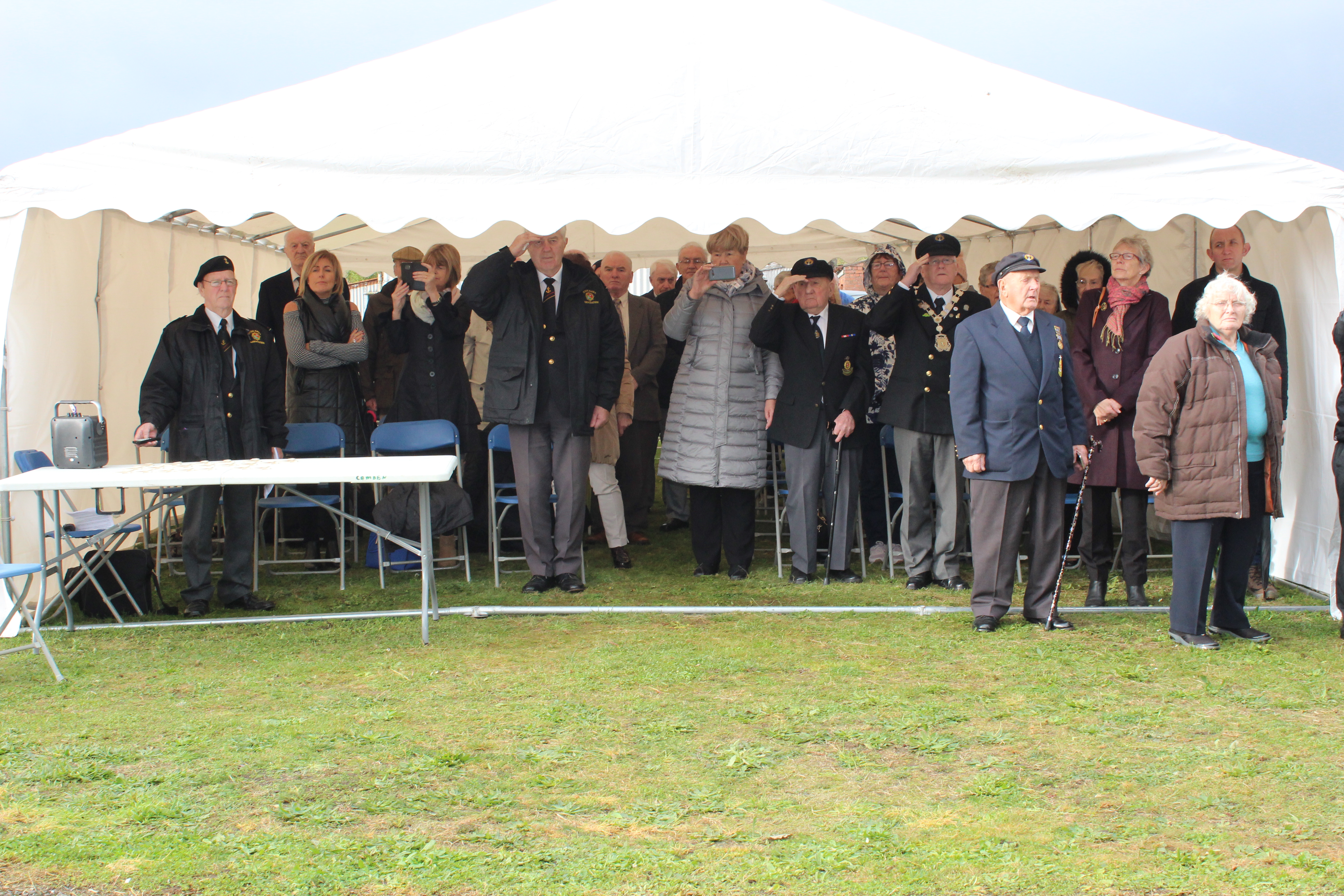 18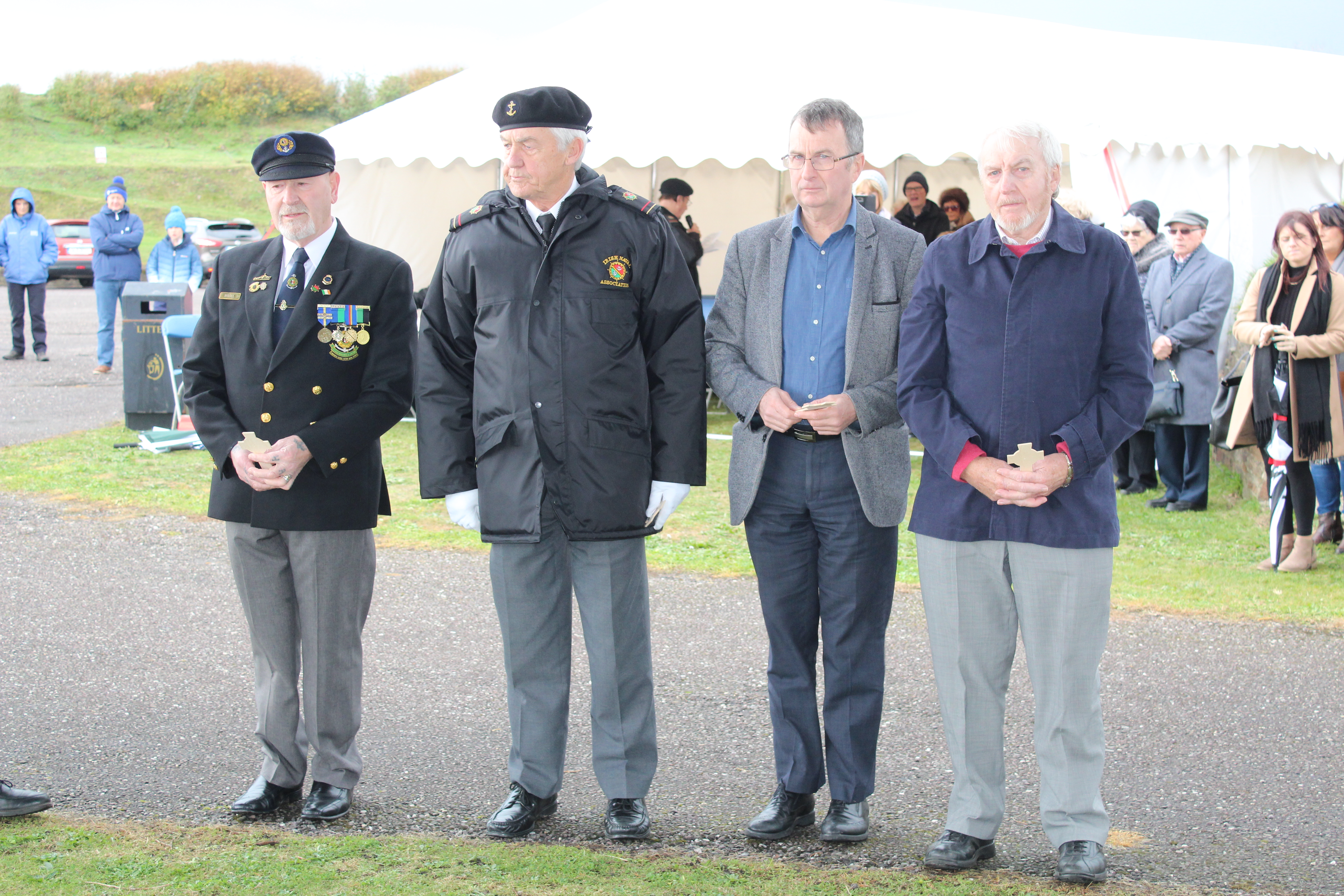 24
Paddy Hurley (left) commemorates his wife's Grand Uncle who was killed in WW1
. Gunner Timothy Hurley, (4506), 93rd Company, Royal Garrisson Artillery, born Queenstown, Co. Cork,
who died on 16 february 1917 aged 40 Years. Interred at Colombo (Kanatte) General Cemetry.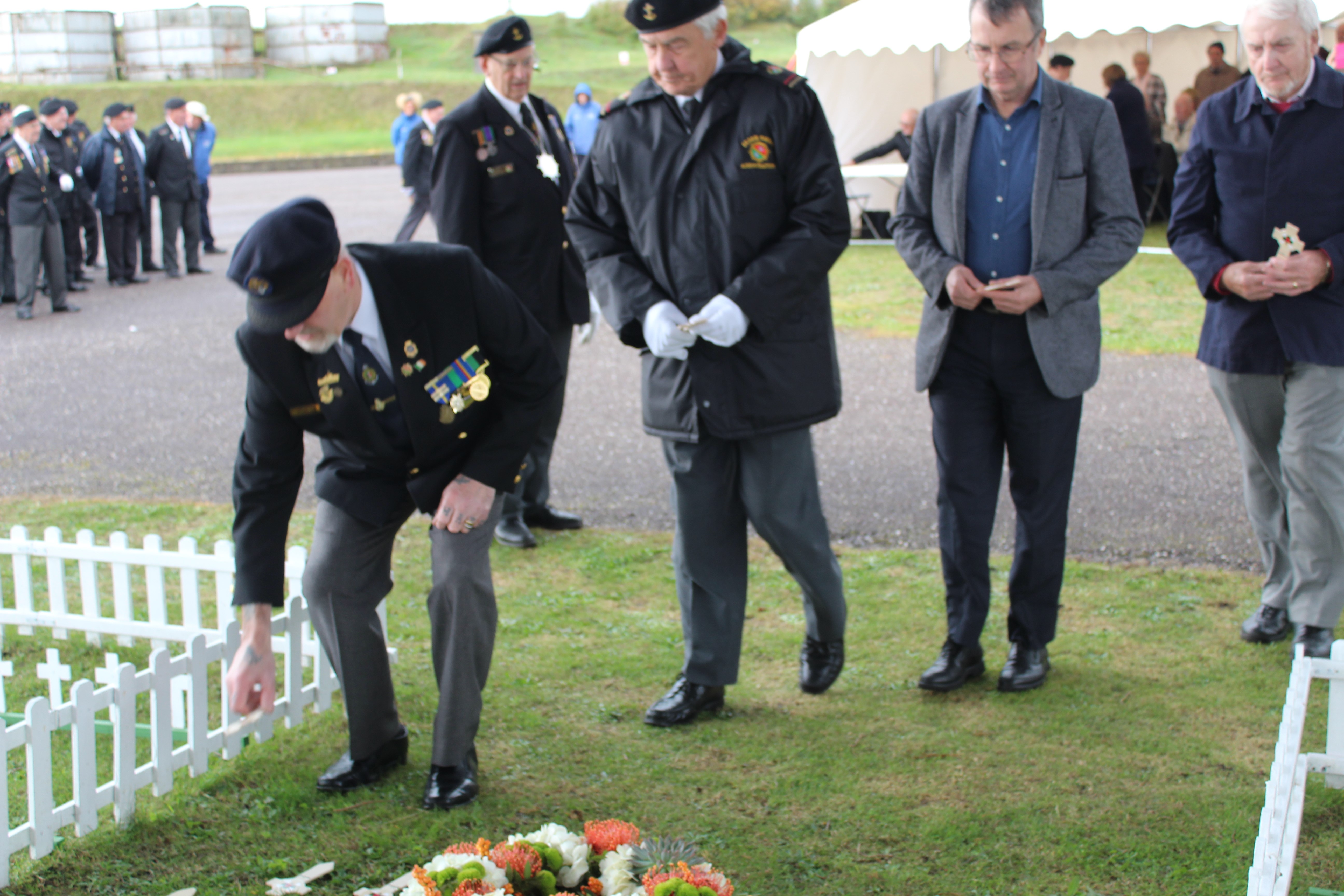 Paddy places the Cross in the Garden of Remembrance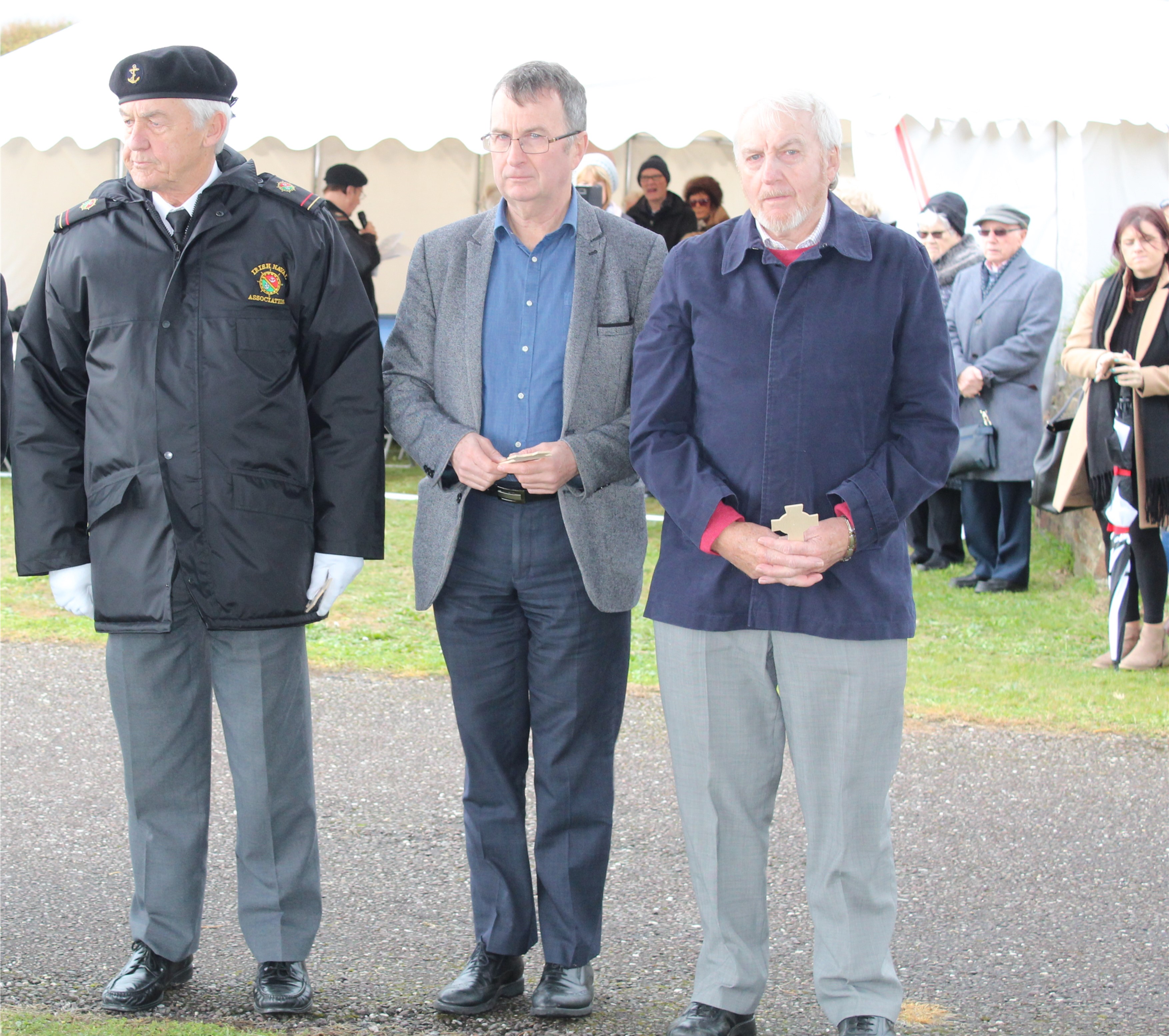 18a
Matt Comiskey and his Cousins Kieran and Declan O'Malley commemorate the loss of their Uncle Patsy
killed in the Battle for Ginchy Pte. Patrick Keegan, 9th. Battalion, Royal Dublin Fusiliers, 16th ( Irish) Division,
See Matts details on his Uncle Patsy ... My Uncle Patsy...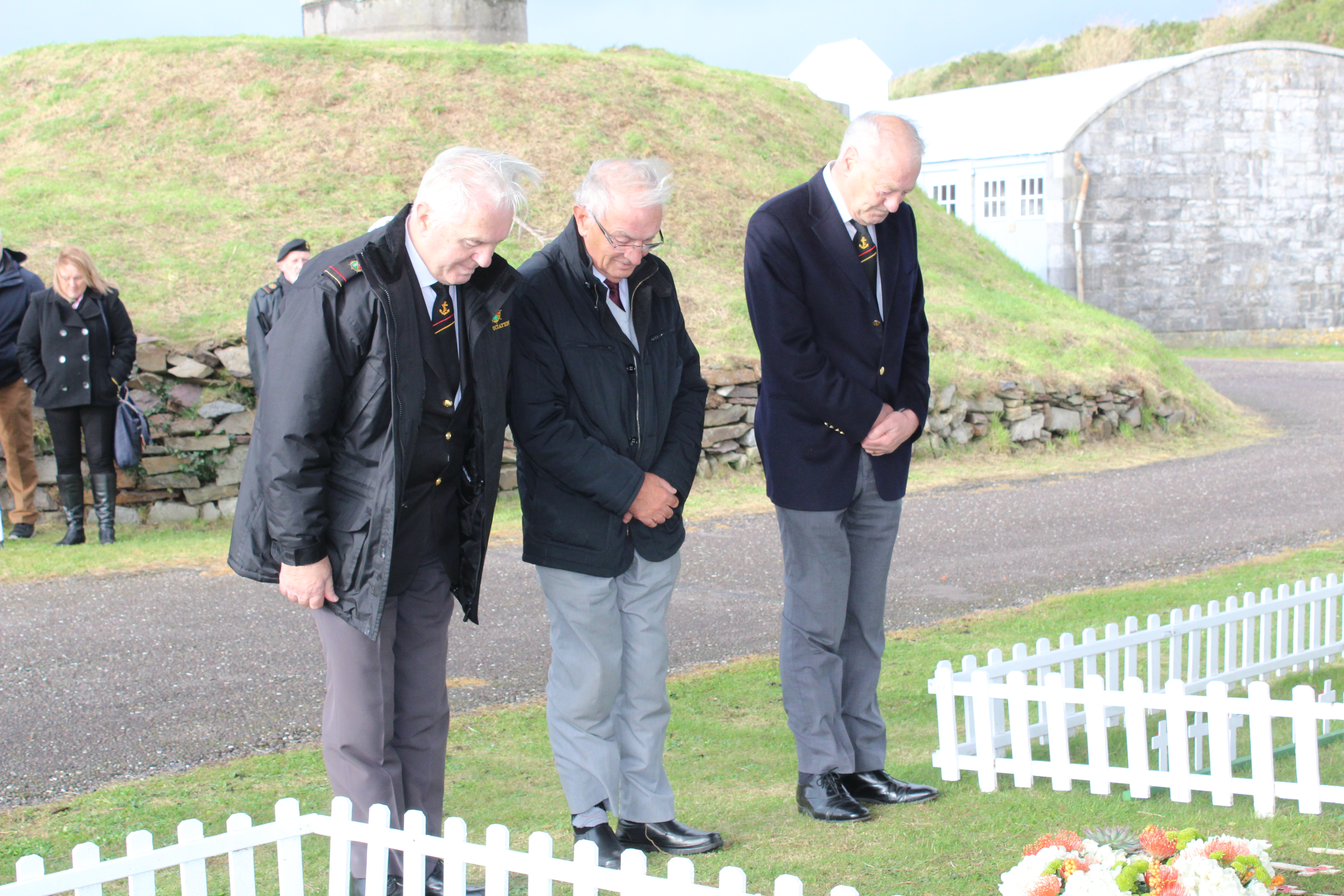 19
Con, Jimmy and Paddy Donovan each lay a cross in remembrance of their Grandfather Killed on Saturday,
7th April 1917. Age 35. Buried in Laventie Military Cemetery, Nord, France
See details of Paddy and Cons visit to their Grandfathers Grave in France Click .... This LINK....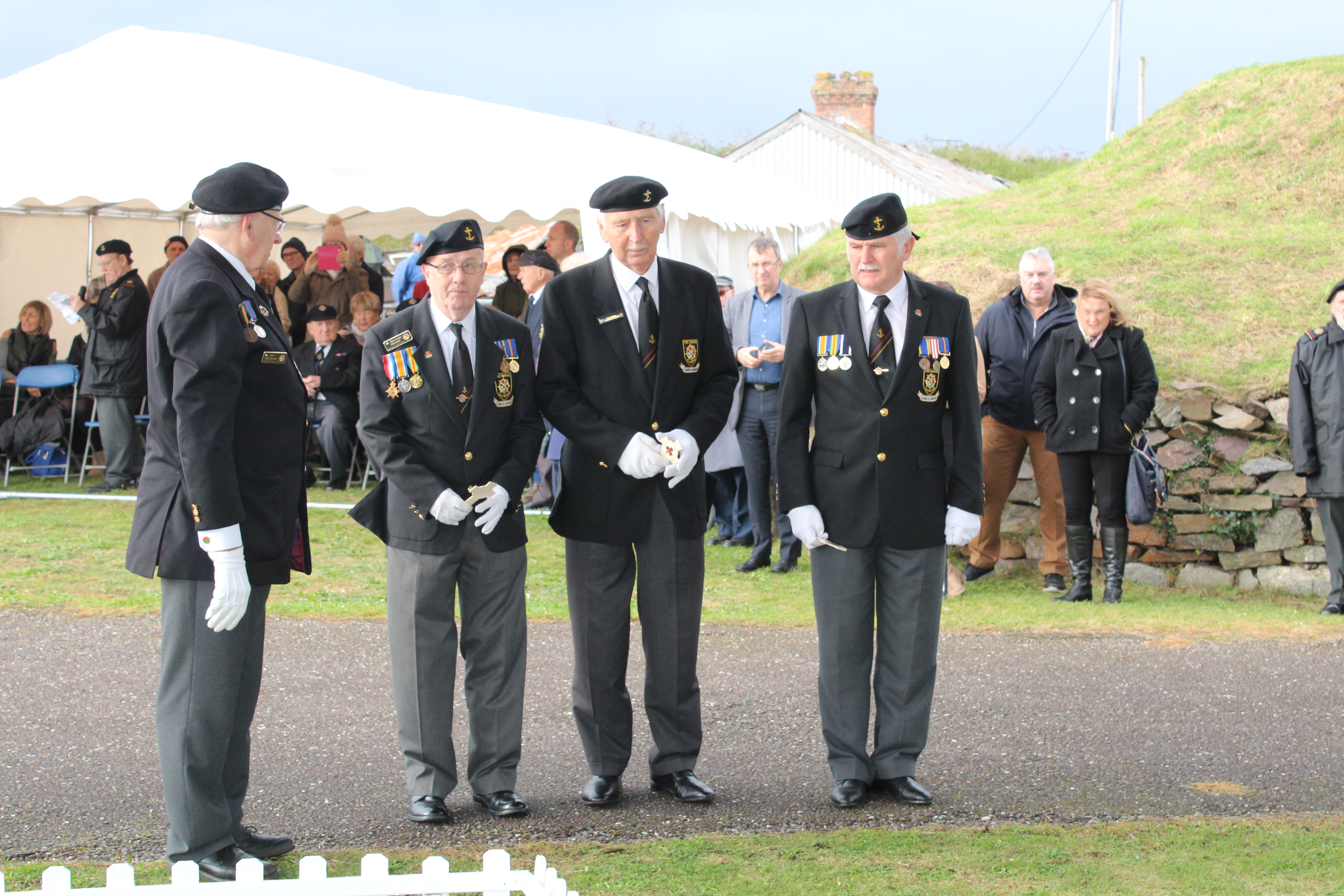 20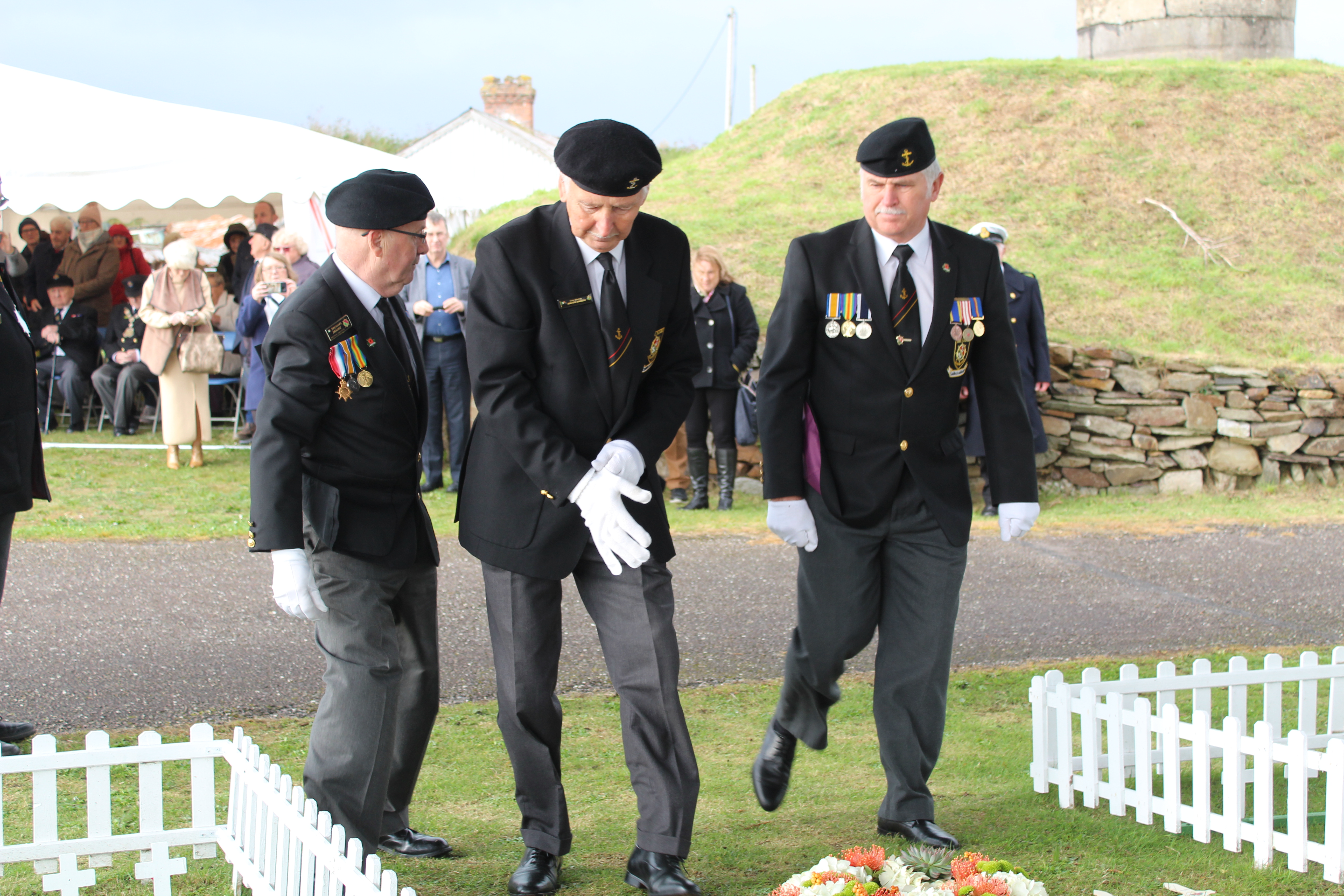 21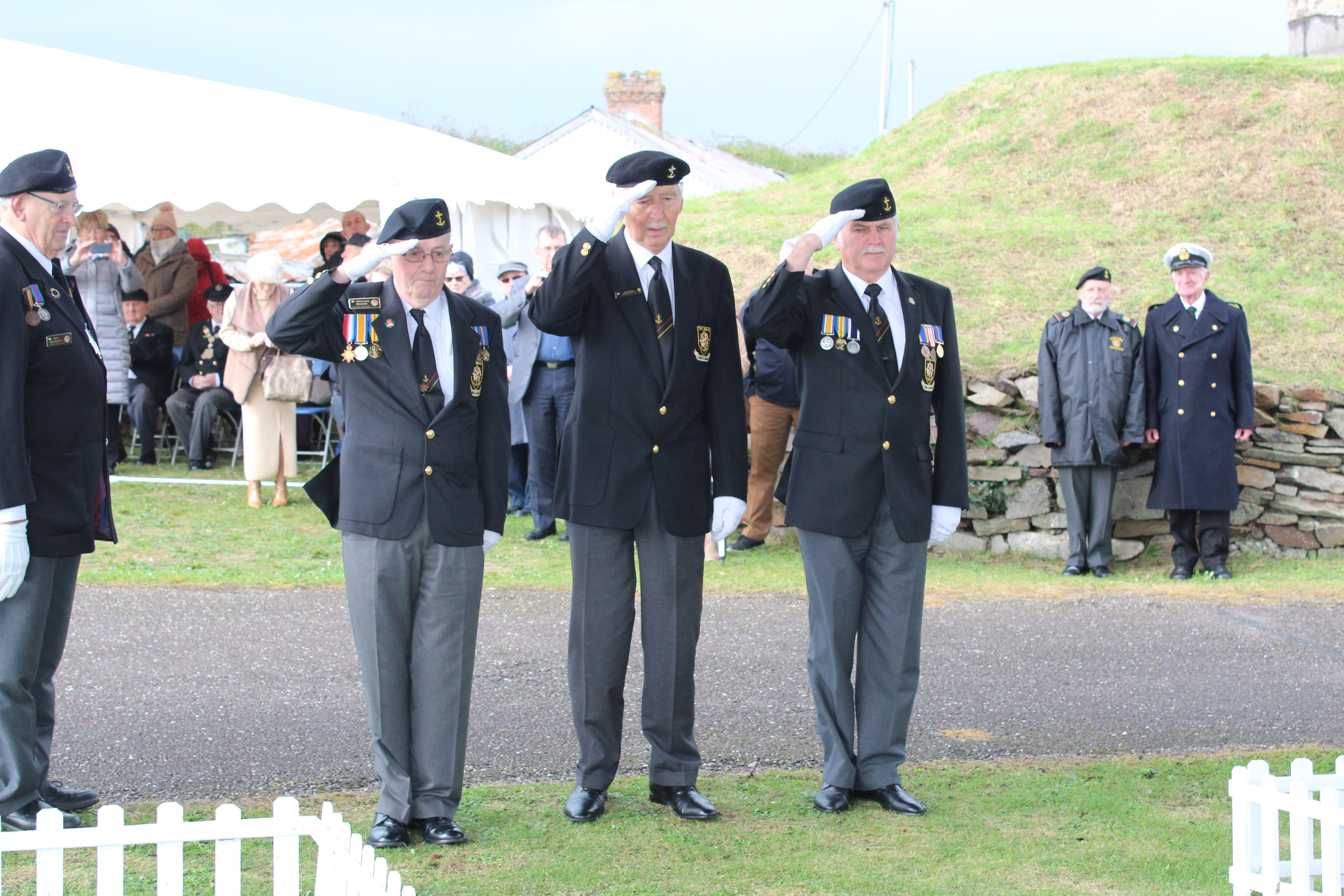 22
L/R Mick Moore lays a cross in remembrance of his Grandfather, killed in action on the 21st April 1916 and
Tony Murray in Remembrance of his Uncle Killed in Gallipoli 1915 and Sean Brennan in remembrance of his
Grand Uncle killed while a stretcher bearer on the 5th September 1917 he was 21 Years of age.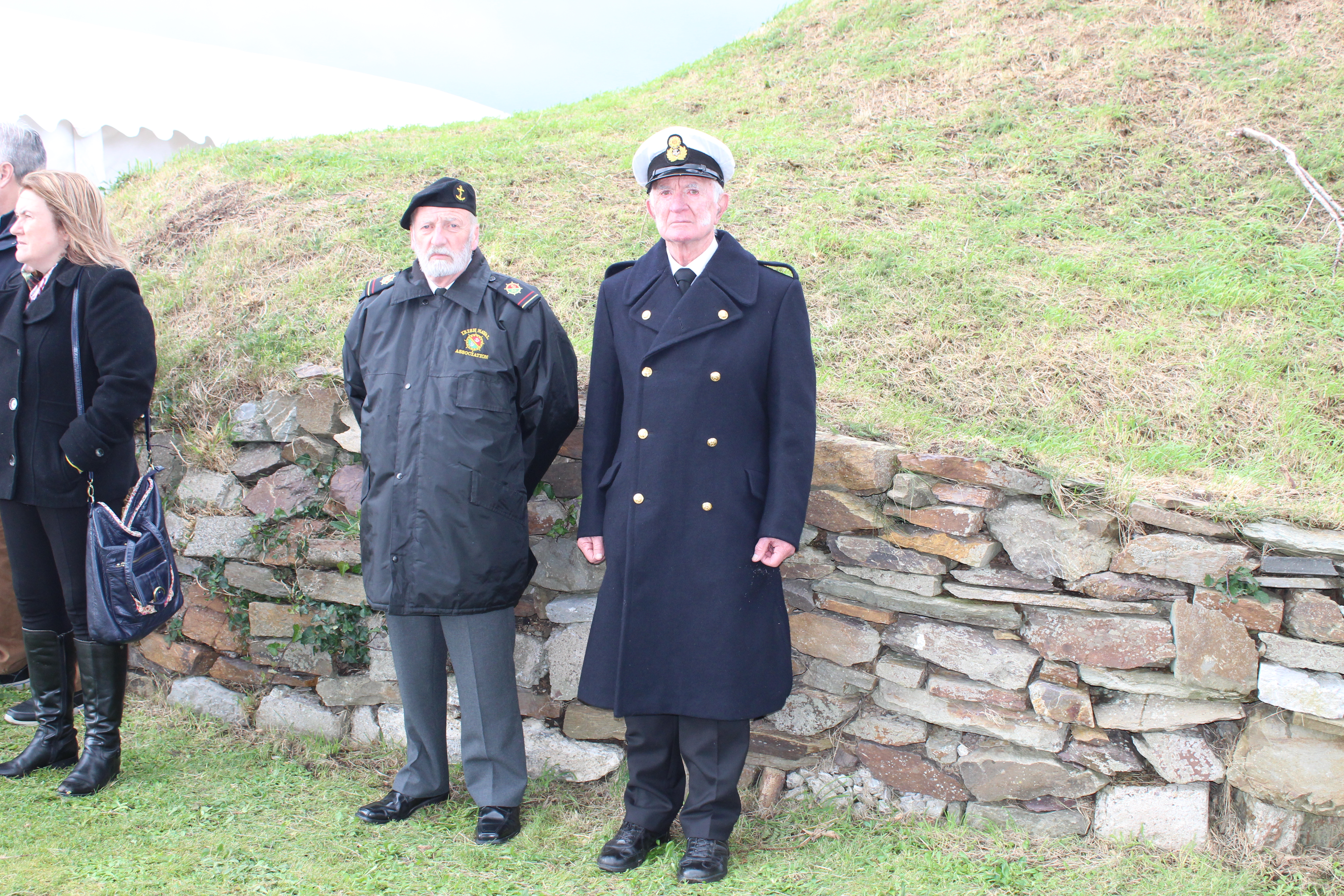 23


Brian Farrell and Mick Coniry NSR Retd.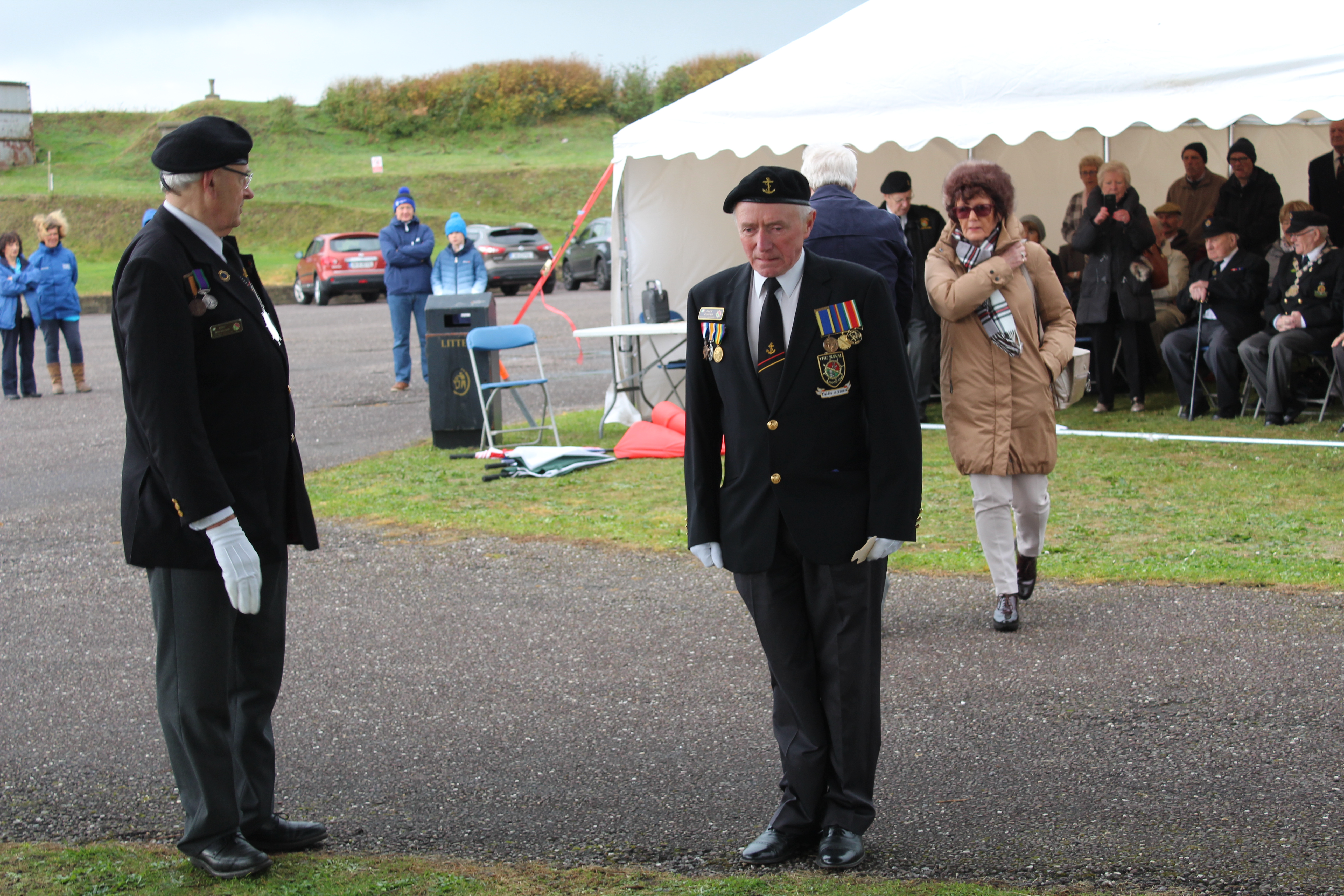 25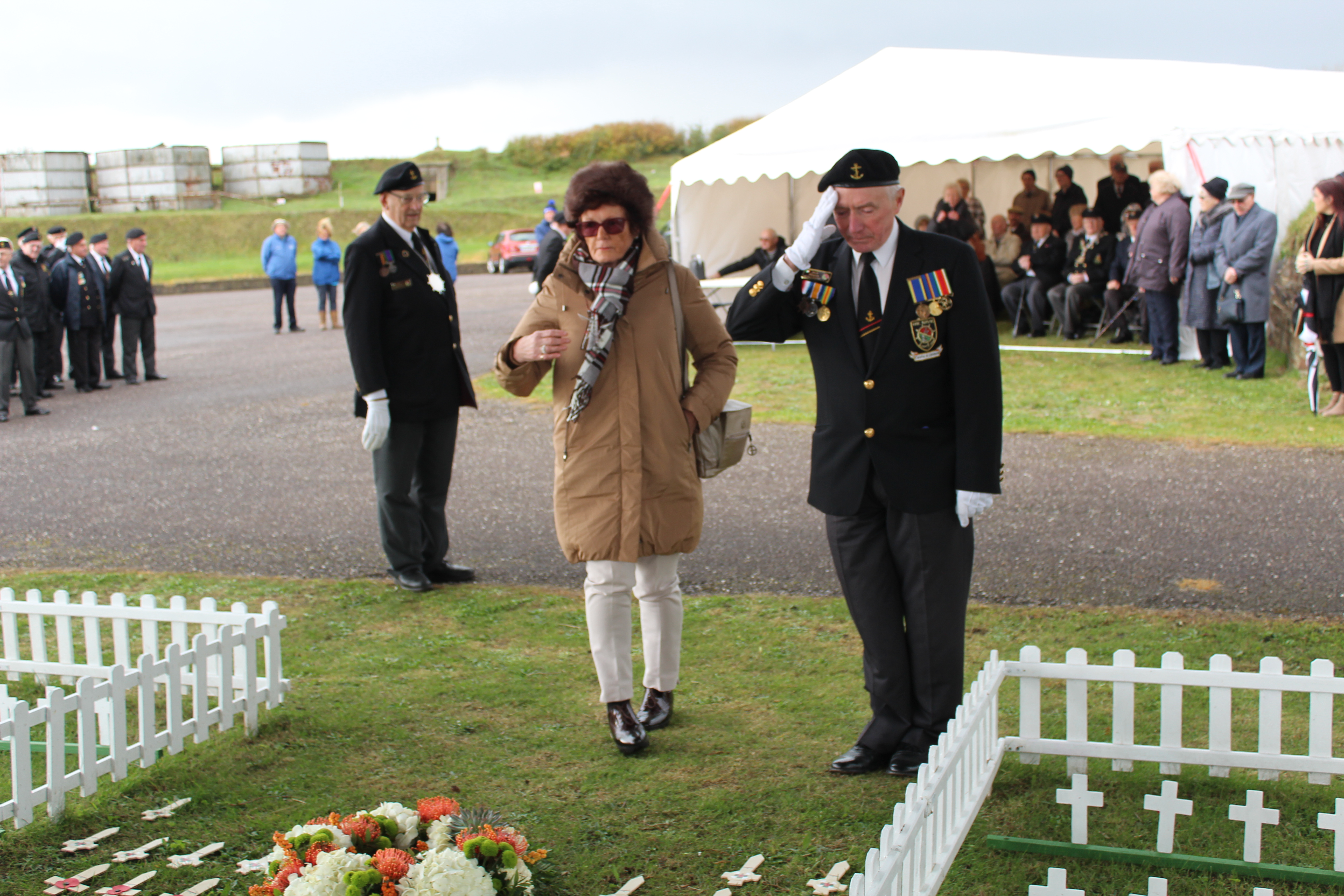 26
Jack Power remembers his uncle Private Christopher Power Age 25 Regiment No: 202129
The Loyal North Lancashire Regiment 4th Batt Christopher was killed in action on 21st July 1917
in the trenches East of Ypes when a heavy bombardment from enemy artillery took place.
Christopher's body is interred at Vlamertinghe New Military Cemetary.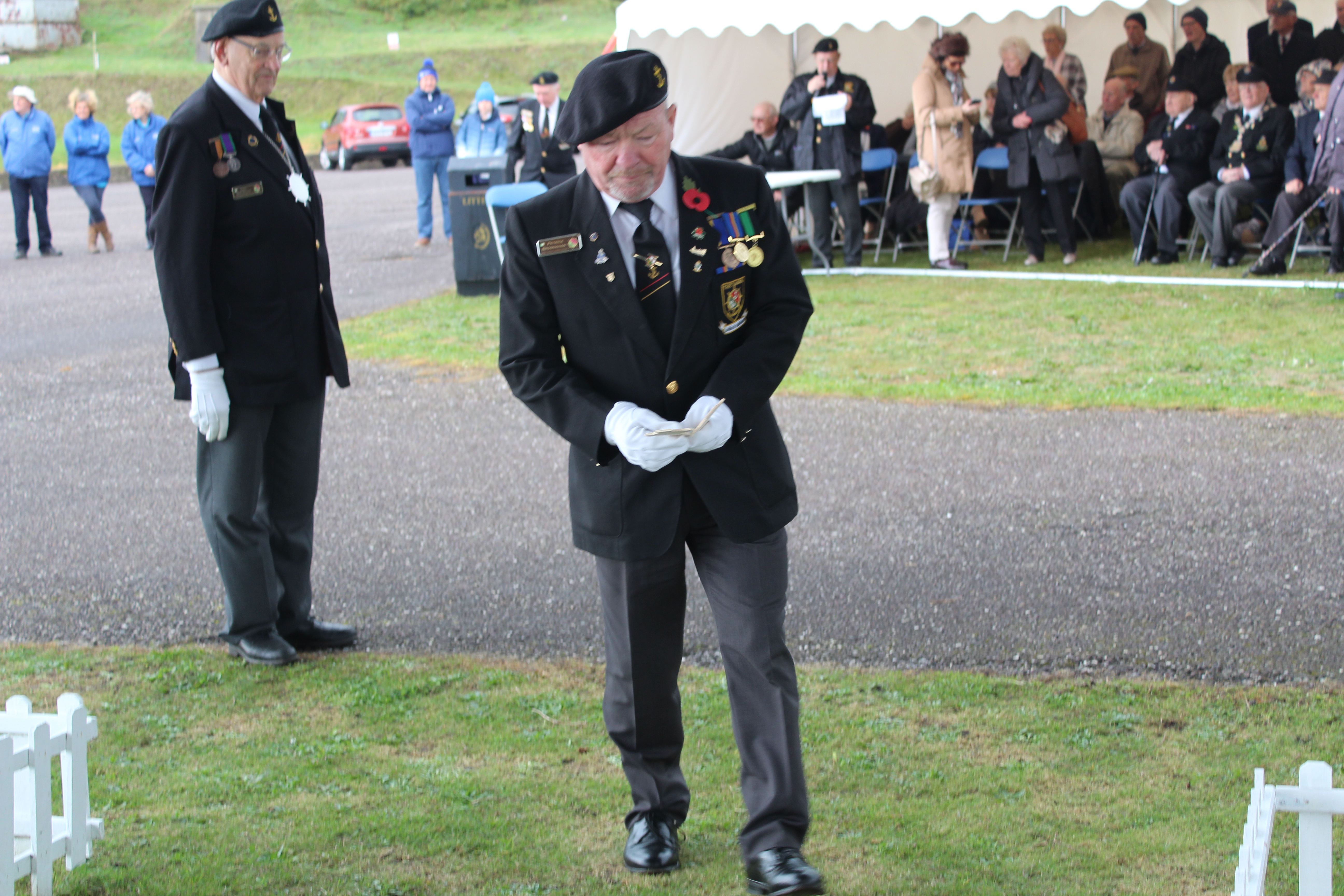 27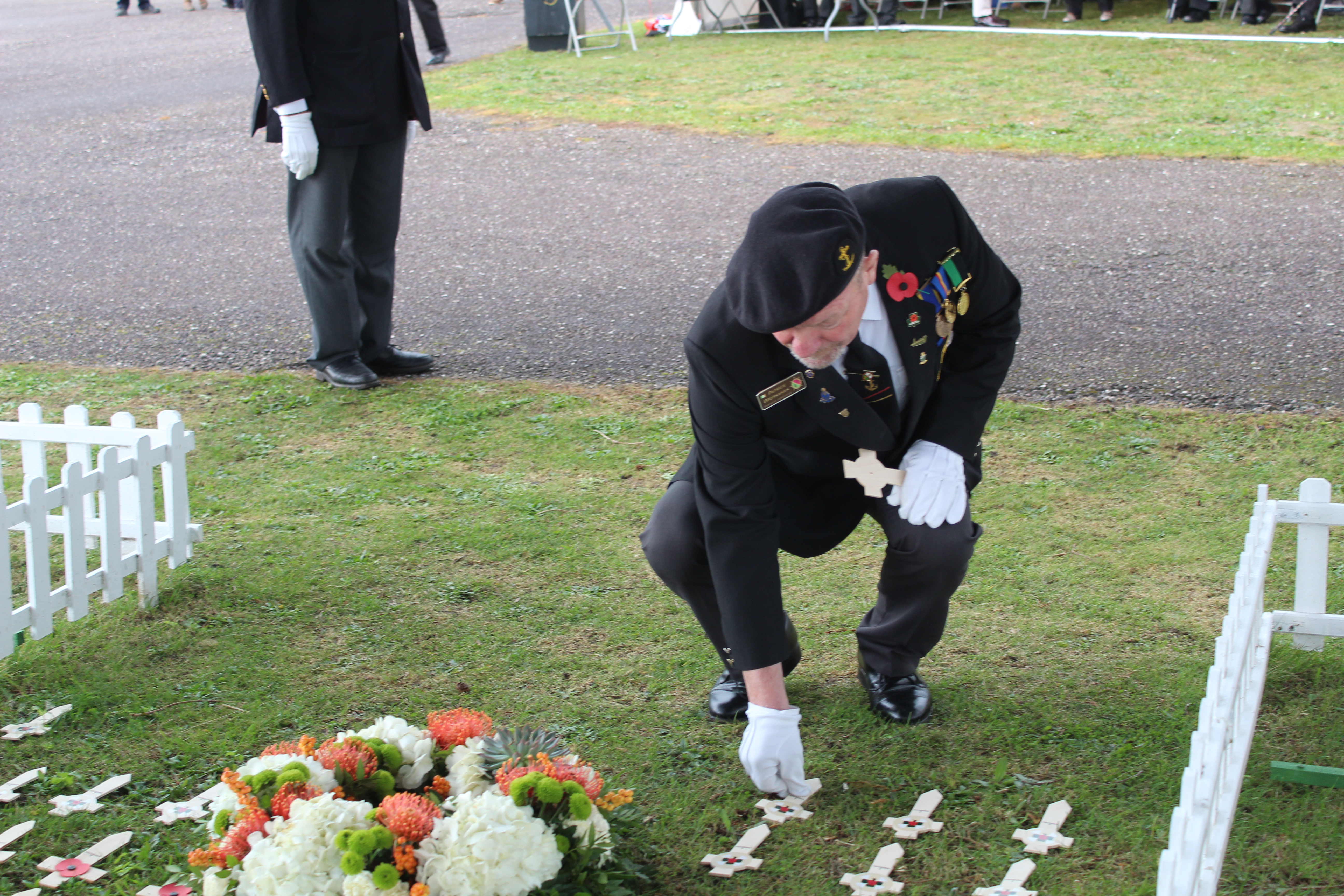 28
Patrick Brosnahan remembers his two grand uncles killed in WW1,
Musician James Paul Meehan, American army,died of wounds 27th Sept 1918.
Sargeant Andrew Joyce, Royal Munster Fusiliers, killed in action Suvla Bay. 9th August 1915.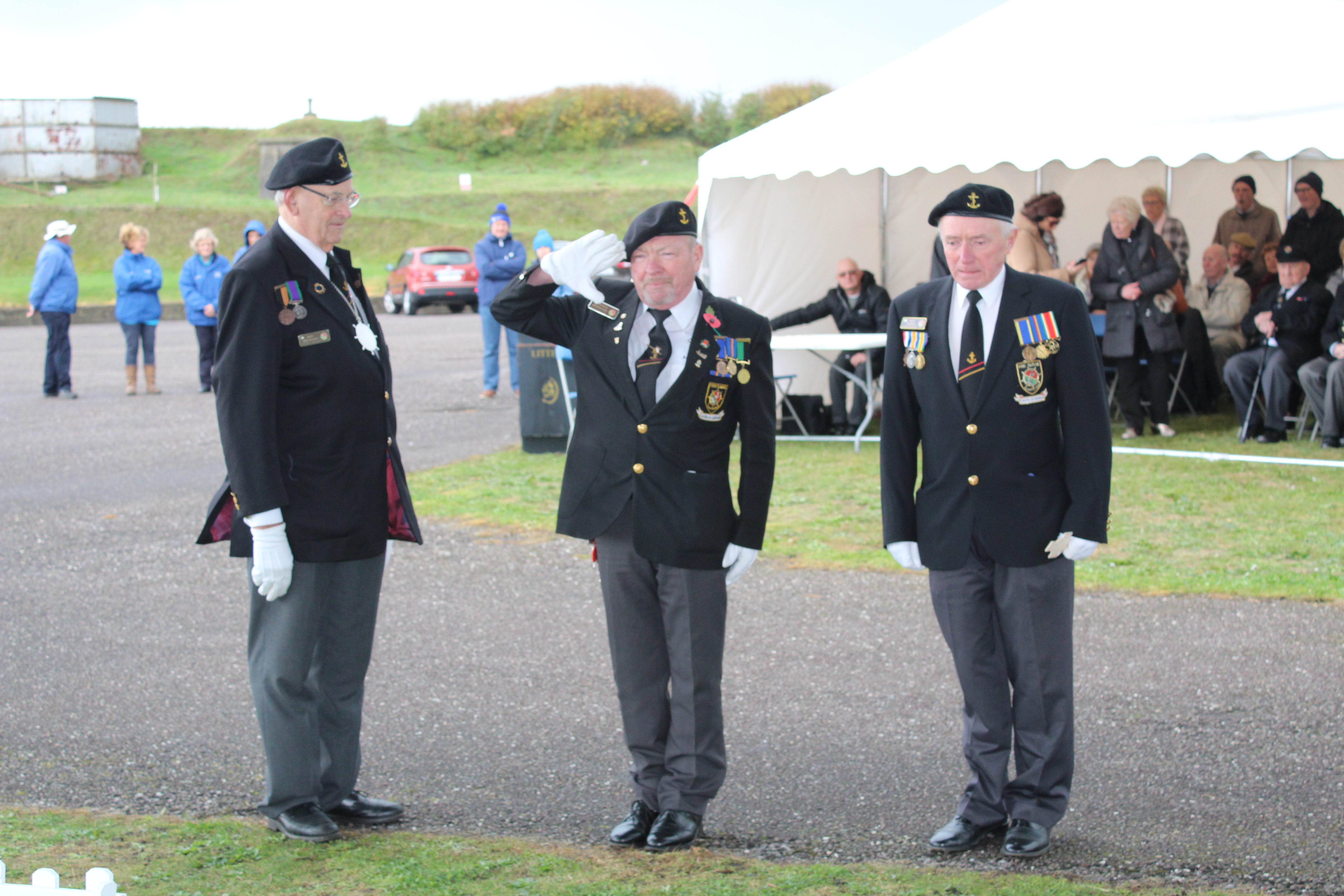 29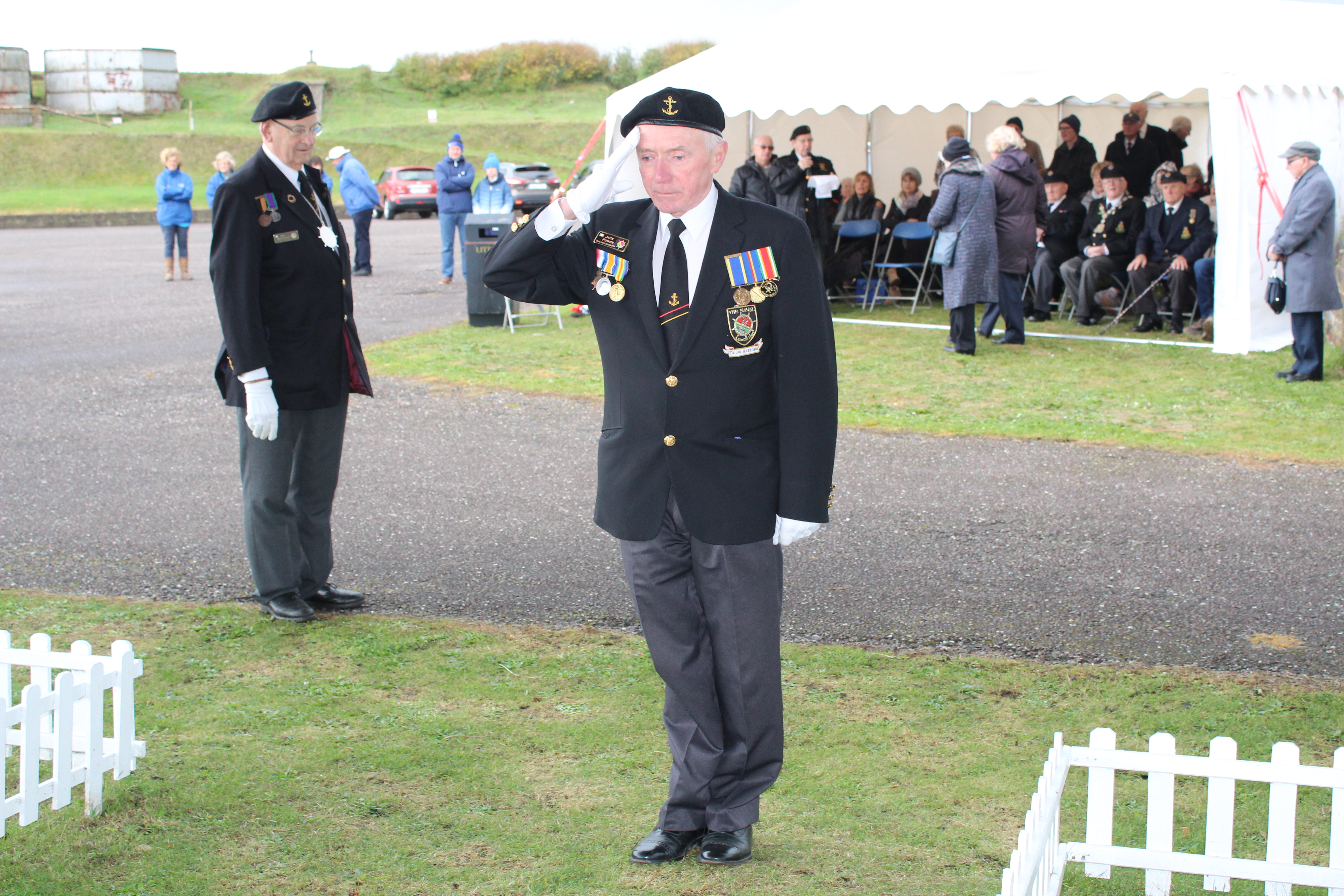 30
Jack Power places a cross on behalf of his deceased colleague Roy Skinner. Roy was touring Scotland
in his Camper Van nearly 40 years ago. He came across a burnt out cottage and looked inside and found a tin box
contained the photo of a young Scottish Soldier and also in the box was a notification the young Soldier was
21 years old Private A Macaskill was killed in WW1 Read the story this lovely story click this link ....Roy.....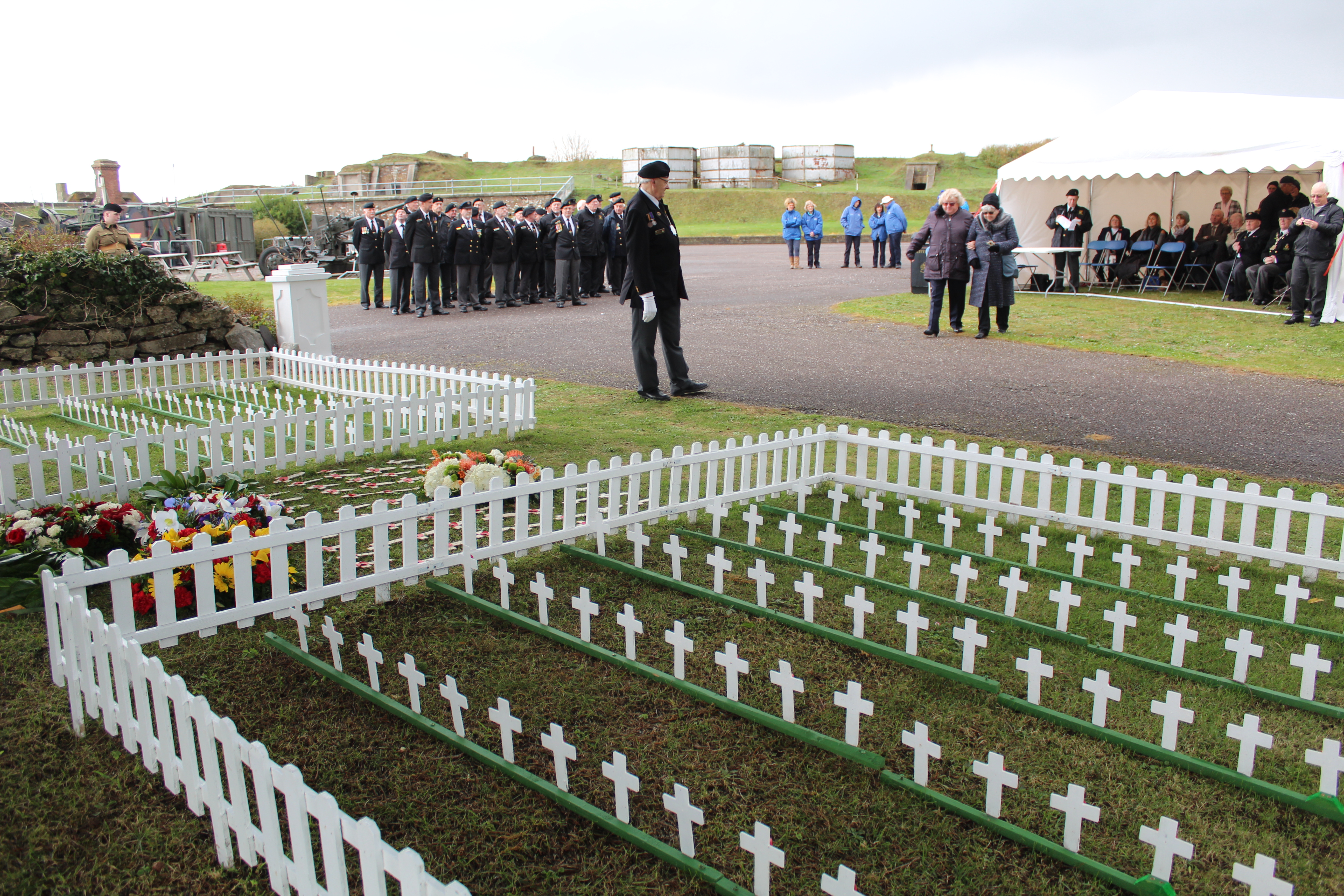 31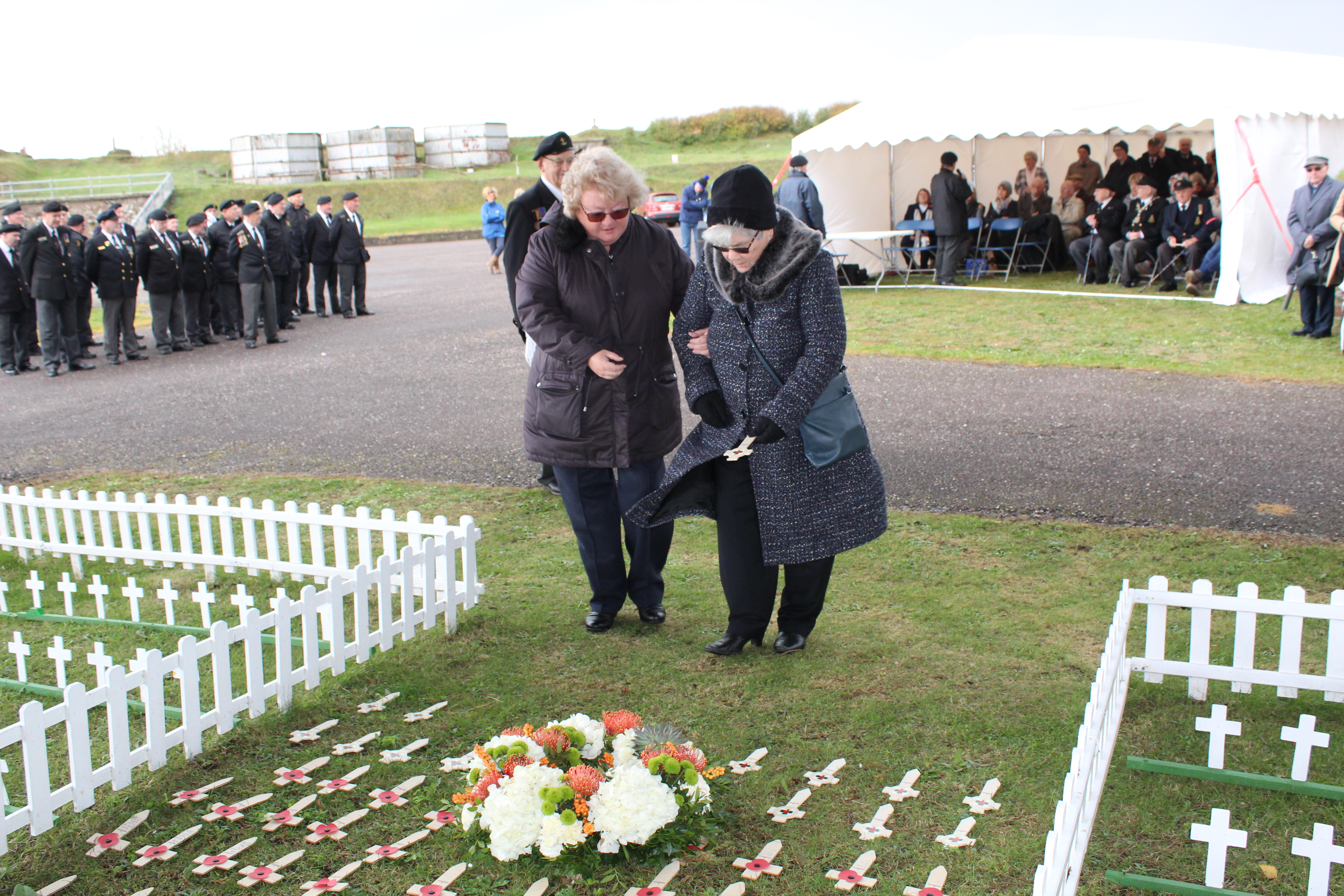 32
Mary Deacon wife of Lt.Cdr Jimmy Deacon NS (Retd) commemorates her Grand Uncle Charles Herlihy,
5960, 8 Btl Royal Munster Fusiliers, who died in France on 18 Sept 1916. Buried in Abbeville, France.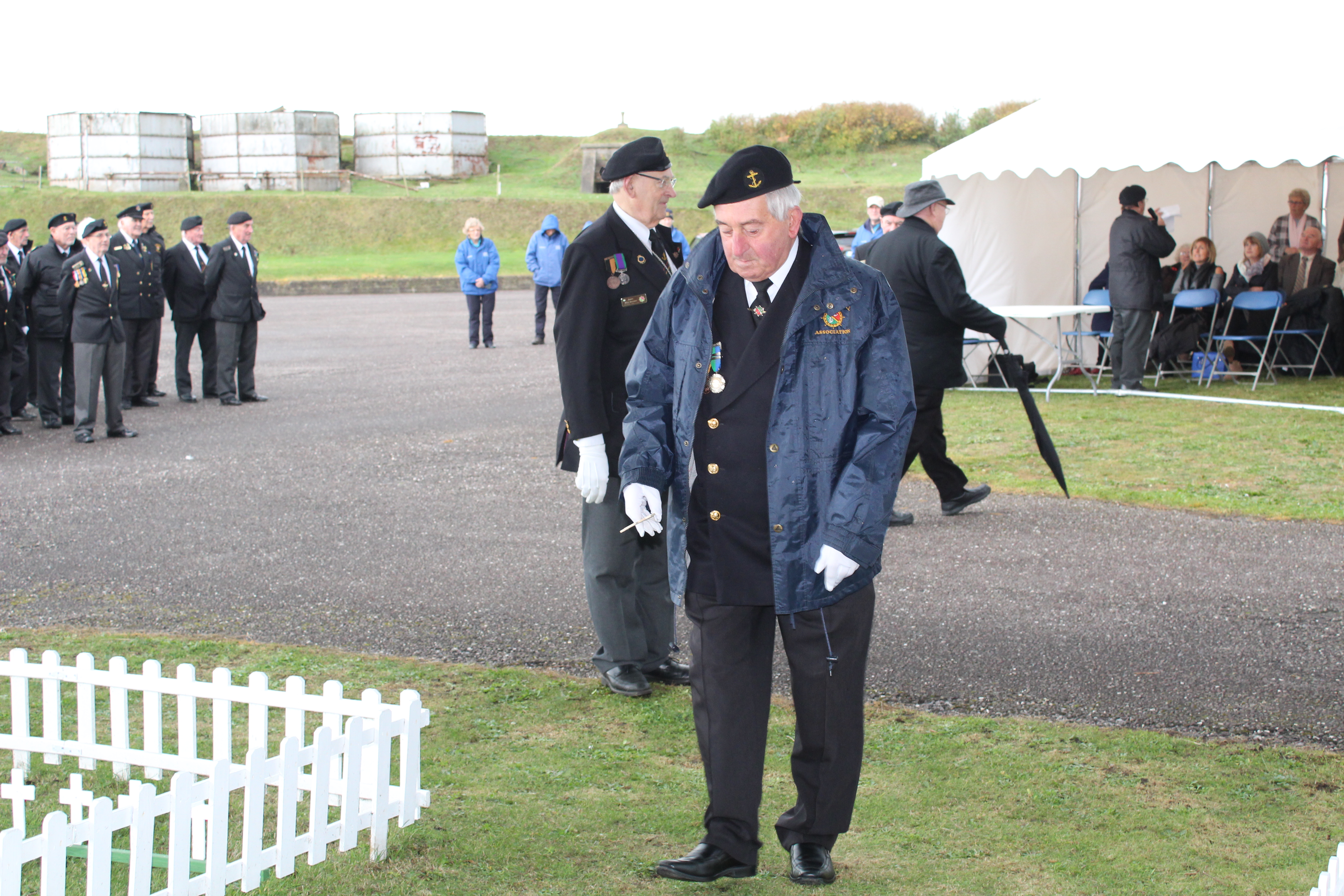 33
Frank Kavanagh lays a cross on behalf of his colleague John Walsh. who's family cousin was Killed in WW1.
He was Cpl. Michael Croke killed in action on the 15th. May 1915 in Ypres and is buried in the New
Irish Farm Cemetery. Grave Reference XXV11,A.9. He was a Corporal in the Royal Irish Regiment IV Corps,
Second Army, B,E,F. Cpl. Michael Croke is registered in the Garden of Remembrance in Camden with all his details .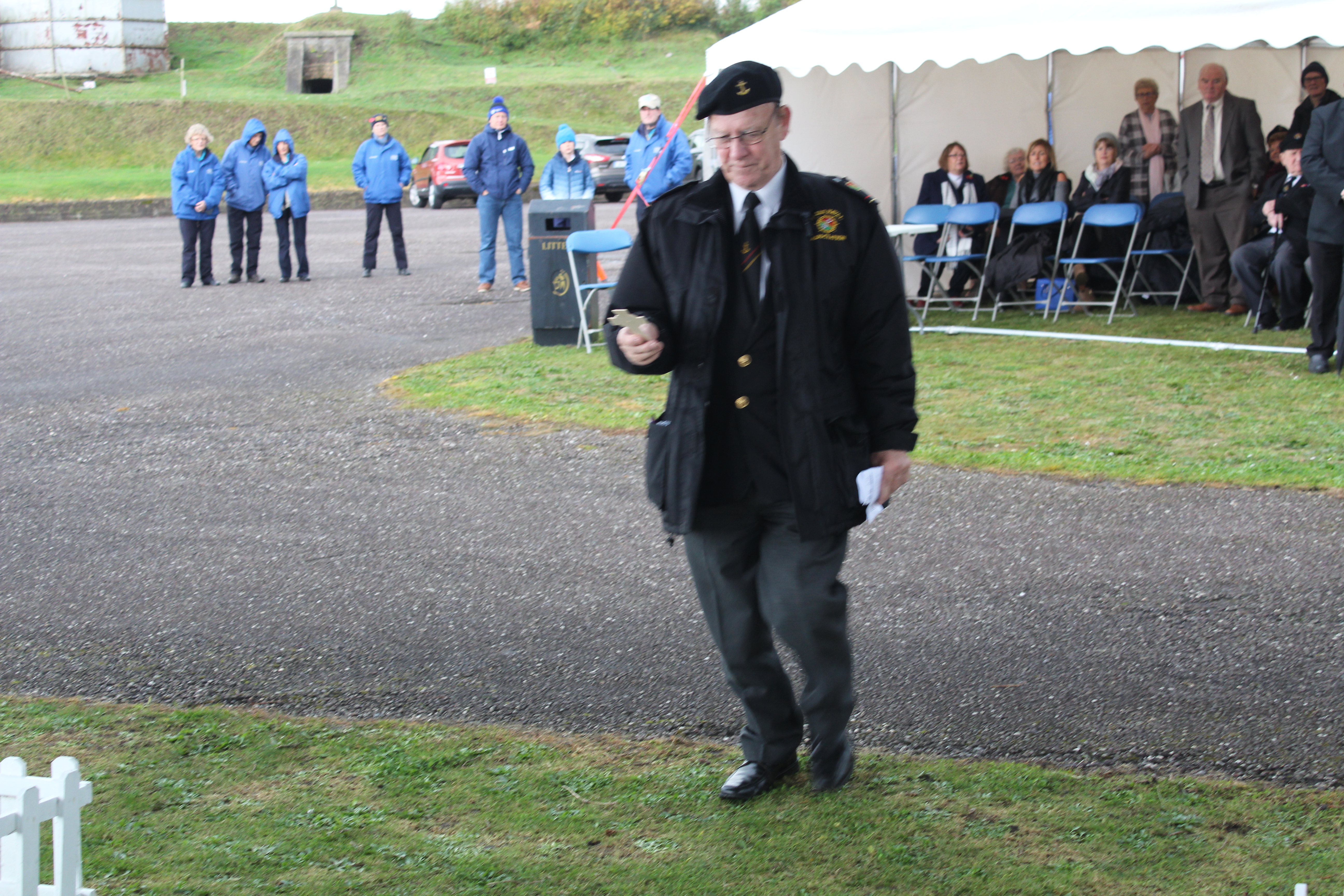 35
Terry Cummins remembers his Grand Uncle Leading Stoker William David Windebank lost on Submarine C33
She was mined off Great Yarmouth while operating with the armed trawler Malta on 4 August 1915 with the loss
of all hands. Leading Stoker William David Windebank. Burial Portsmouth Naval Memorial Portsmouth,
Portsmouth Unitary Authority, Hampshire, England Lost at Sea; name is listed at Panel 8. Memorial ID 56710245 •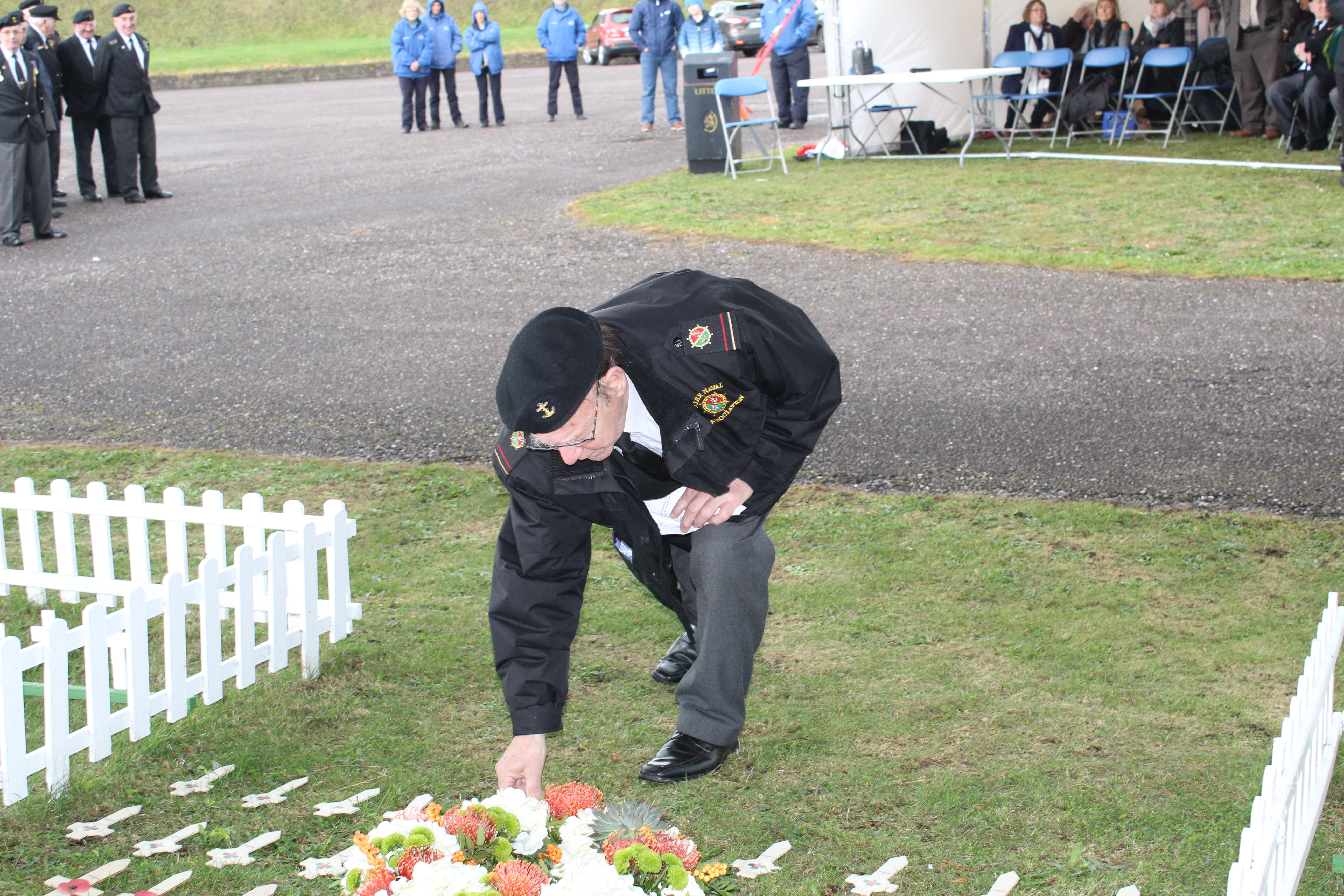 36
Terry Cummins also places a cross on behalf of his colleague Liam Lyons. Liam lost his Uncle William
W. J. Lyons killed in action on 8th October 1918 aged 23 years and 5 weeks before WW1 ended.
He is buried In Noyelles-sur-l'Escaut Communal Cemetery Extension, Nord 5 Kilometres south-west of Cambrai.
See details of Liams visit to his Uncles Grave Click... ...This Link...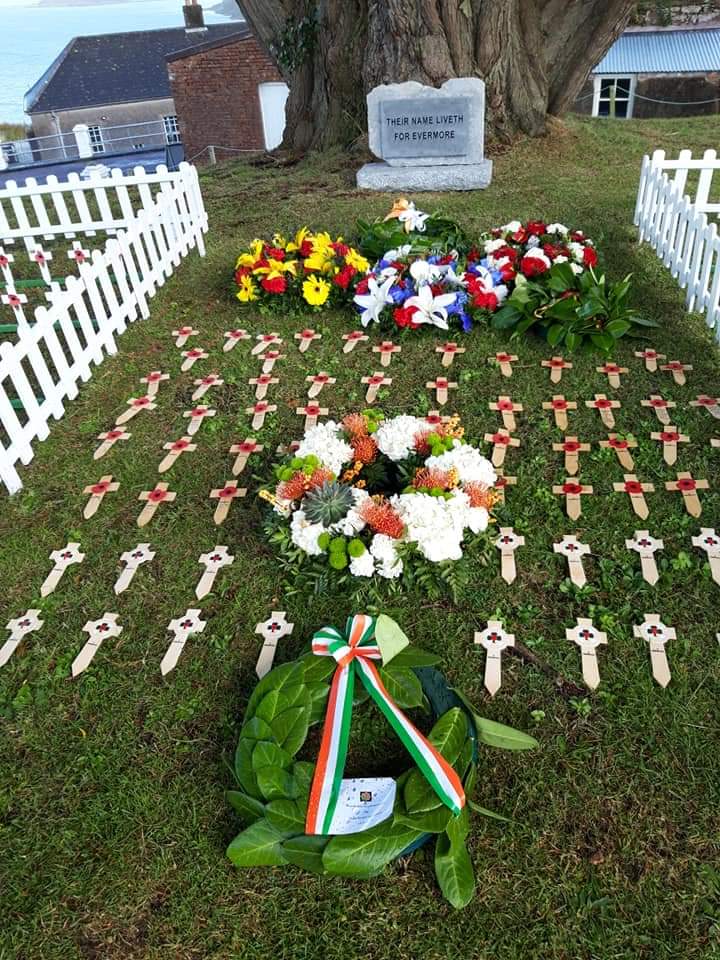 The final tribute to all who died in WW1 was the Holly Wreath (Bottom of Garden)
placed by the Irish Naval Association Vice-President Andy MacSharry.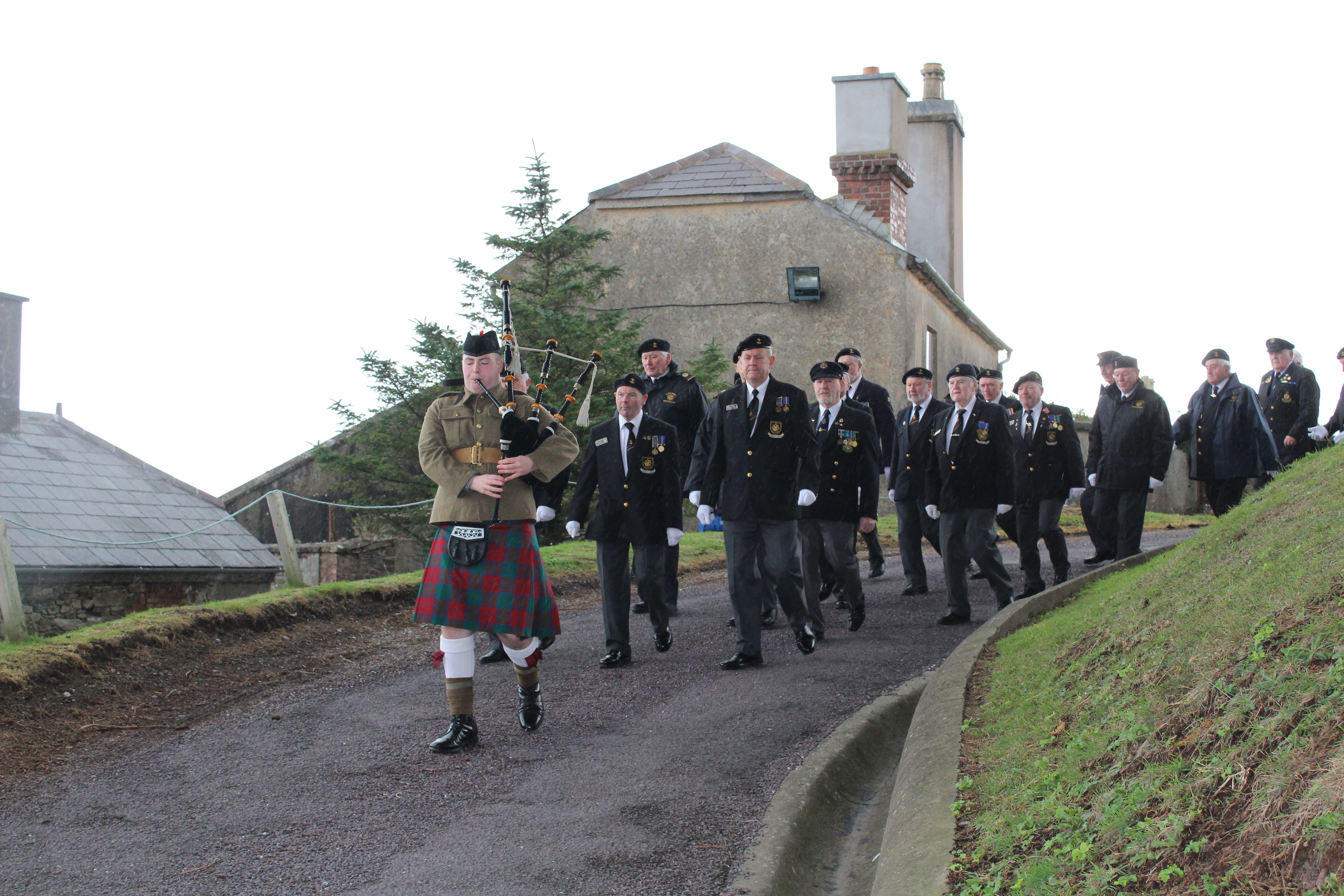 37
The WW1 Piper parades the group to Mass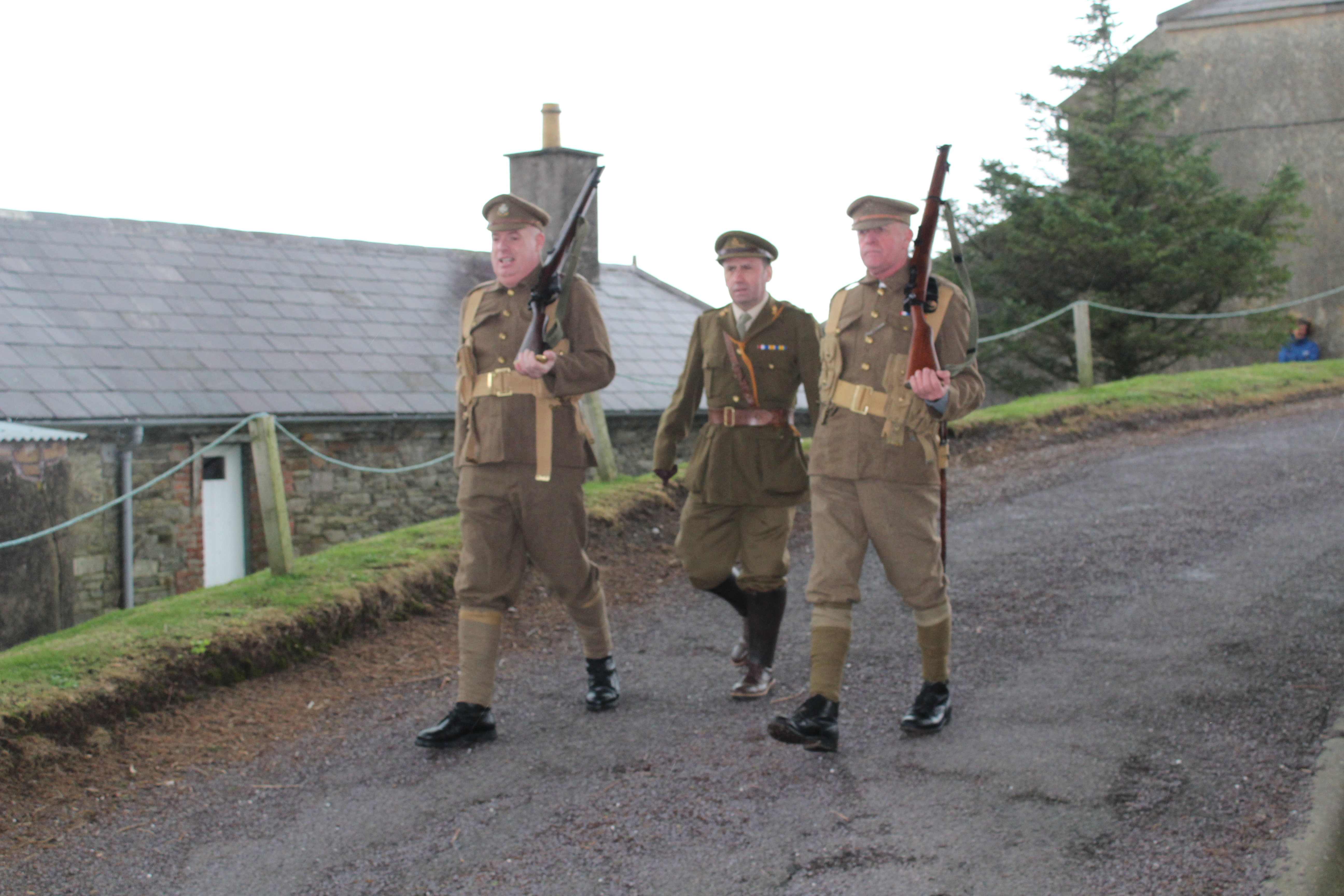 38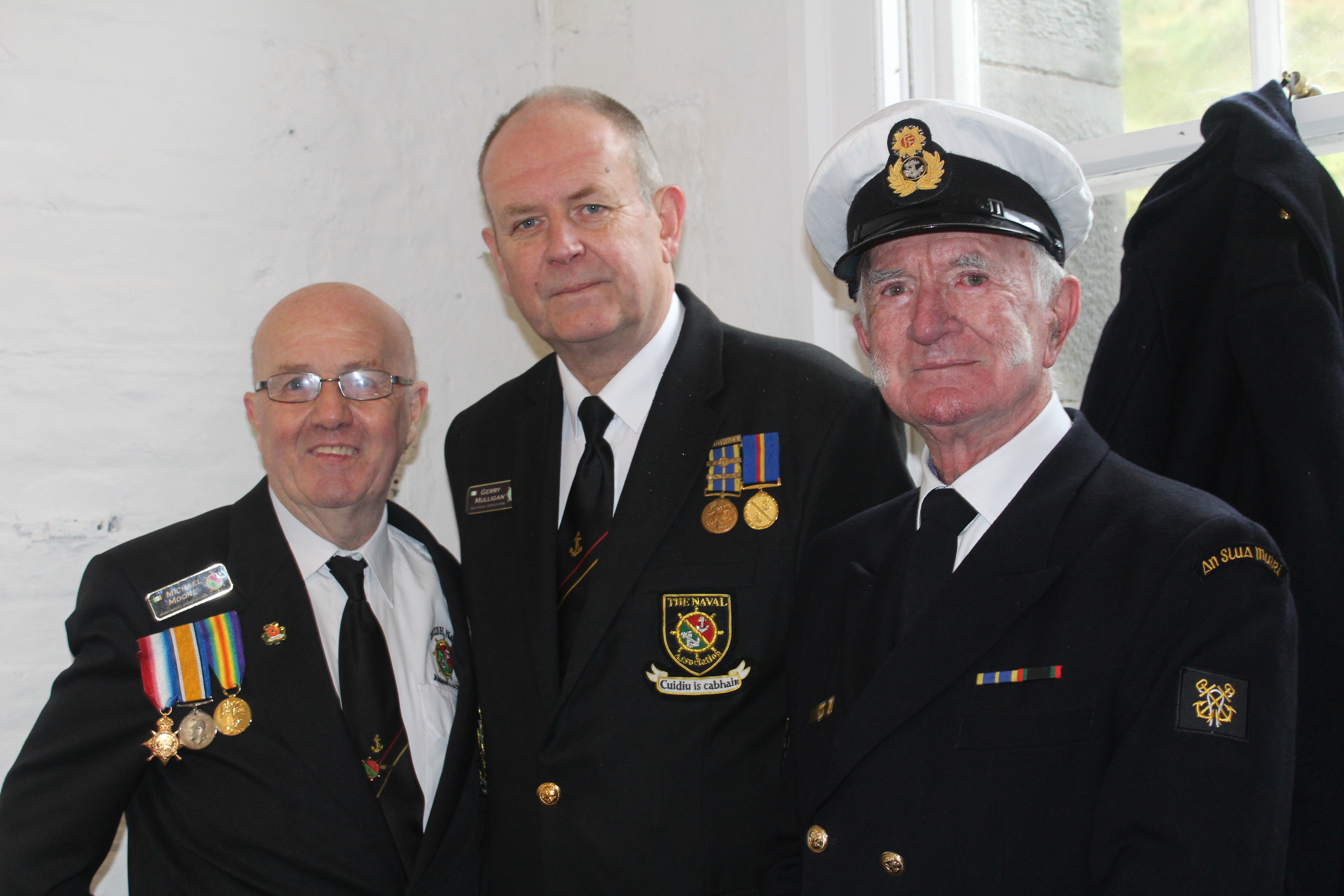 39
L/R Michael Moore, Gerry Mulligan and former CPO Mick Coniry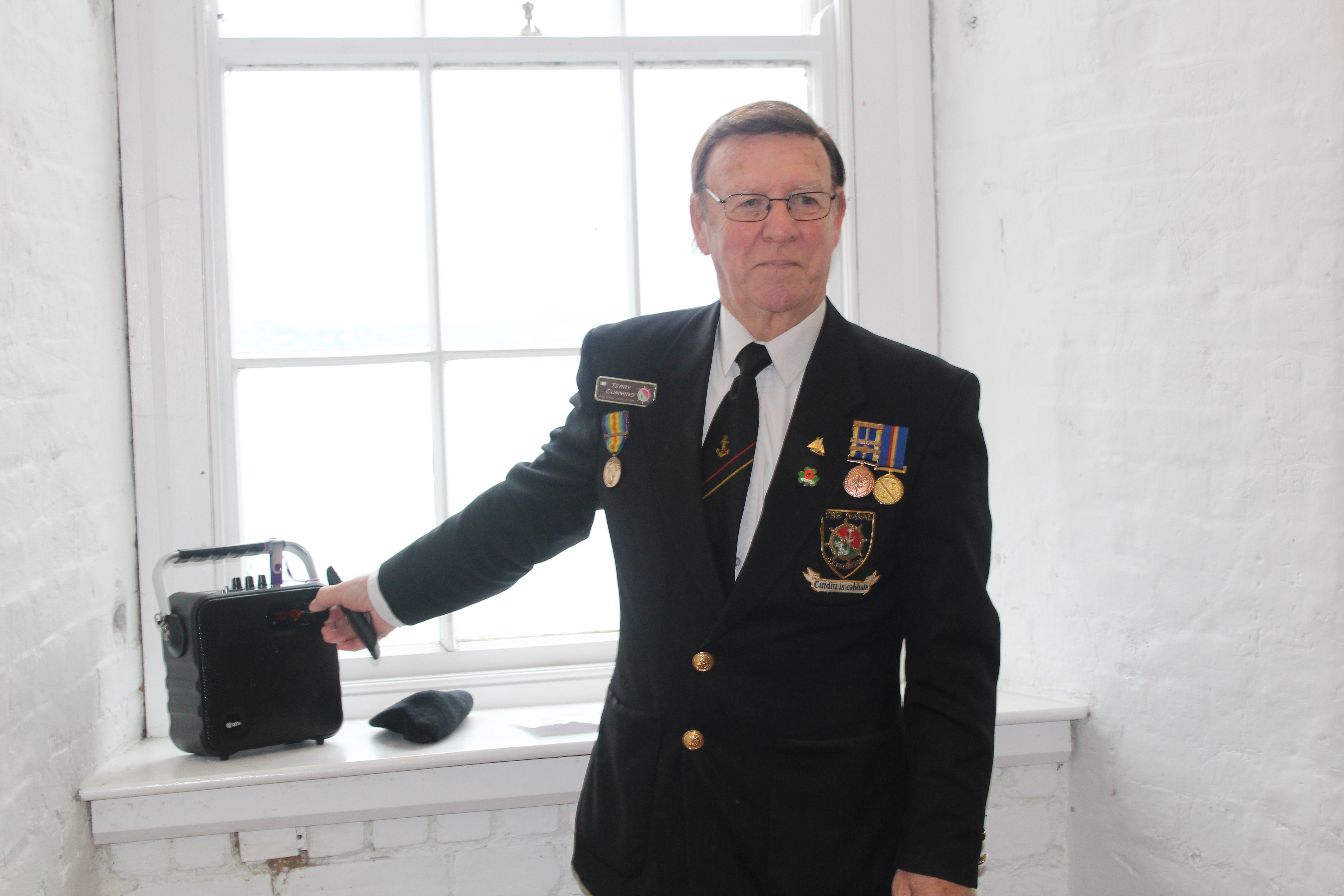 40
Terry Cummins provides the music during our Mass in one of Fort Camden's Billets
41
L/R Sean Brennan, Terry Cummins, Fr. Des Campion, Andy MacSharry, Michael Coniry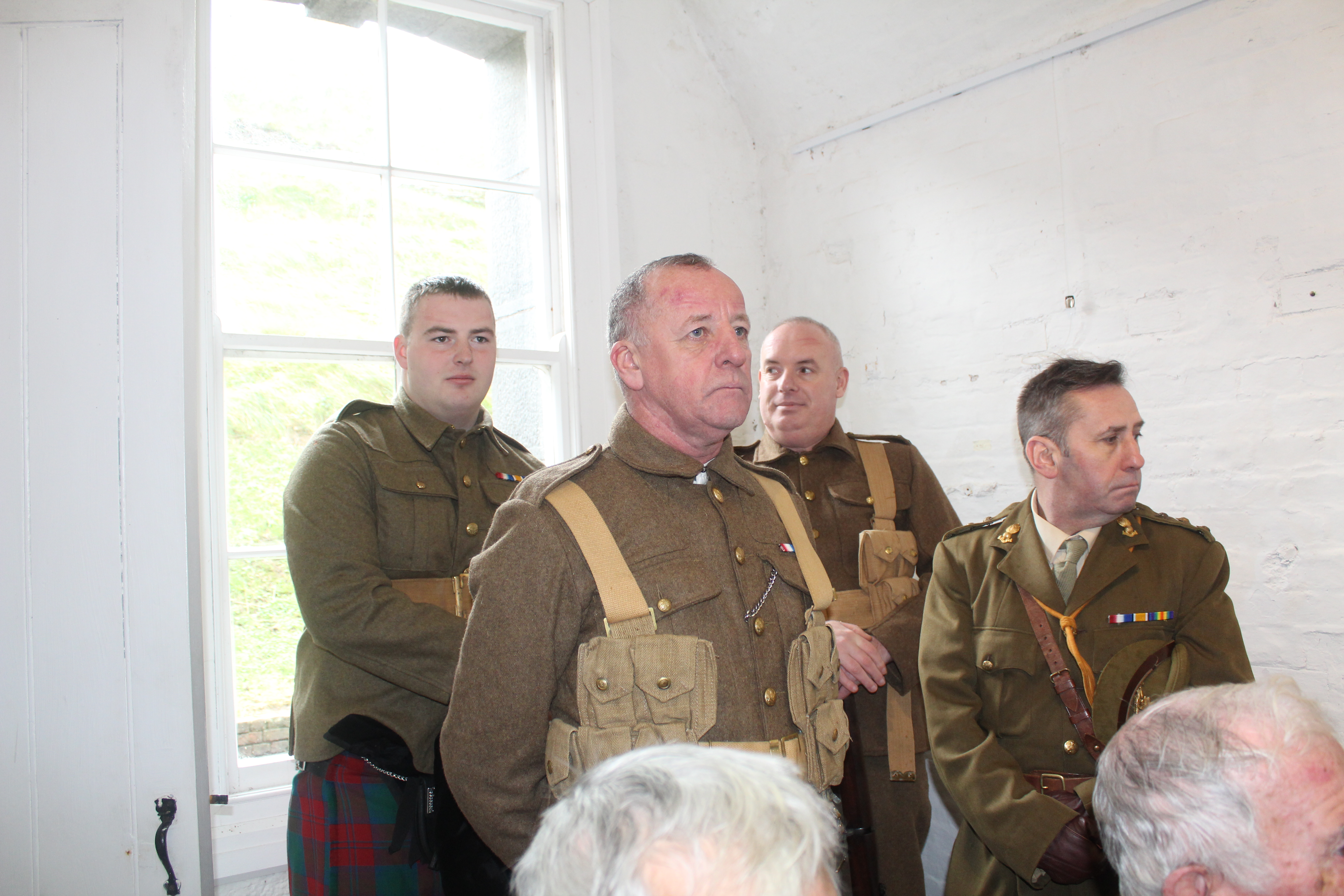 42
Some of the WW1 re-enactment Group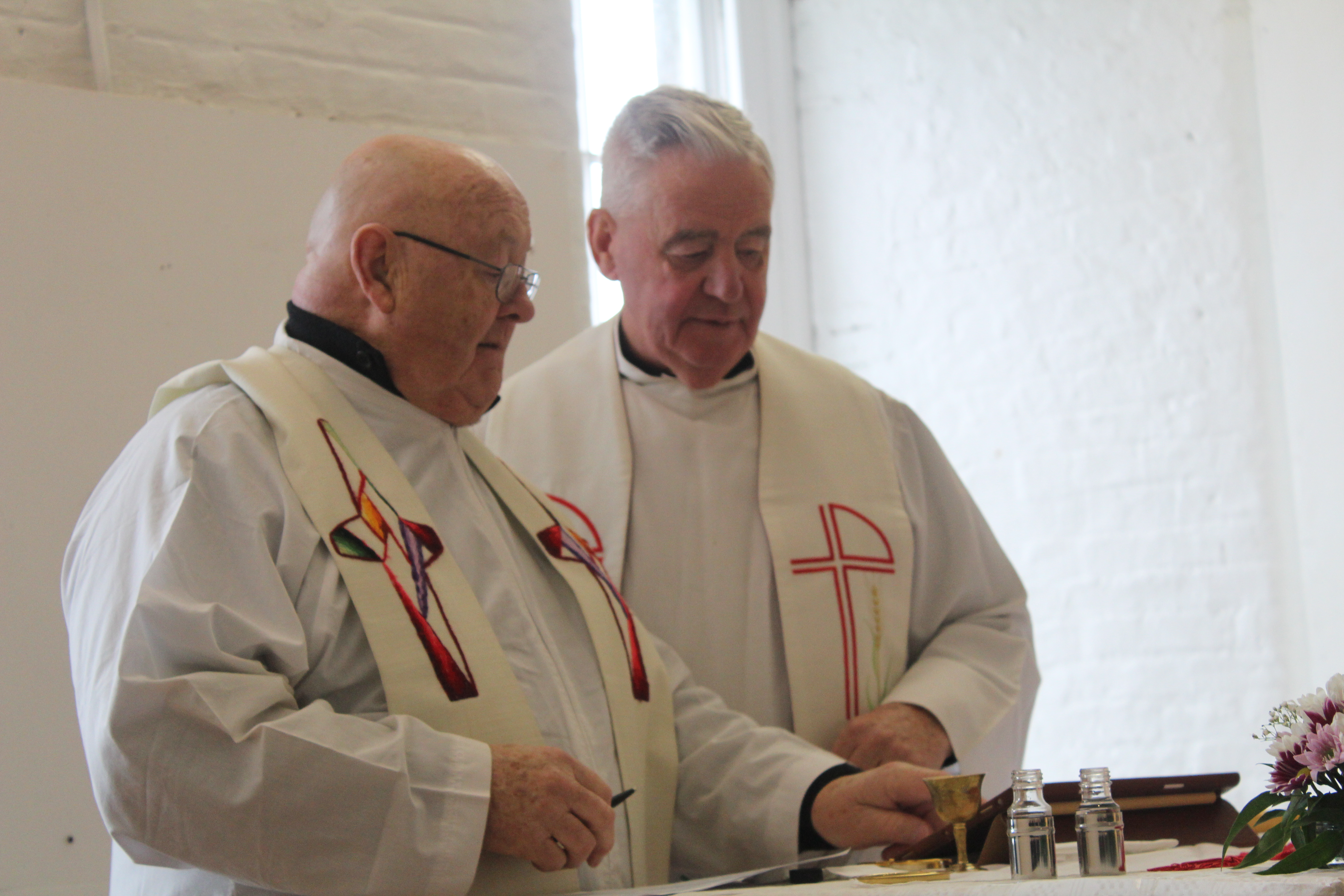 43
Fr.Pat (Crosshaven PP) and Fr. Campion (Naval Chaplain) celebrate Mass in the Billet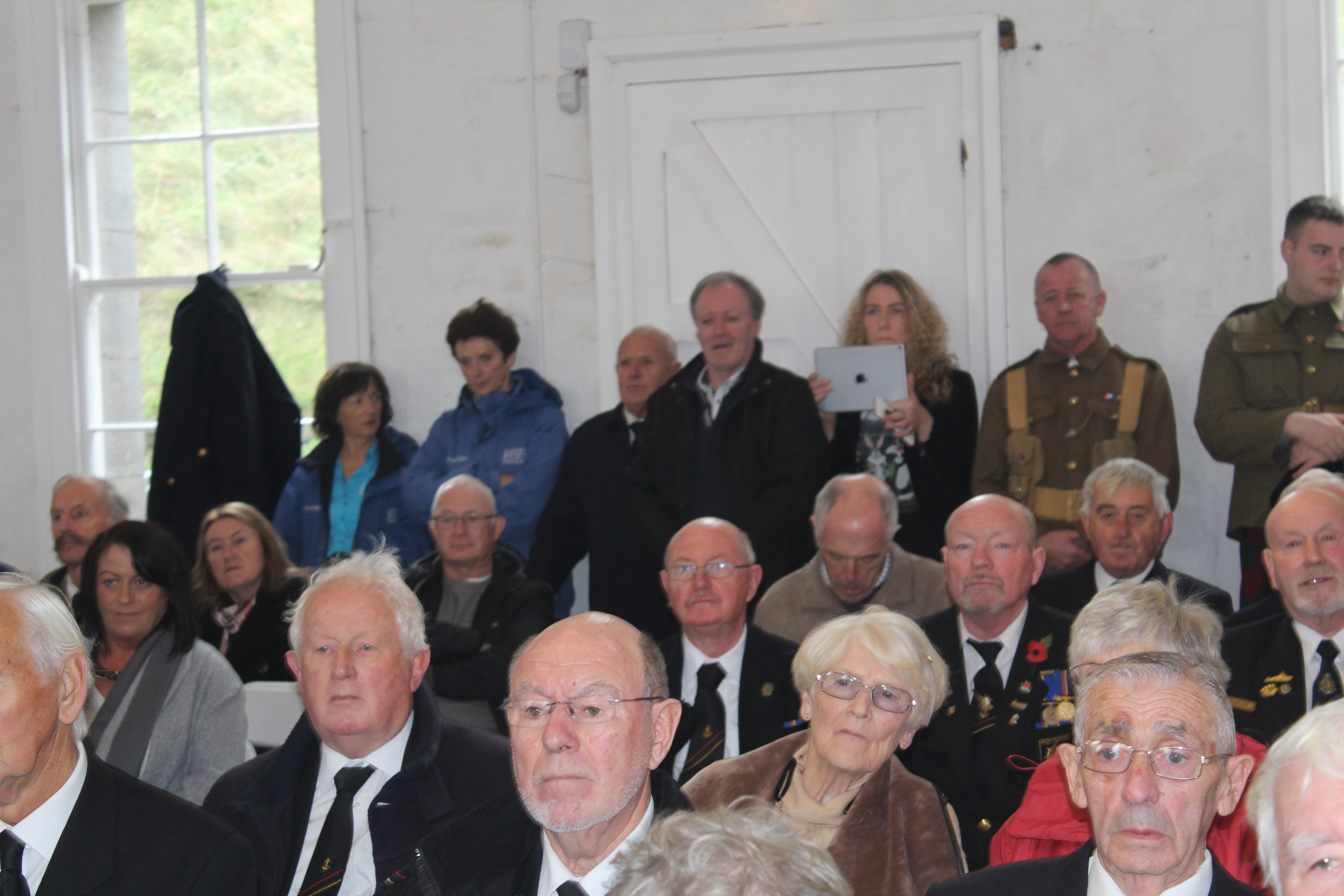 44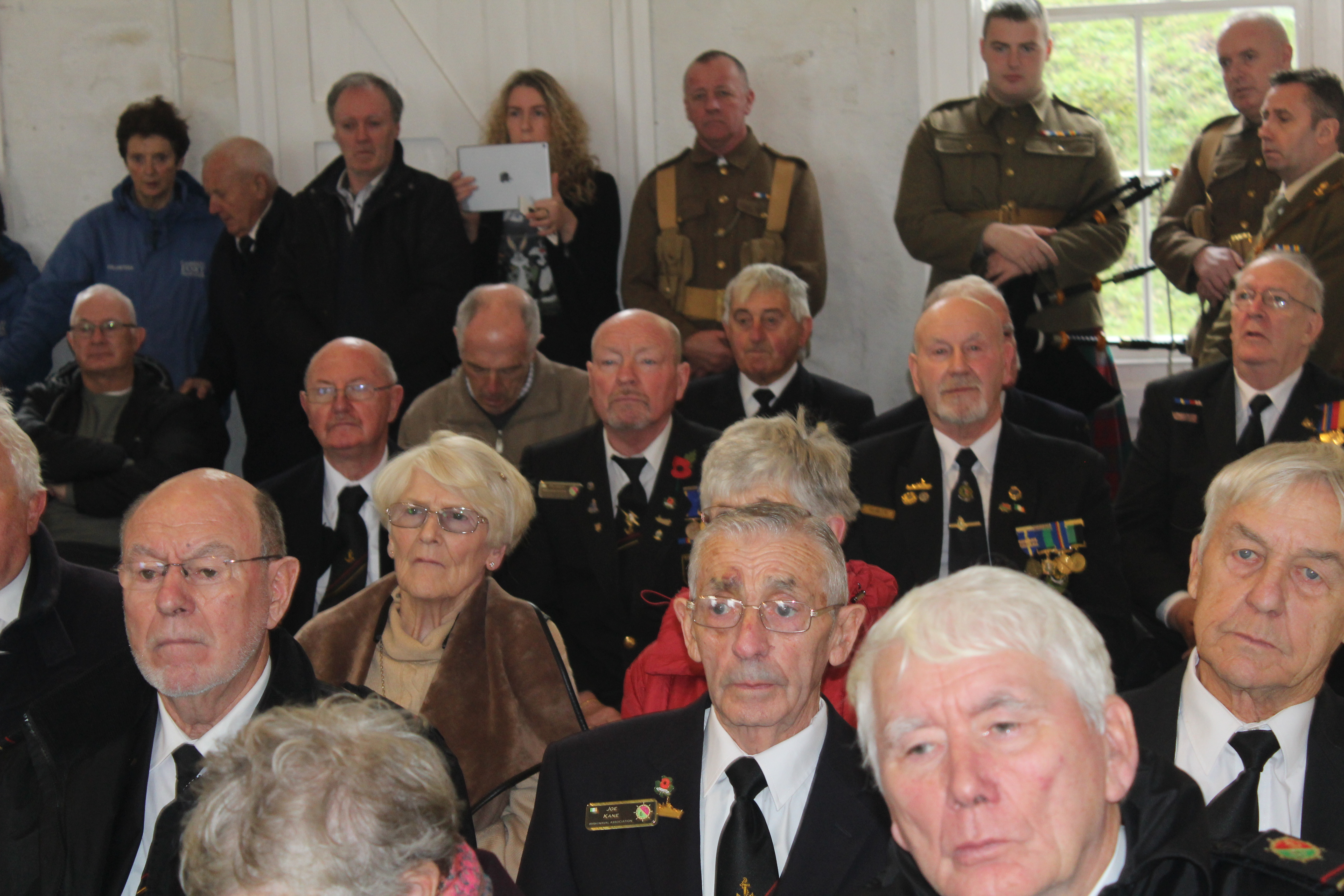 45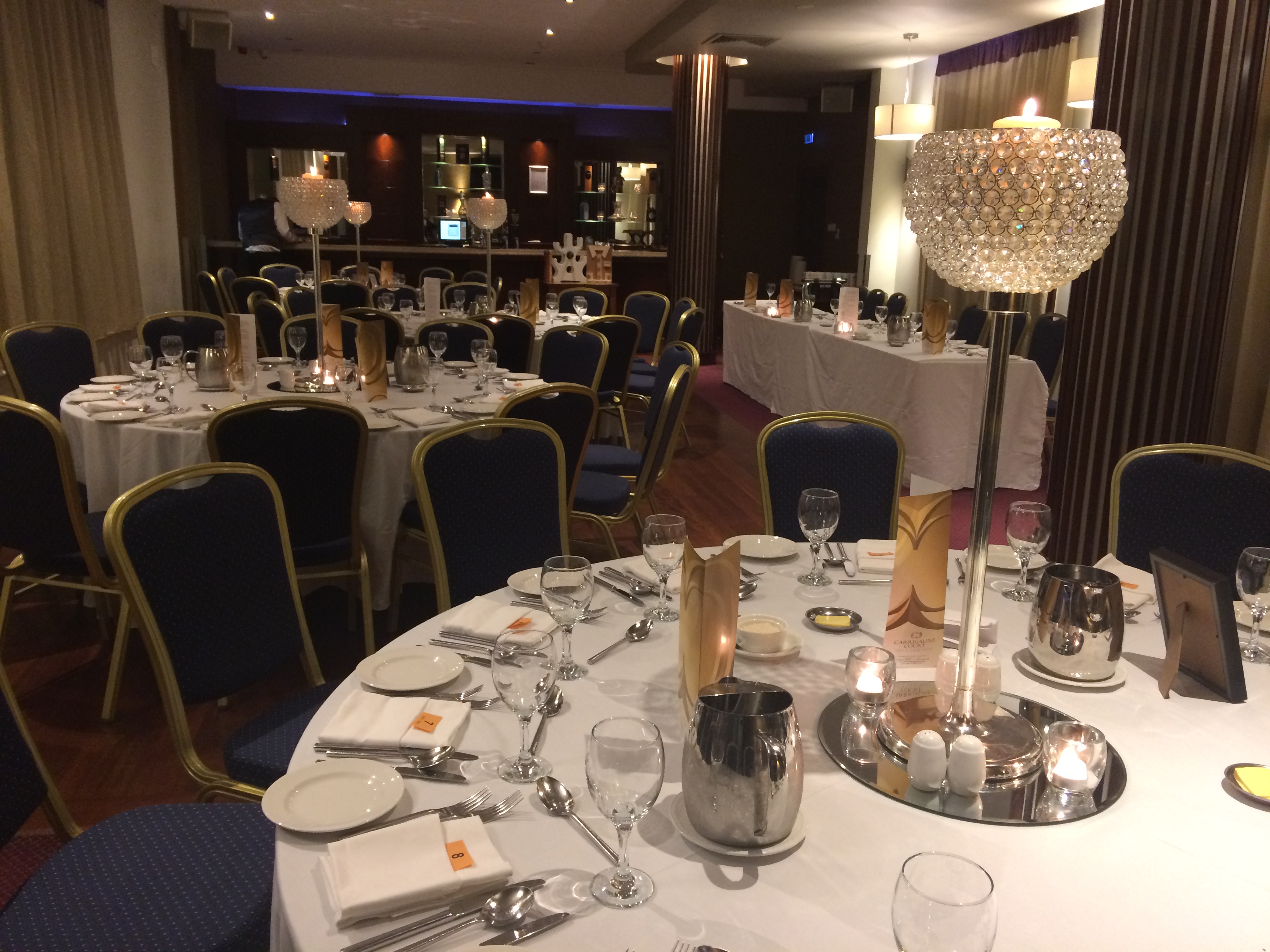 The Table layout for our Gala Dinner at the Carrigaline Court Hotel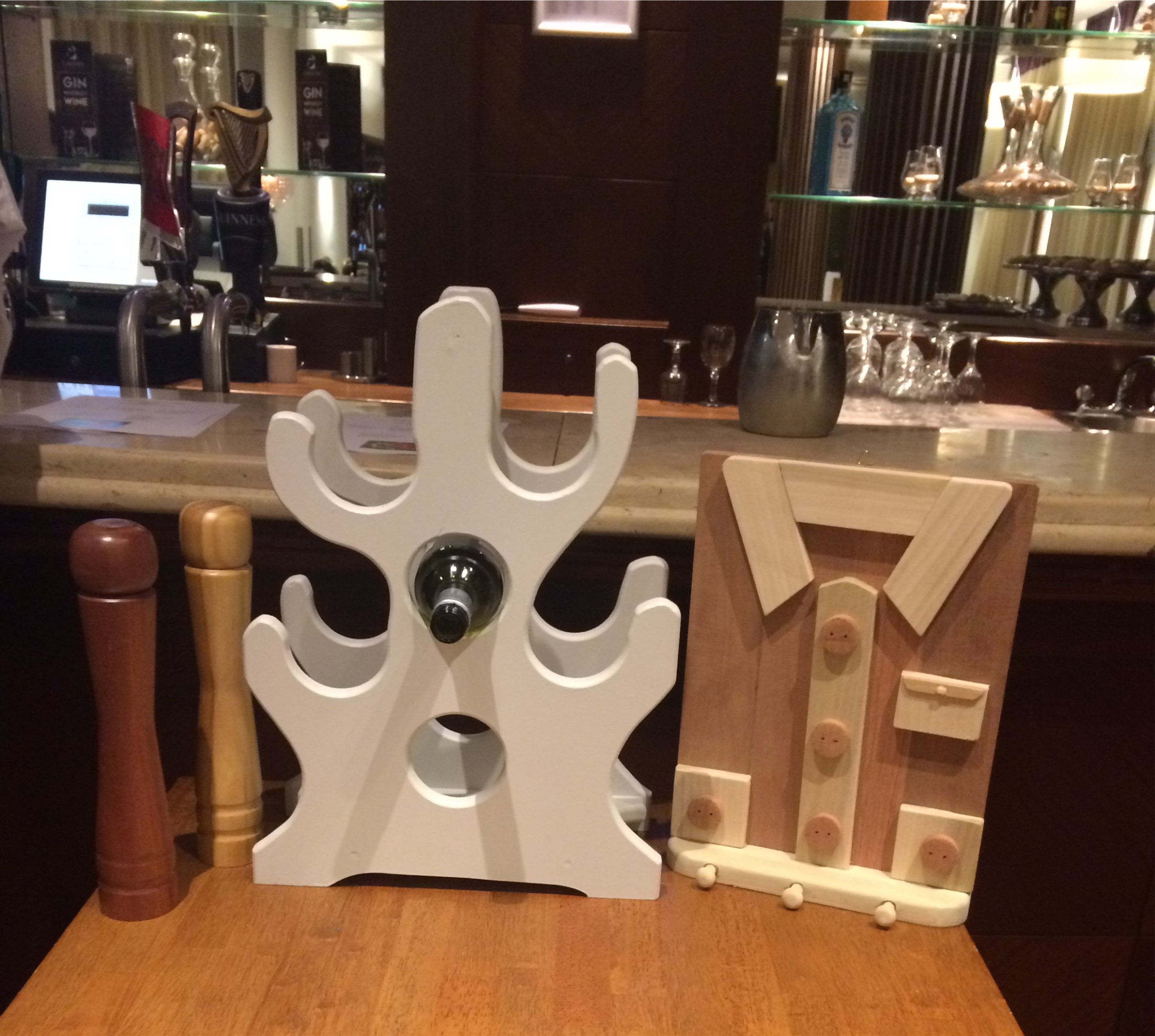 The lovely handcarved prizes donotated by our Waterford Colleaue Jack Power. L/R Salt and Pepper Set, Wine Rack for 6 Bottles and the wooden shirt is a Key Ring Holder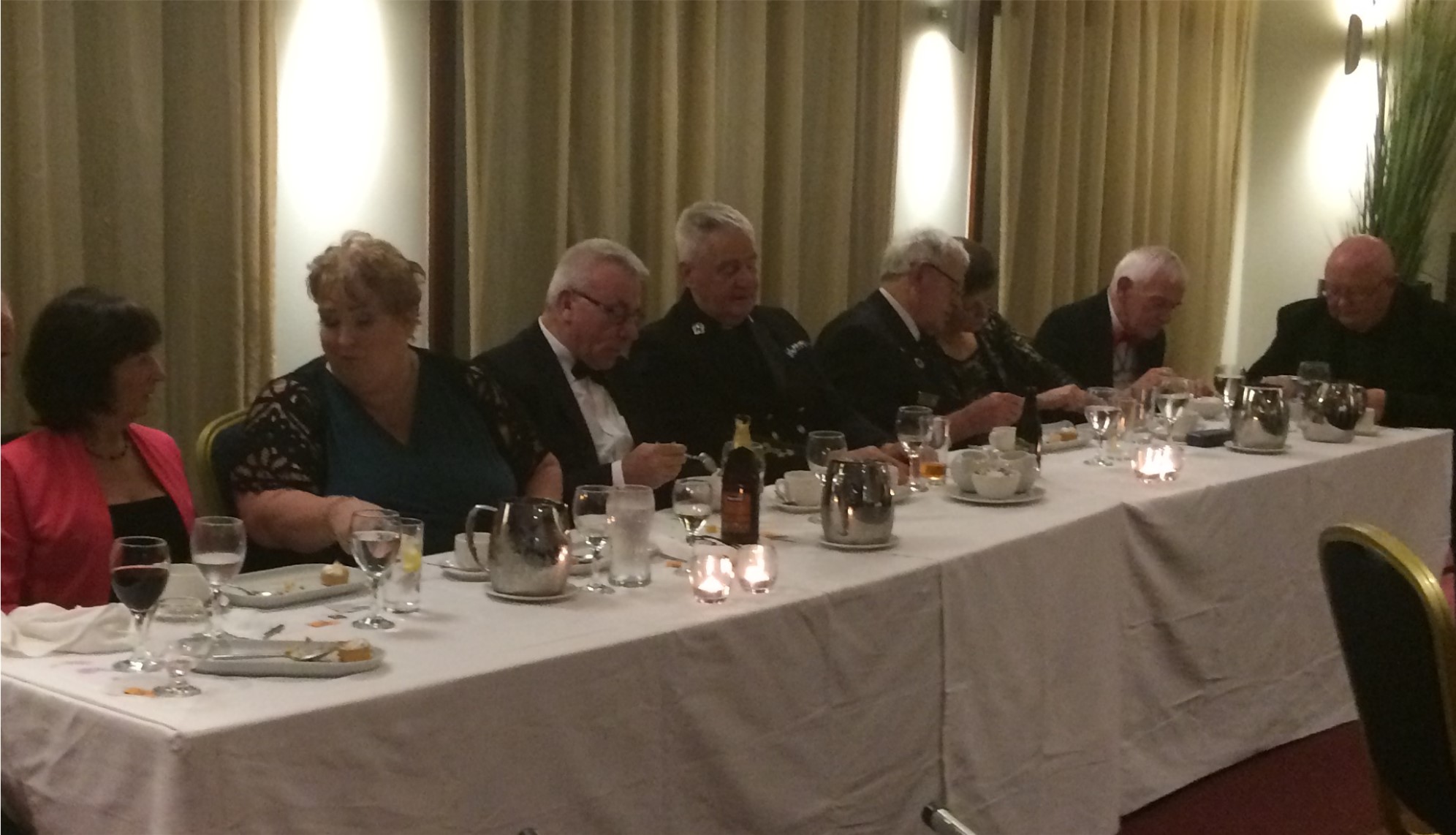 Our Guests for the Evening the committee from Fort Camden, Fr. Campion (our Chaplain) Andy MacSharry (Vice President) and Fr.Pat the PP of Crosshaven