Group of lads from Dublin note PO A Devlin (RIP). 1961. The next big event was attending Annual Camp at Fort Camden in Crosshaven Co. Cork. I had a car, so I drove to Crosshaven, and we had a great time, Sailing in Cork Harbour, swimming and of course the night life, singing the Pubs and of course the odd fight with FCA from Templebreedy who were on annual camp.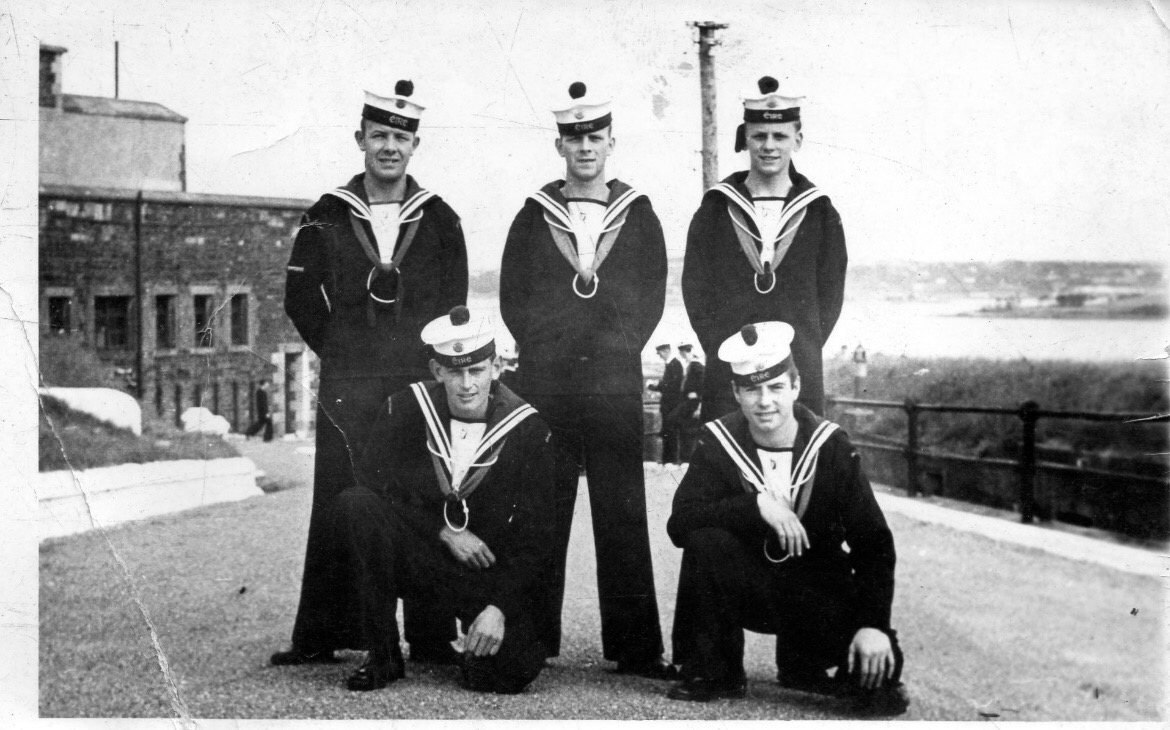 LS V O'Donnell (RIP), AB J O'Donnell (RIP) AB A Fahy, AB Plunkett and AB Stoker A Mac Sharry No.258441 Service Number. 1960 Fort Camden.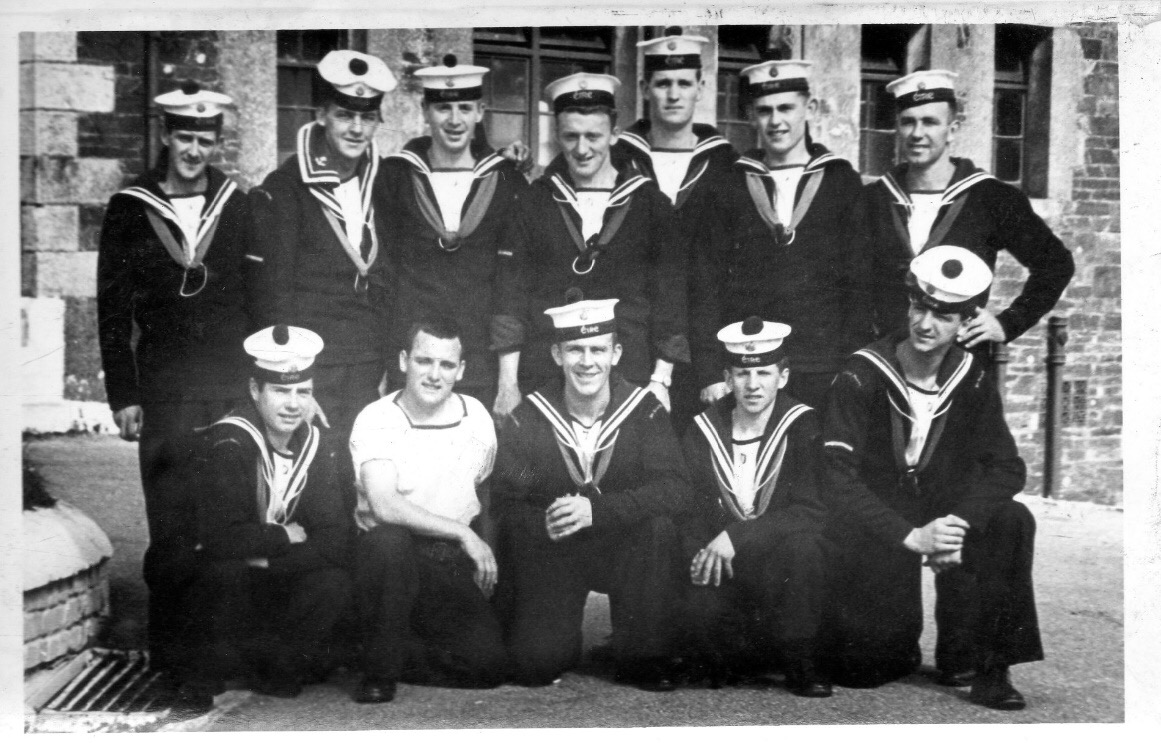 Lads from Limerick and Dublin, LS M Comiskey Dublin, second from left. Centre front row the great singer Joe Purcell (RIP)from Limerick, other Roche, Greaney, Plunkett from Limerick others, sorry cannot remember the names. Next year all back in Fort Camden for more Sailing, time on the Corvettes and the great nights in Ma Buckley, Kenefick's (Now Cronin's Pub).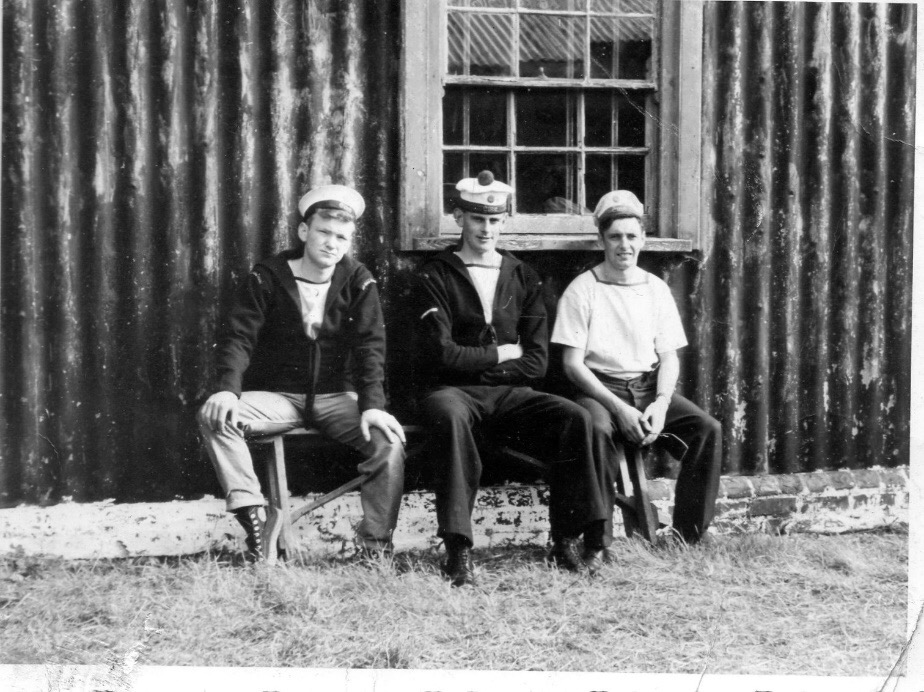 Camden 1961 LS Stoker Andy Mac Sharry and two other lads outside canteen.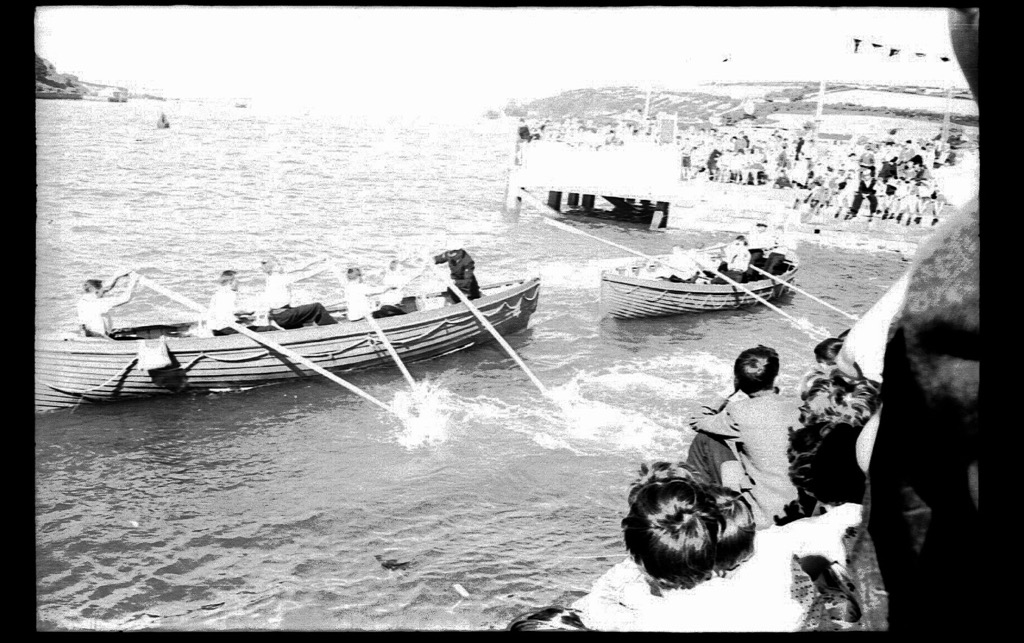 Whale Pull Crosshaven Regatta 1962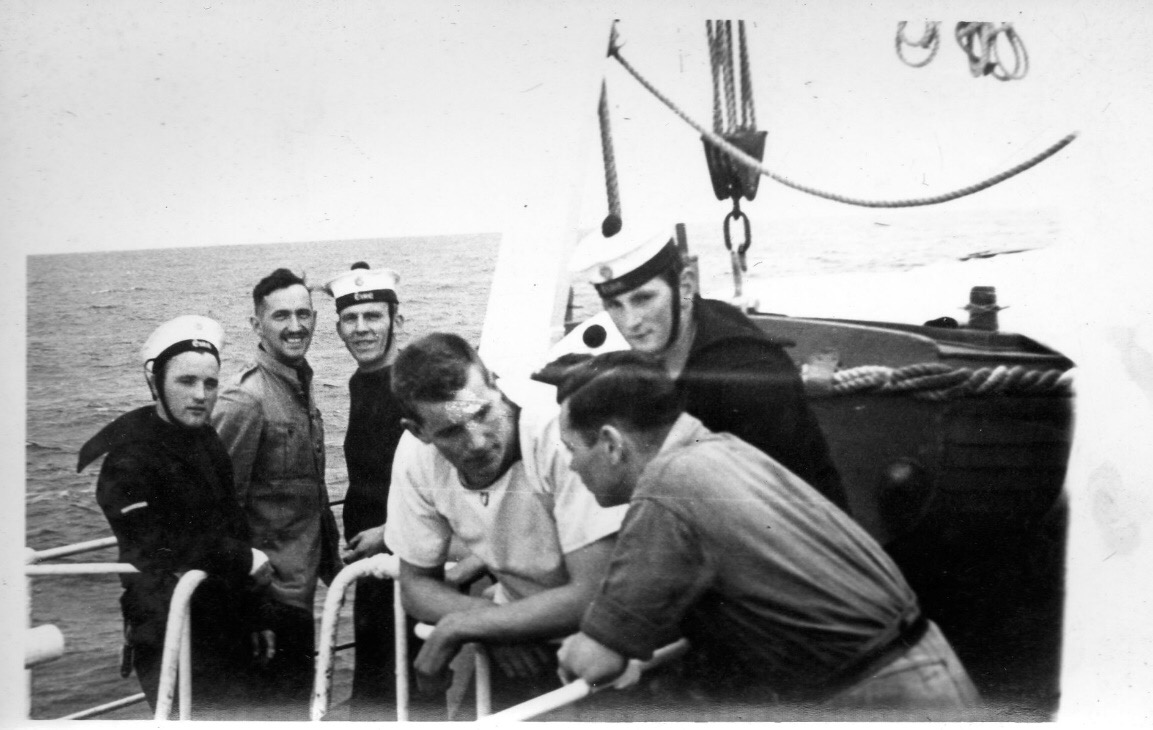 At Sea on board LE Macha Limerick Lads 1961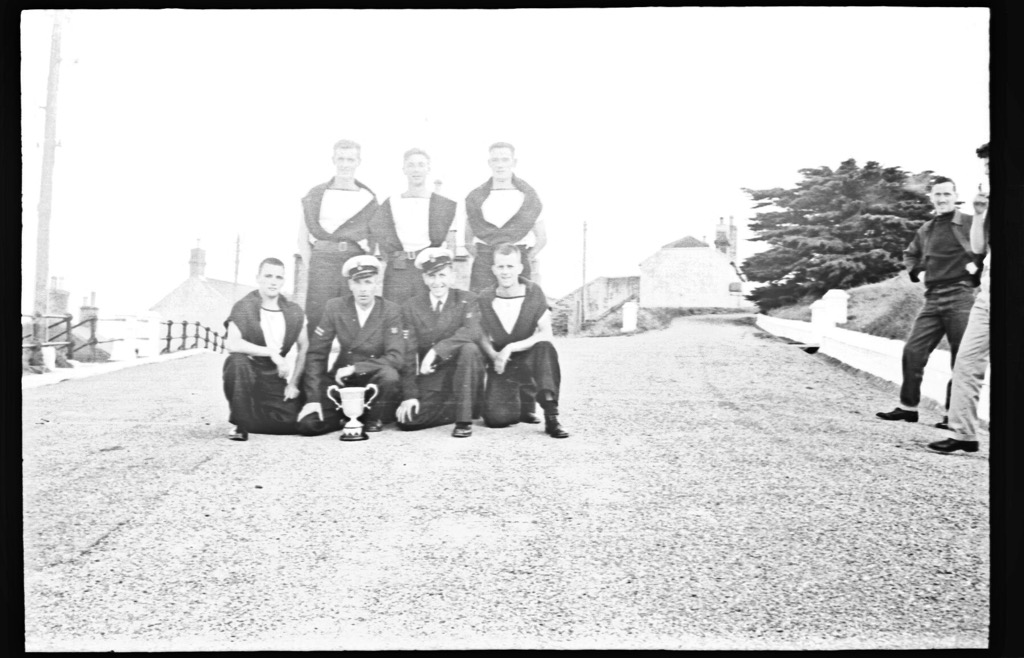 After they won a Cup at the Crosshaven Regatta. 1962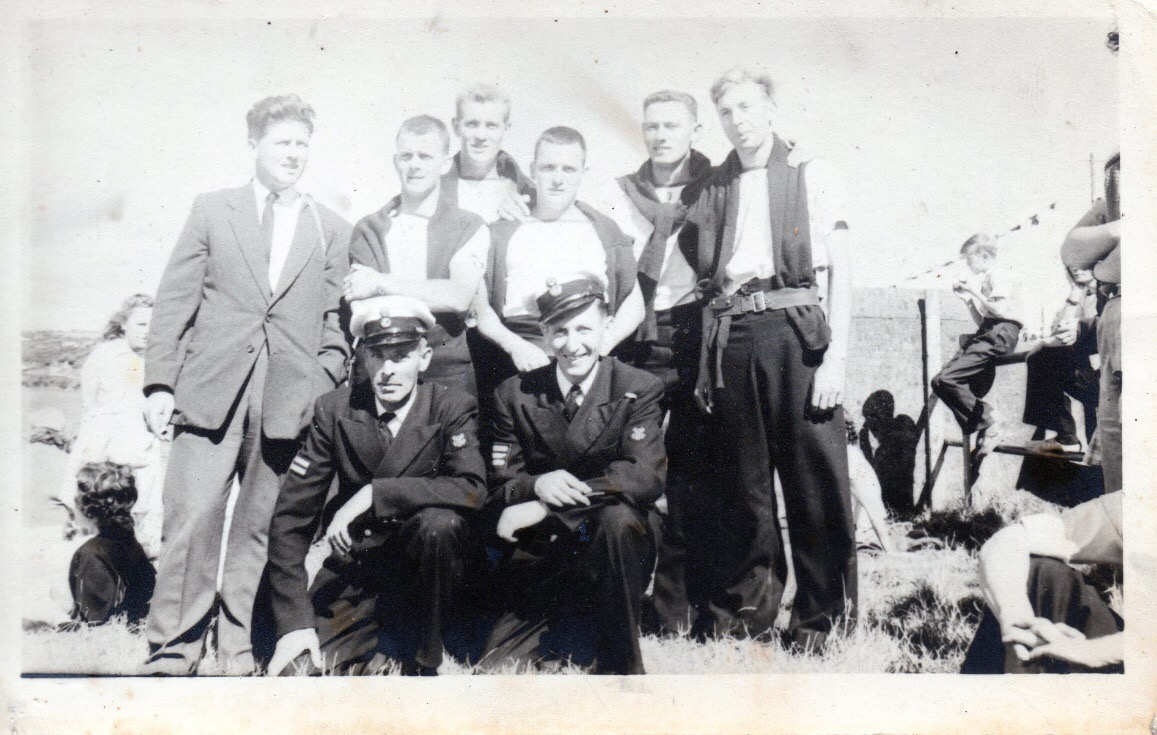 Limerick Winning Team, PO Bowman (RIP) CPO Clancy (RIP) PO Tady Mullen (RIP), AB J O'Donnell (RIP) AB M Hynes, Name?? Name?? AB Roche.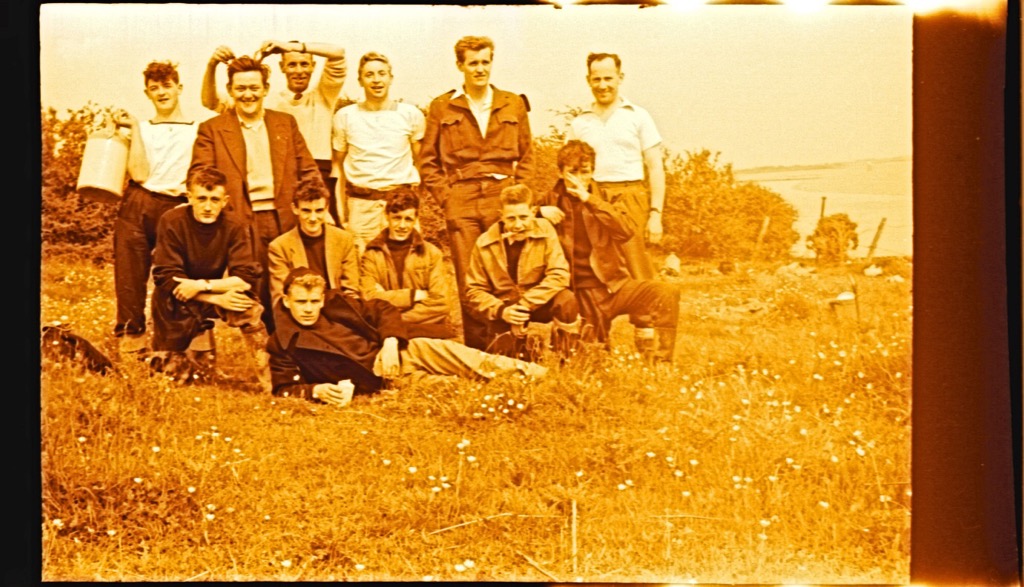 Group of members of No. 05 Coy. An Slua Muri on an Island in the Shannon River.1961 Then as I moved up the Ranks to PO 1962 and then Ensign (Number 0.8068) 1964, back to Camden to fix Whalers.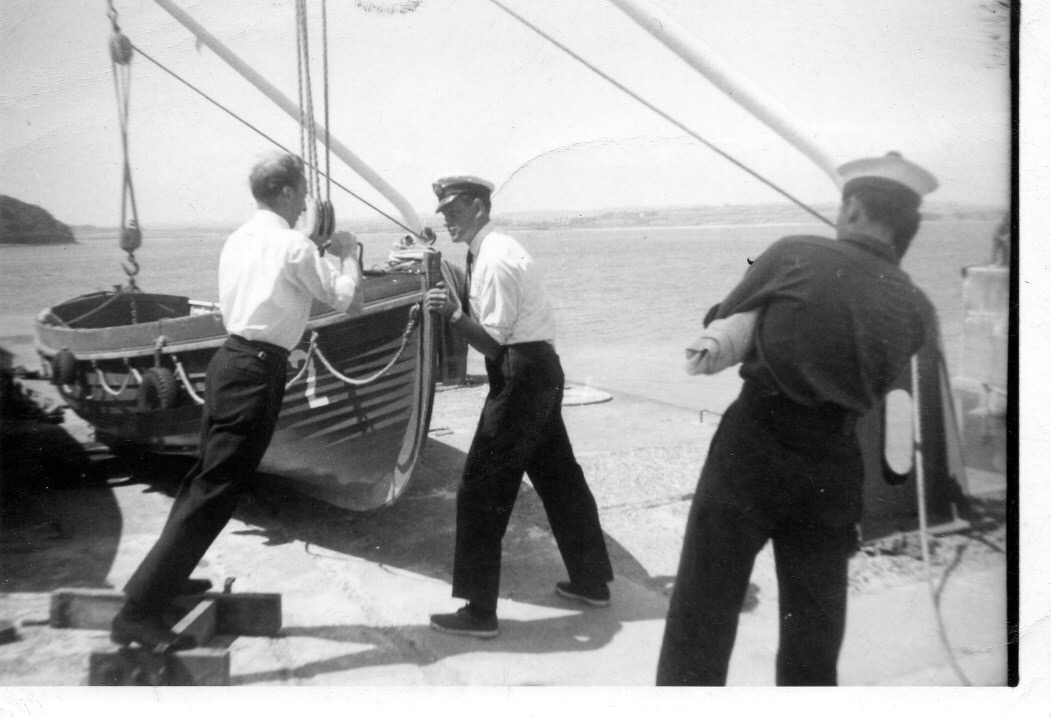 PO Treacy (RIP) and Ensign A Mac Sharry repairing No 2 Whaler at Camden. 1963. Night Manoeuvres were a great thing in Camden, one night the Camp was wakened at 01.00 Hours and all the lads had to fall in at the baseline (Just outside the Heads). Some of the Lads slept Commando style (Naked), so when CPO Dick Larkin (RIP) ran into the Billet he removed the sleeping lads shoulting "You must wear your hat, you are undressed until you wear your hat". It mattered nothing that you no other cloths on. As Officer of the watch that night, I had to get the lads blankets to wear when marching to the square, Caps and Blankets, as the late Dick said "they were dressed Sir, see they have their Caps On". Tne next best thing on Camden was a pasttime called "Bushing", that is you went to the Bank facing Grab-all Bay, to watch the actions of the lovers hiding behind the bushes, not knowing that they could seen by the lads In the Fort. After the first week the funds were running low, so the sing-song in the Canteen was the main event, so also was the Football matches on the square. After a hard night at Ma Bucleys, the Sick Bay was the place to go, the SBA (Sick Berth Attendant) would give you Asprine for anything, broken leg, two tables, cut hand two tables, head ache two tables, you name it, two tables. Morning Prayes was an event each day, Limerick had a member Reg Egan who would march off Prade when the prayer were read out. It was a dodge to get away.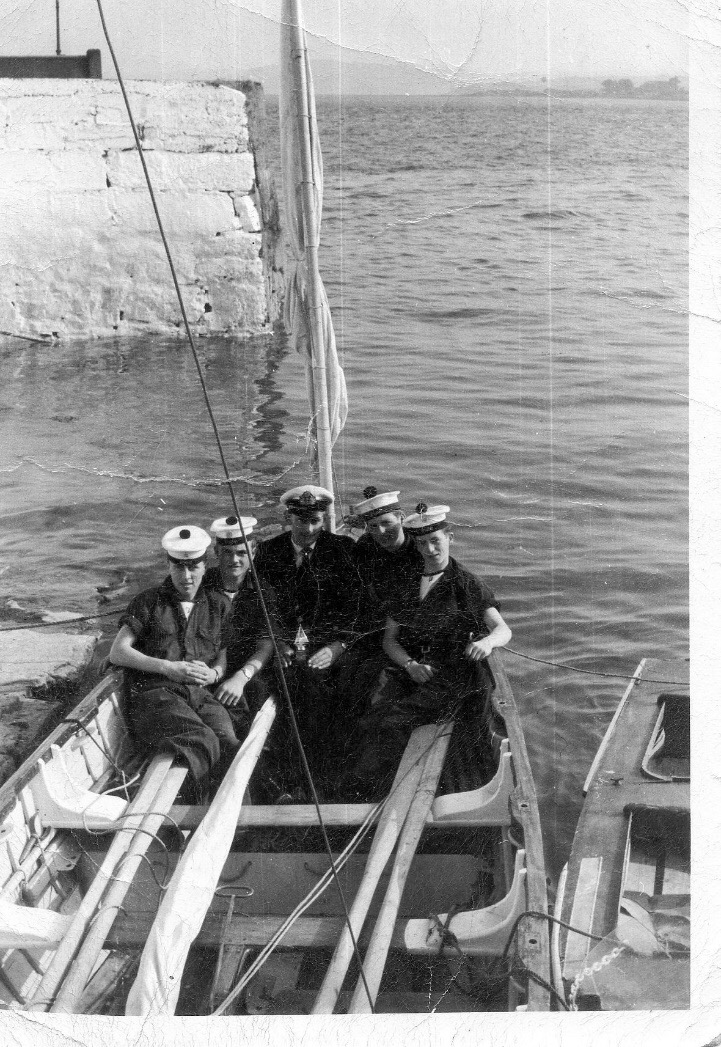 After winning the Cobh Regatta. 1965 Limerick No.05. Crew AB Stoker D O Carroll, AB Stoker C Kennedy, AB Moraney, AB O Leary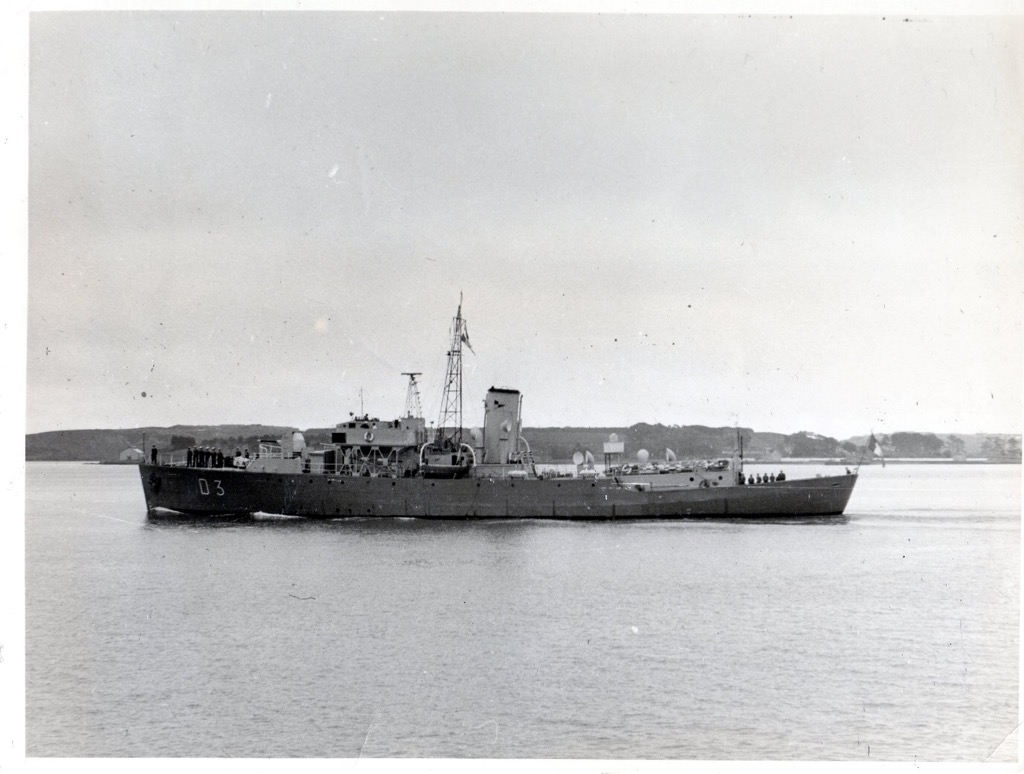 Le Cliona Cork Harbour.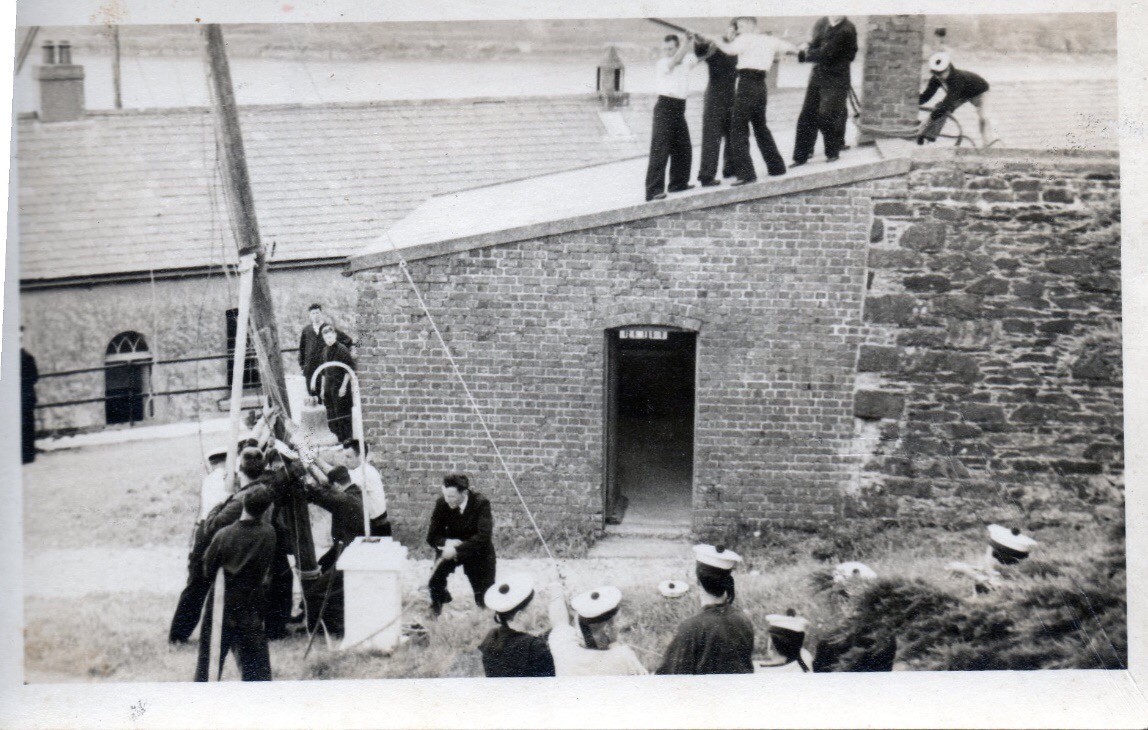 How many does it take to erect a pole, ESB please note.
Back at Base the whole No.05 Company would turn out for inspection by Captian Mc Kenna, Director of the Naval Service.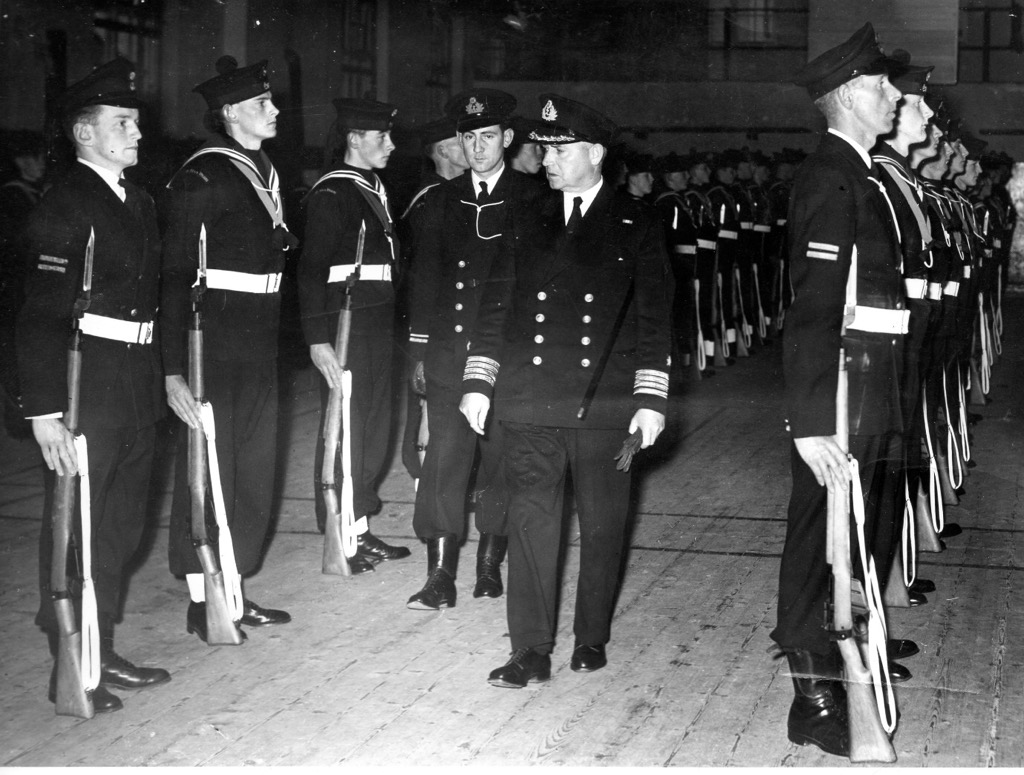 Left to Right. PO Bobby Mulrooney (RIP), AB Stoker A Mac Sharry, Sub/Lt. M Morgan (RIP). Capt. T Mc Kenna, (RIP). PO M Bowman (RIP). 1961.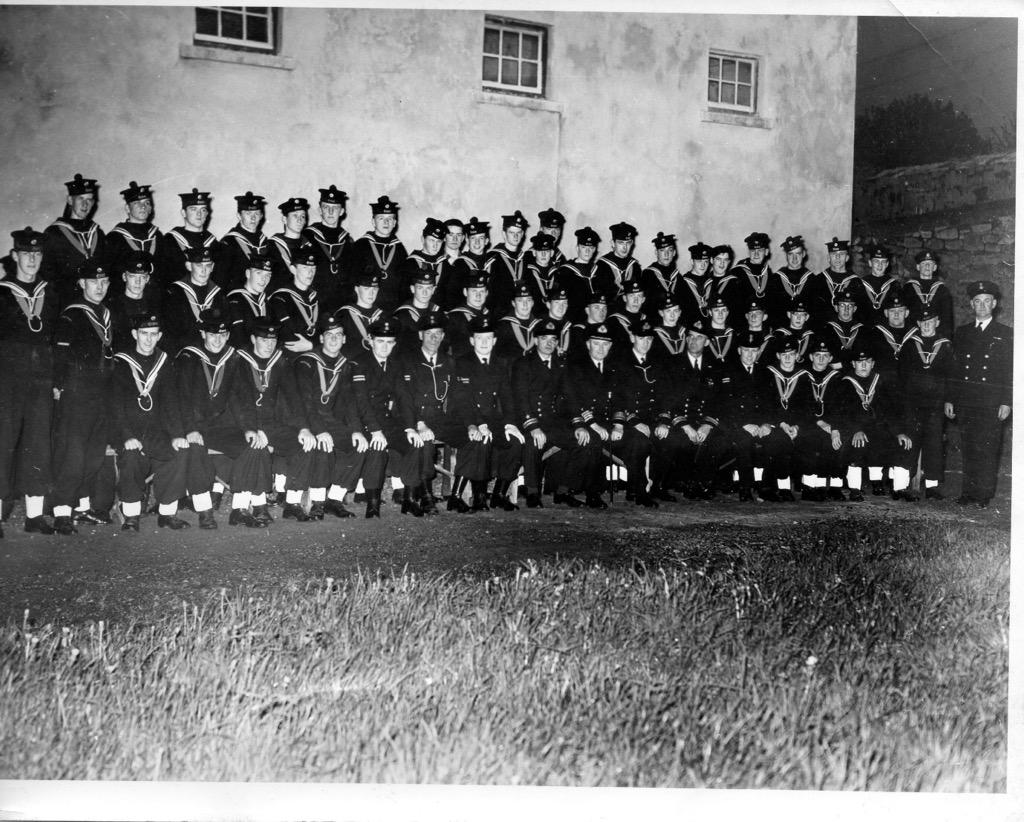 No.05 Company 1961 Annual Inspection by Captain Mc Kenna. Good Days.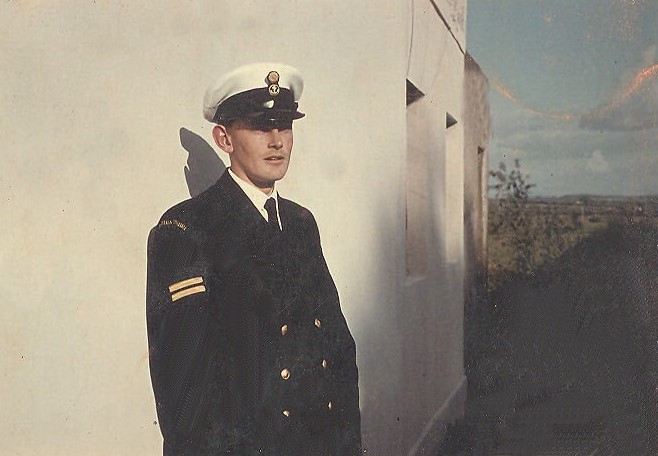 PO Stoker Andy Mac Sharry 1962 No.05 Company.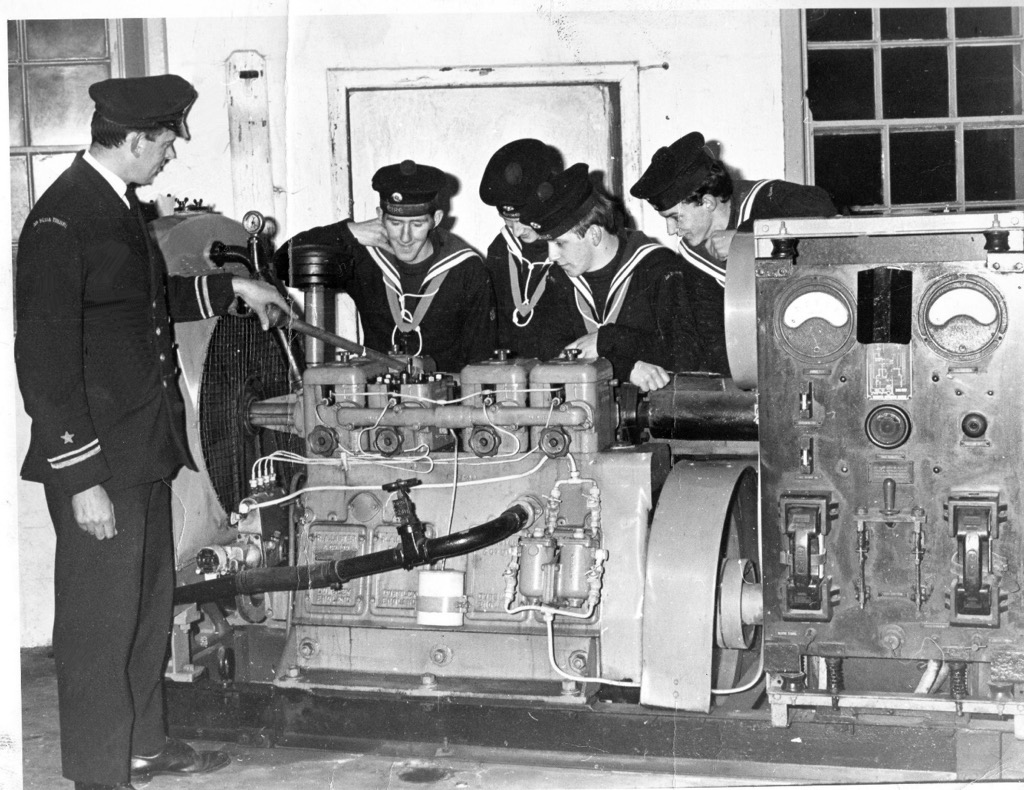 Instruction on Diesel Engine by Sub/Lt A Mac Sharry, AB Stokers, Shanahan, O'Leary, Lawlor, Foley, 1968. Due to work I had to retire from An Slua Muri and I had moved to Donegal.
Now live in Cork and have visited Camden over the last few years and a lot of good work has been done, we the members of the Irish Naval Association have held quite a number of events in Camden. Many happy days.
Signed Andy Mac Sharry.